Guide to Packing Your Kitchen for the Move!
A kitchen is one of the essential rooms in any home as it is where you spend many hours preparing delicious dishes for yourself and your family members.
Packers and Movers Cost Calculator
It is one of the busiest yet delightful rooms in a home. One can say that it is the center and the symbol of a happy family. Since it is one of the most important rooms, you always keep it organized, neat, and clean.
What if you have to shift to a new home with all your belongings, including your kitchen items? It can be very stressful thinking about the number of things you must pack carefully and relocate to your new abode. You may procrastinate the task of packing by feeling overwhelmed with the number of items for packing, such as glassware, crockery, and appliances which are very tricky to pack and move since these are prone to get damaged easily. Packing the kitchen items may seem challenging for a safe home move. But, have no worries as we are here to help you overcome this challenge with this simple guide to packing your kitchen for a move.
Declutter Your Kitchen
Before your start packing all the items in your kitchen, it is essential to go through all the kitchen items you have. If you have lived in your current house for a long time, you may have gathered many items. So, moving is a great chance to sort the essentials from the items you use less frequently. There may be some coffee mugs, old but working appliances, or some cookware you do not use very often; you can get rid of these items. It may be hard to do so since you always get the feeling, "What if I might use it someday." Chances are that you may not use it again especially when you have not used it in a while. So, it is best to get rid of it.
Decluttering your kitchen and other rooms when relocating your home will help you save time, energy, and effort. It will also help you save money as the more items you have for packing, more the amount you will have to spend on transport and packing supplies. And, when you choose to relocate your goods through household shifting services, they will charge you depending upon the number of items you have for moving. So, leaving the kitchen items you no longer use. You can give it to a friend or neighbor or put it up for sale.
Keep Kitchen Essentials Aside
When decluttering your kitchen for the move, keep aside the essentials or the kitchen items of daily use. After moving into your new home, you will still need to use essentials like cutlery, plates, bottles, a few cookware, cleaning supplies, etc. You should keep these things aside and pack it before the moving day. You can keep these items in a box and label them as "Kitchen Essentials". So, when you are at your new home, you can find your essentials quickly, without having to open all the other boxes.
Sort Out Your Food and Other Items
You already know it is best not to transport your fruits, vegetables, and other perishable items. These items may get spilled in the moving truck and spoil other goods. So, you must start consuming all the food items before the day of moving. If there are so many items for consumption, you can give them to your neighbors and friends or donate them to charity.
Also, the transport and home relocation companies do not move flammable materials such as kerosene, cooking oil, candles, gas cylinder, etc. Make sure you do not have any of these items for moving.
Tips for Packing Your Kitchen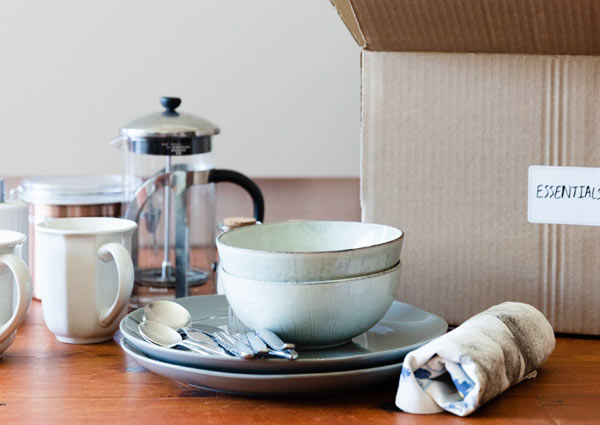 Below are the valuable tips to pack your kitchen for a move in a stress-free and smooth manner:
Gather All Packing Supplies
When you want to pack your belongings, the first and foremost thing to do is to gather all the packing supplies required to safeguard your kitchen items from damage during transit. Listed below are the packing materials which you will need:
Sturdy medium-sized boxes
Lots of adhesive tapes
Old newspapers
Markers
Old bedsheets, towels, etc.
Prepare Your Boxes
Most of your kitchen items, such as chinaware, glassware, mugs, etc., are fragile but also heavy. So, to protect these items from cracks and damage, make sure you use sturdy boxes and strong tape. Prepare your boxes for packing by sealing the bottom with heavy-duty tape. Then, make a layer of old newspapers, old bedsheets, etc. This will cushion the fragile items from bumps during transport.
Start with Packing Items Not Used Frequently
You may not use many items in your kitchen daily that can be packed first. These items include mixing bowls, cookbooks, special cookware, special serving plates, framed pictures, wall hangings, etc.
Pack Identical Glasses Together
If you have large glasses and big-sized papers, wrap two similar-sized glasses together. Wrap the first glass with the paper; when it's protected, place the next glass next to t and continue wrapping.
Fill the Gaps and Cover the Top
After you have filled one box with your kitchen items, you can fill the gaps with crumbled papers to fill the gaps and also cover the top before sealing the box. This will also protect the items from moving and breaking inside during transit.
Label Your Boxes
One of the essential things people forget to do when packing items for moving is not labeling the boxes. Make sure you label the boxes as you keep packing. Label the boxes with the items which it contains. This way, you will not waste time trying to find your pots and pans by opening all the kitchen boxes.
How to Pack Spices and Condiments for Moving
Most spices, sauces, and other condiments come in plastic containers or jars with lids. For packing, you need to ensure the lids won't come off, so you can tape it shut. You can also wrap the containers in newspapers or old pieces and place them in the boxes. Fill the gaps with rolled papers.
How to Pack Appliances for Moving
Make sure that you defrost the refrigerator overnight and remove the shelves. Clean all the appliances, such as toasters, mixers, grinders, etc. Make sure to carefully wrap them with newspapers and place them in suitable-sized boxes or their original boxes. You can also tape down the microwave or refrigerator doors, so they don't open during transport.
How to Pack Your Pans and Pots for Moving
Every household has a couple of pots and pans. They are sturdy but also very heavy and take up a lot of space. But when packing these in boxes, you can stack them from larger ones at the bottom to small ones on top. Before stacking the pots and pans, ensure to line a few sheets of newspaper or bubble wrap.
How to Pack Utensils for Moving
Packing your utensils is not that tough. Forks, knives, and other utensils can be packed together with other small cooking items in a box or two. If you have a cutlery holder, you can pack it together and place it in the box. You can also wrap these in kitchen towels and fresh dish clothes.
The kitchen is one of the essential parts of a home. And, if you have to move to a new home, then packing every kitchen item may seem like a hassle. But, with the essential points and kitchen packing hacks, you can easily pack your kitchen goods without stress. You can then hire a truck rental and transport your kitchen items to your new home. You can also choose to hire professional movers packers in Bangalore, Chennai, Kolkata, etc. Such companies will pack and move your kitchen items and household goods safely.
Latest posts by Pratiksha Priya
(see all)