Packing Tips: How to Pack Things Properly For Safer Transportation?
Packers and Movers Cost Calculator
How to ensure safe movement of goods irrespective of what kind of relocation it is? Of course, the way goods are packed! Packing is one of the most significant aspects of a shifting process which can ensure the ultimate and long-term safety of goods while they are in transit. Choosing the right kind of packing material for ever kind of household item is the key to achieve this goal and ensure safe delivery of home goods at the desired locations.
Household Packing Guide
Home relocation is one of the most complicated shifting processes as it involves the movement of personal belongings attached with sentimental values of the people. They only wish to have a smooth and safe relocation process in which their goods are shifted from one place to another with zero damages.Here is the step by step packing guide of household goods for guaranteed safer relocation.
How to pack a temple/mandir?
Mandir in homes brings an auspicious value to them. So, while shifting to another place, it is important to pack home temples properly to avoid any damages to them. Following the below tips and tricks will ensure a secure shifting of this auspicious part of your home.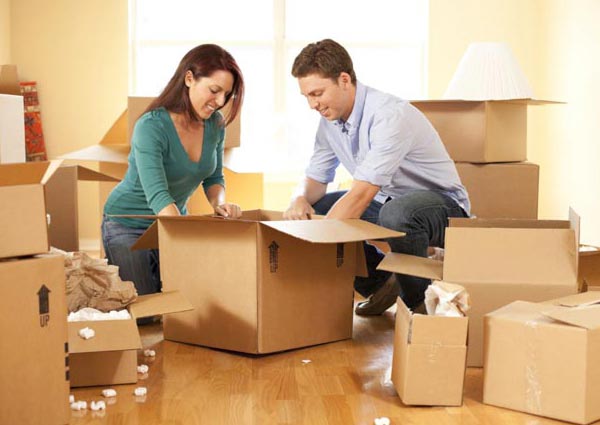 Remove the idols of Gods and Goddesses with a clean cloth and wrap them in plastic film wraps in case they are made with non-breakable material. Idols made from clays or wood should be wrapped with bubble wraps.
Wipe the mandir with a clean and slightly wet cloth properly.
Disassembling the mandir is possible and packing all the parts with bubble wraps.
If the mandir is a single piece, then wrap the whole mandir in bubble wrap.
Place it in a strong cardboard box slightly bigger in size.
Fill the empty spaces in the box with air-filled plastic bags or bubble wrap.
Seal the box on all the sides with packing tapes to avoid breakage.
How to pack books?
Carton boxes are the right places to store and pack your books while planning your move. Follow these steps to ensure safety of your books and other reading materials.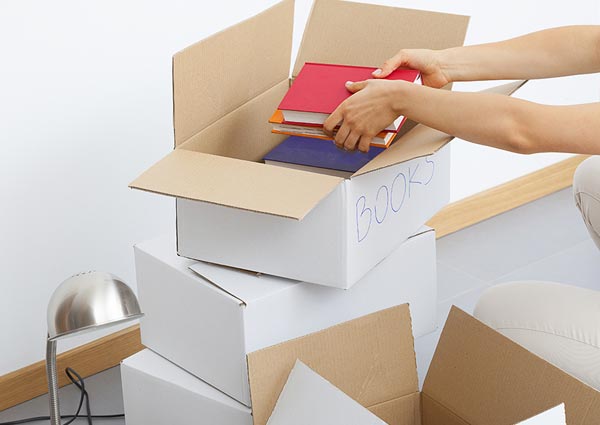 Optimize your book collection and carry only those books with you that are important and essential.
Prepare separate carton boxes for books you will take and books you leave behind.
Donate the box of unwanted books to any NGO for children.
Take small size carton boxes to pack your books as they are likely to become heavy after being loaded.
Keep the books in the packing boxes covered in soft packing paper and seal the boxes with high-quality tape. Also, seal the seams of the boxes to ensure they don't get damaged.
Label the boxes properly for proper identification.
If you are keeping your books flat, put the heavier books at the bottom and lighter ones on the top.
Separate both the rows of books with multiple sheets of packing paper to prevent their pages from tearing.
Fill the empty spaces with crumpled packing paper or bubble wraps so that they remain damaged proof.
For extra heavier and important books, pack them in suitcases with wheels for easier travelling.
How to pack furniture?
To pack a furniture item for a secure movement, one need packing materials like bubble wrap, corrugated sheets, plastic wraps, and plastic bags. Every item of furniture requires special skills and techniques to pack them and move them safely.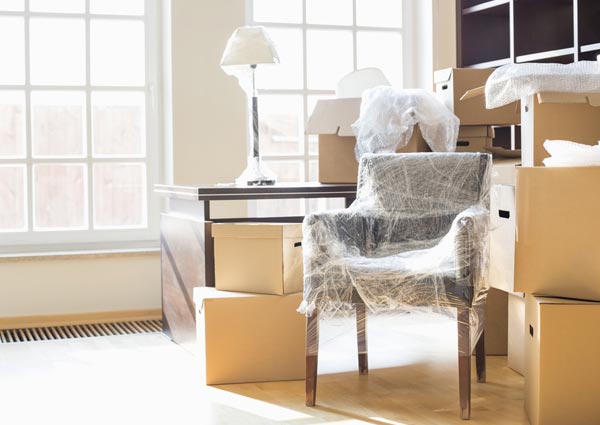 Clean the furniture properly from dust and debris to avoid any kind of scratches on their surface while moving.
Disassemble the furniture in a correct manner with the help of owner's manual.
Keep the screws and other hardware items of the dismantled furniture in plastic pouches to prevent them from losing.
Label the pieces of the furniture with numbers for easy assembling.
Use bubble wraps and plastic wraps to pack the furniture in the right and safe manner. Delicate items must be packed with bubble wraps. Plastic wraps and sofa covers/blankets can be used for upholstered items.
The sharp and pointed edges of the furniture should be covered with bubble wraps.
Bubble wraps can be used to pack glass tables and mirrors. Taping the glass surfaces with painter's tae with a giant "X" to prevent it from damage. Wrap them with bubble wraps and then place them between corrugated sheets.
Put cloth padding or paper in empty spaces, delicate ornaments, and fragile furniture items for protection.
Pack mattresses and sofa cushions in plastic covers to protect them from stains, dust, rips, and moisture.
How to pack an aquarium?
Shifting a fish tank is not as simple as it seems. It requires skills and expertise to relocate it in a damage-free manner. Here are easy tricks and tips which promotes safe relocation of your aquarium.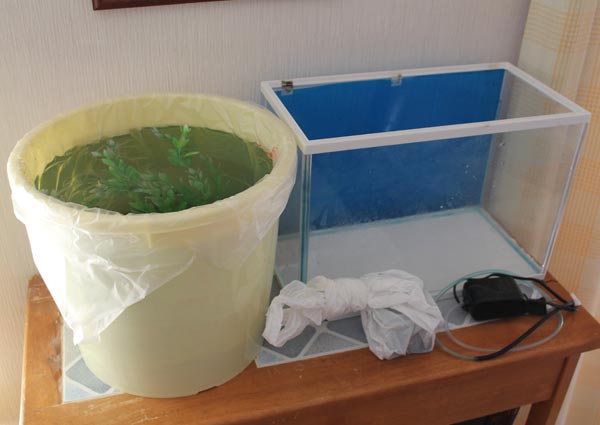 The first step is to empty the fish aquarium from fishes, plants, equipments like water pumps, and decoration items.
Keep the fishes in the bucket /plastic bags/containers of tank water.
Keep the water plants in buckets of fresh water.
Cover the top of the buckets with a lid of packing paper with little holes on it for oxygen.
Remove the water from the tank with the help of a siphon hose. Put the decoration items and accessories in air sealed plastic pouches.
Stop feeding your fishes 24 before the day of the move.
Keep fish food, water dechlorinator, aquarium test strips, and aquarium table with bubble wraps and plastic wraps.
Transport your fishes in the transport containers just an hour before your move.
Fragile items should be packed in aerated plastic bags or packing before.
Wipe the fish tank and let it dry.
Pack the lid of the tank with air-filled packing paper and secure it with a packing tape.
Place foam at the bottom of the tank and fill it with paper crumbles and soft clothes.
Wrap the tank in aerated plastic padding and put it in a cardboard box slightly bigger in size.
Keep foam piece in between the box and tank for insulation.
Seal and label the box from all the sides for safety in transit.
Do not put anything on the aquarium.
Take your fishes in your car or keep them in the cabin of the truck for fresh air.
How to pack paintings?
Paintings elevate the beauty of homes by decorating the walls with the brightness of colours. Shifting these beautiful pieces of art is also an art and therefore, needs to be packed efficiently for a damage-free relocation.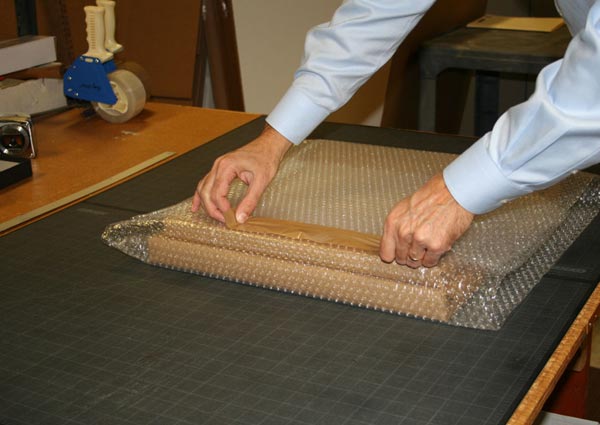 Glass paintings must be marked with an "X" using a masking tape to prevent them from breakage.
Paintings without a glass frame must be covered with multiple layers of plastic wraps. Palette wrap is another packing material which can be used to pack paintings and other works of art.
If your paintings or their frames have delicate corners, you can buy cardboard corners to secure them from damage.
Fragile and expensive paintings can be covered with layers of bubble wraps and then finally sealed with packing tapes.
You can place foam at the bottom of the carton box in which artworks are going to be kept. Now place the paintings in the box with soft clothes or packing papers in between every painting to avoid damage.
Seal the box with packing tapes and then label it with "FRAGILE" and "ARTWORK".
How to pack electronic items?
Electronic items such a television, music systems, microwaves, desktops and others can be relocated in a safe and secure manner. Using these tips for packing of electronic equipments will save your time and money.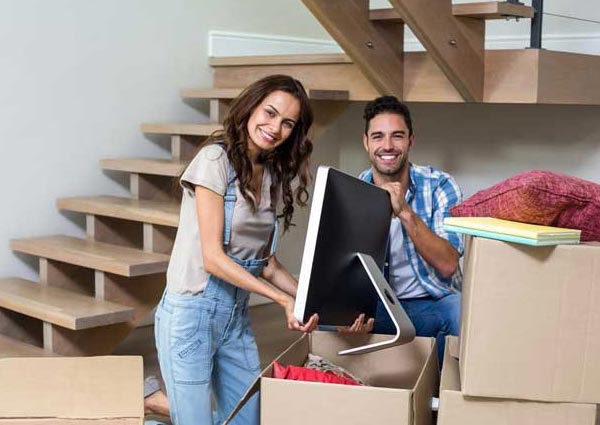 Take out the user manuals of all the electronic items for the purpose of their disassembly.
Take out the batteries of your gadgets and remotes to avoid any leakage or overheating.
Get your rechargeable batteries charges at least two days before the date of the move.
Tape the CD drives and Blu-rays so that they don't shut open in the transit.
Remove cartridges from the printers and seal them in a sealed plastic pouches.
Remove the cables of audio, video and power of the electronic appliances and keep them in separate plastic bags with proper labelling.
In case of your computers, take a backup of your data in a pen drive or a hard drive or into the cloud. Protect your computer with strong passwords.
Clean your computer from dust and debris before packing them.
Use carton boxes to keep the electronic items by properly cushioning them from the top and bottom with bubble wraps and towels.
Protect the television screens with towels and bubble wraps. Then, cover everything with cardboard corrugated sheets.
Avoid covering the screens with newspapers as they can put scratches on them.
Keep every electronic item in separate boxes along with their disassembled parts and cables.
How to pack antiques?
Antiques are fragile and expensive items used to decorate homes and bring an aesthetic appeal to them. Moving such special items requires special skills and knowledge of packing them in an accurate manner.
Selecting the right packing material for different kinds of antiques is the first step for safe relocation of antiques. Items like sculptures, books, and fabrics use a bubble wrap. For precious items made of wood or glass, a plastic or a foam wrap is the best option to pack such items in an efficient manner.
Use blankets and towels to wrap antiques and then protect them with a layer of bubble wraps.
For antique paintings or items made from glass, porcelain, and ceramic, you can use glassine paper to prevent paints and prints from getting smudged.
For antique mirrors and paintings, protect their corners with corner protectors.
Antique furniture should be disassembled first and packed properly with bubble wraps and plastic padding. Wrap the furniture in moving blankets and furniture pads as the first layer and then with others.
Keep the antiques in the carton boxes with air-filled plastic wrap for cushioning on the top and bottom.
Label the boxes with "Fragile Items Inside" for easy detection.
How to pack crockery?
People are extremely cautious about the expensive crockery which is no less than a status symbol. So, before moving to a new place, it is important to pack them in a safe manner to avoid any damages to them in the transportation.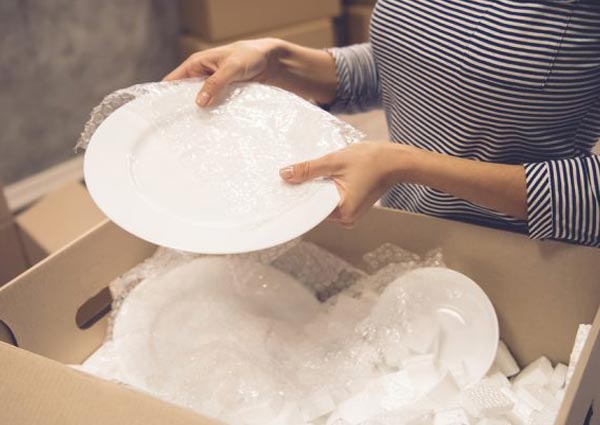 Choose strong medium sized boxes to pack crockery to avoid any spillage or tearing of boxes due to weight.
Line the packing boxes with bubble wrap from inside to ensure safety of crockery.
Wrap the crockery items like plates and bowls with tissue papers to prevent moisture and discolouring of crockery.
Place a sheet of bubble wraps between each plate for safety.
Plates should be kept on their sides to allow them to absorb more shock.
Fill the gaps and empty spaces in the packing boxes with tissue papers and to prevent them hitting each other.
Seal the boxes with bets quality packing tapes.
Label the boxes with "Fragile Items Inside".
The Ending Note
These above-mentioned packing tips and tricks for household shifting will definitely ensure safe shifting of your delicate and expensive items in case of a DIY move. Or, people hiring packers and movers in Ahmedabad, Bangalore, Delhi, Pune, Hyderabad or other cities of India for their home shifting can ensure that the packing materials used above are used by the professional to pack such goods. No matter which city in the country you relocate to, these packing tips will damage-free relocation of household items.
Hope you have a safe relocation experience!!!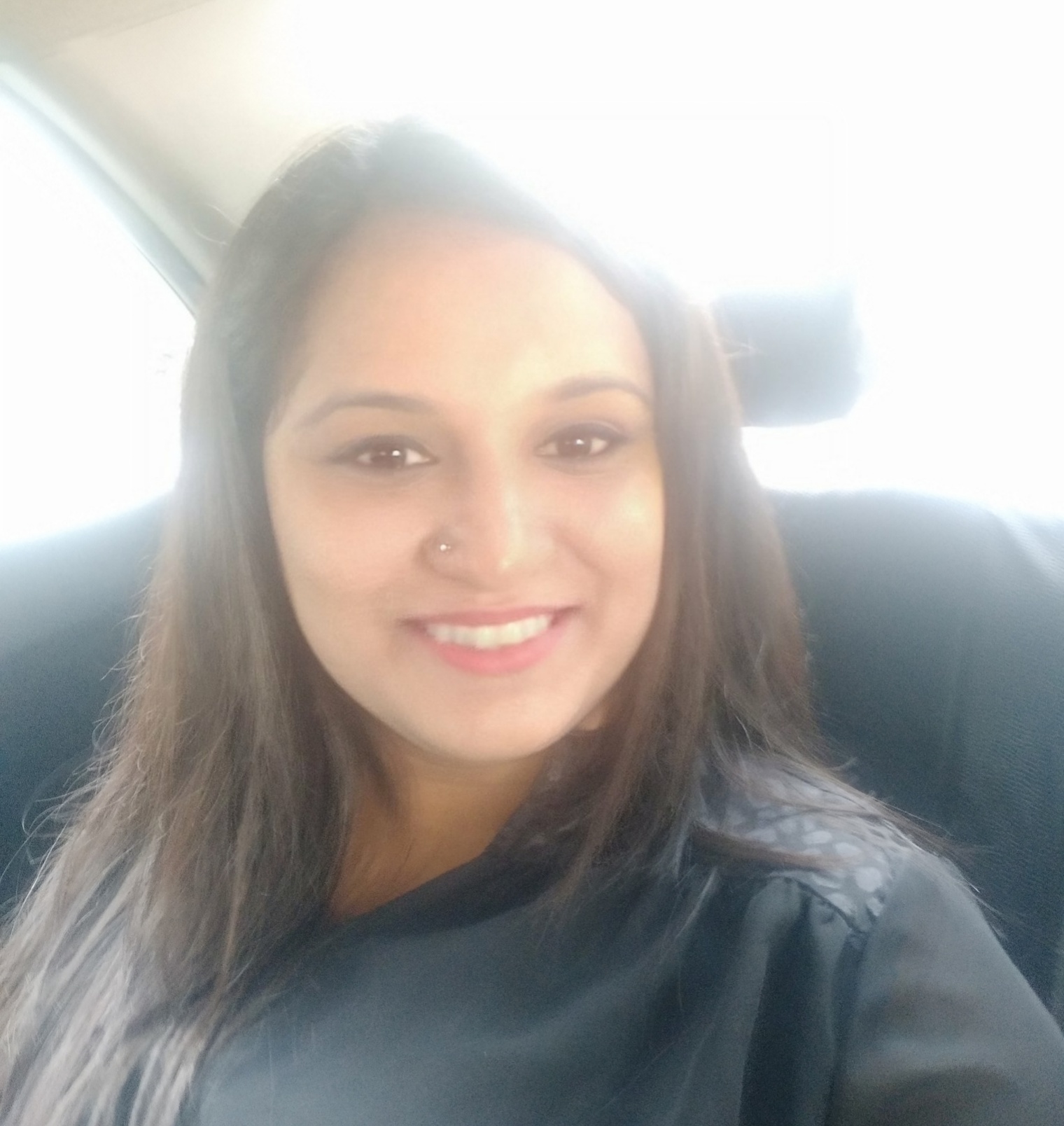 Latest posts by Sakshi Ecavade
(see all)