What is a moving container, and how is it helpful in shifting?
Have you heard of a moving container? If you have ever shifted anywhere with your household goods, you might have some knowledge about the moving container. And you would also know why it is said that a moving container is the best friend of the person who is relocating. But why is that? We will answer that question and give you much more information on the container than you already know. Whether it's your first ever-shifting experience or you have experienced it before, the details below are worth reading for multiple reasons. So, brace yourself and continue reading!
What is a moving container?
A moving container can be understood as a container that is used to store goods before transferring them into the truck. They are used more for a hybrid type of shifting where the customer independently puts the goods in the container, and the moving companies then transport them to the drop location. After packing everything correctly, the boxes containing your household goods are combined and put in a container so that the goods can stay safe from all sorts of risks.
These containers are loaded in the truck with utmost safety, and the transportation process begins. They come in different sizes and materials that can accommodate your goods in the best way possible. While some are steel or iron-made boxes, there is also the option of hiring wooden containers for the move.
Qualities of a moving container
The moving containers, especially the steel and metal ones, are durable and can withstand extreme temperatures. Many companies provide their customers with wooden moving containers too. But these boxes have weatherproofing done adequately, which keeps the wood boxes too safe in the heat and extreme temperatures. These boxes or containers are used in relocation because they possess the following qualities that make them the best friend of any type of shifting. These qualities are: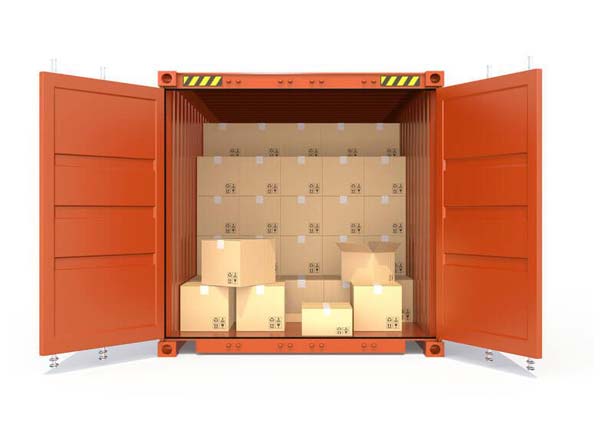 Weatherproof bodies. It can be left in the hot sun, and the boxes will remain unaffected.
It can be locked and secured to protect the goods in the container.
Highly portable and user-friendly containers.
Have huge spaces and can even store furniture.
It is solid and spacious enough to contain 3 to 4 bedrooms.
These containers come in different sizes, and you can even get a small moving container if you have a 1BHK move. Such containers can easily hold luggage of 1 and a half room's goods.
Shifting with moving containers is one of the most cost-effective ways of shifting. It saves your money and goods from getting damaged.
You can use as many moving containers as possible and of whichever material. There's no limit to the usage.
They can double the storage stuff and allow the customer to store more goods in one container, making the container cost-effective.
All the things mentioned above are very beneficial in your relocation process. They give you a safe experience when you avail of moving services in India. Apart from safety, these moving containers also keep your stuff in a systematic and arranged manner. You can keep your bedroom's stuff in 1 small container and the other bedroom's stuff in a different container. At the same time, kitchen and drawing stuff can have their containers too. This will make your shift much more sorted and manageable.
The process that follows
People are often curious to know how moving containers work. This is one of the simplest things to understand in the shifting process. Once you book a moving company and provide them with your shifting date, they send the required number and quality of moving containers requested by you a few days before the move.
The customer then has enough time to slowly load their stuff and all the belongings they can into the moving container until the final day of the move. Then when the moving day arrives, the moving company comes to the customer's doorstep and takes these containers with them. They drop them at their destination, and the customer can take their stuff out and return the moving containers to the company.
Getting a moving container is one of the many
benefits of booking a moving company through a directory portal
. You are not just given all the facilities but also provided all the required information on them. So, if you are
shifting from Bangalore to Delhi
and you need moving containers, call Thepackersmovers.com and solve your problem immediately.
Frequently Asked Questions
Here are some of the famous questions and doubts that people have regarding storage boxes:
Q.1 Can moving containers be used as storage boxes?
Yes, they can be used to store your goods while your shifting is on hold. This is one of the significant advantages of these containers cum huge boxes. They are multipurpose containers and can be used for moving and storing purposes both.
Q.2 Who will provide me with a moving container?
Your moving company will provide you with a moving container, and you can ask them for it before booking your shift. They will also provide you with all the necessary information on the services and usage of the moving container.
Q.3 Do I have to load the moving container all by myself?
No, the moving company you hire will load them for you while providing the containers too. While you can choose to load them yourself but that is entirely optional. These moving companies have the right equipment and the required number of men who can do the task seamlessly for you.
Q.4 Do moving containers store everything inside of them?
No, you can't store anything and everything inside a moving container. While most things can be stored in them, there are always a few exceptions due to safety measures. You can confirm with your service provider if you can store all the fragile and flammable things that you have in the moving container or not.
Q.5 How are moving containers helpful? Do they provide any additional benefits?
Moving containers do have multiple benefits and are very useful for shifting purposes. Here are the top 3 benefits that you should know:
Provides the needed flexibility while moving
They are cost-effective
Provide a safe way of shifting
Double the storage capacity that makes complex relocations easy.
Latest posts by Anishka Luthra
(see all)