Vastu Shanti Puja: Meaning, Significance, Benefits, Muhurat, Puja Vidhi, & More
Vastu Shastra is a conventional Indian system of architecture (precisely translating to "science of architecture") which helps in attaining happiness, prosperity, mental peace, and harmony in home and work place.
Packers and Movers Cost Calculator
It involves a scientific study of directions with the combination of the five elements of nature (fire, water, earth, and air and space) to create a balance between humans and nature and to pave way for happiness, good health, wealth, and prosperity.
This science sets out certain rules and regulations regarding the architecture and construction of residential or commercial buildings. The five elements or the "Paanchbhootas" are utilized by the study of Vaastu Shastra to eliminate the troubles of human beings in homes or offices by changing the interior and exterior structural configurations. Vastu Shanti Puja forms an integral part of Vastu Shastra as it purges home or an office from negative or bad impacts caused by the evil energies or the faults in construction.
Meaning of Vastu Shanti Puja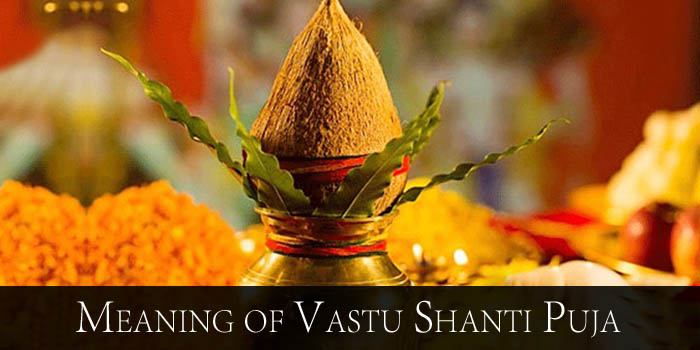 Vastu Shanti Puja is a spiritual and religious process to offer prayers to the Vastu Purush who is the Lord, protector and soul of the house and seek the blessings for positivity and prosperity. During this worship, people also pay their tribute to the deity of directions, five elements of nature, and natural forces.
Some of the major objectives of performing Vastu Shanti Pooja are –
To eliminate any kind of faults relating to interiors exteriors, or structures of buildings.
To seek forgiveness of God for the damage done to the nature during construction.
To ask for the blessings of Vastu Purush for happiness, wealth and good health.
Offer prayers to Vastu Purush for protection of home or office from natural calamities.
To appease any form of supernatural force which might be dangerous for the occupants
Significance of Vastu Shanti Puja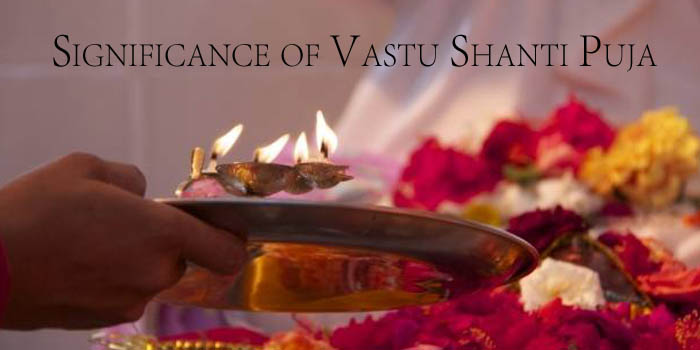 Vastu is a place where nature and human beings live together in harmony. Vastu Shanti Puja, also known as Vastu Dosh Nivaran Puja, brings a striking balance between both of them by removing all the hurdles or negativities present in the environment and preventing unforeseen destruction and misfortune to finally improve the Vastu of a place. The puja is performed to appease Vastu Devta to seek his blessings and bless one's home or workspace with prosperity and harmony.
Vastu Puja is also conducted to reduce the harmful impacts of the Vastu Dosha caused by the construction faults in the Vastu of a place and to maintain a balance between the eight directions and the five elements of nature. People worship Vastu Purush or Vastu deva on several occasions such as land worship, Griha Pravesh, door installation, well mining, foundation laying, foundation mining, and others.
Benefits of Vastu Shanti Puja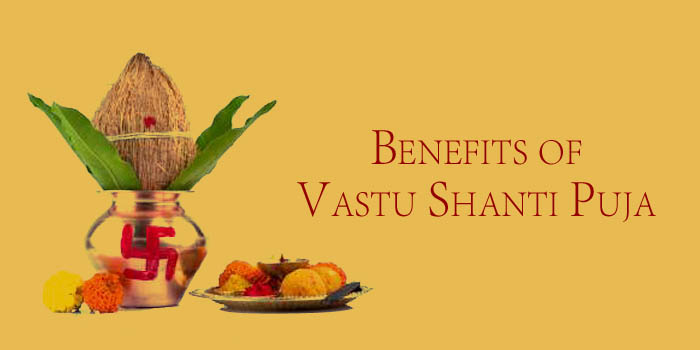 Vastu Shanti Puja offers various benefits to people who perform this worship in their homes or workspaces.
They are as follows –
Vastu shanti puja eliminates any kind of health and wealth issues.
It helps in removing the negative impacts of the planets on the horoscope.
The worship helps in improving the relationship between the family members.
It eliminates all kinds of hurdles in career, marriage or any other areas of life.
It purges every corner of the home and brings happiness and prosperity in it.
Blesses home with peace and harmony.
Protects homes and offices from natural and unnatural calamities.
It brings wealth and prosperity in business when this Puja is performed in offices.
Increases the flow of positive energy and removes negative and evil energy.
When To Perform Vastu Shanti Pooja?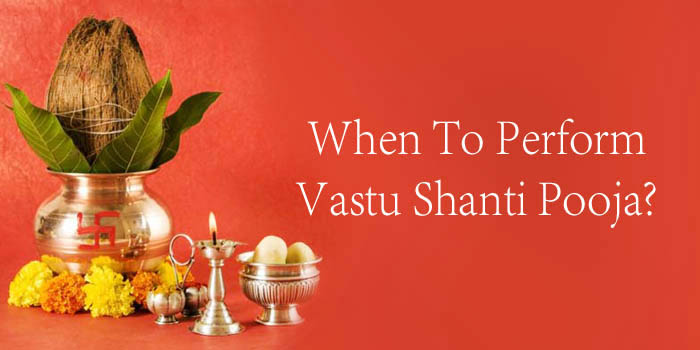 There are various situations when people perform a Vastu Shanti Puja such as –
When one fail to work according to the Vaastu parameters
Just before the Griha Pravesh Puja
Reconstruction of an old building which can transform its structure.
Renovation of home or office.
Scarcity of space and difficulties in complying with the Vedic norms.
When people shift into an old home.
In case, there are faults in the setting of the home interiors.
When people have completed 10 years or more in one home.
When family settles somewhere else and locks their home for a good number of years and then comes return.
Construction of a building against the rules of Vastu Shastra.
When shortage of financial resources exists in the office or home.
Vastu Shanti Puja Muhurat 2022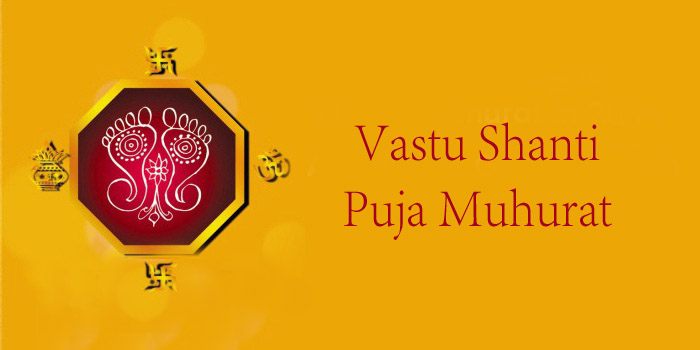 The Shubh Muhurat plays a significant role in the Vastu Shanti Puja. Taking help from the Panchang, the auspicious date and time of the Puja can be decided.
Vastu Puja Muhurat based on Astrology
Auspicious Days: Monday, Wednesday, Thursday, and Friday
Auspicious Nakshatras: Ashwini, Pushya, Punarvasu, Uttarfalguni, Rohini, Hasta, Uttarashada, Revati, Uttarabhabhadrapad, Shravan, Dhanishta, Shatbishya, Anuradha, Swati, and Magha
Auspicious Dates: 2nd day of moonlit fortnight, Tritiya, Panchami, Saptami, Dashami, Ekadashi, Dwadashi, and Trayodashi
Vastu Muhurat for Griha Pravesh 2022

Auspicious Days: Monday, Wednesday, Thursday, and Friday
Auspicious Nakshatras: Uttarfalguni, Rohini, Uttarashada, Revati, Uttarabhabhadrapad, Anuradha, Swati, and Chitra
Auspicious Dates: There are various tithis in the Shukla Paksha which are considered auspicious to perform Vastu Shanti Puja on the day of Griha Pravesh or Housewarming.
Month
Date
Day
Timings
Tithi
January 2022
No dates available for Vastu Shanti Puja
February 2022
5 February
Saturday
07:07 AM -03:46 AM, February 6
Panchami
10 February
Thursday
11:08 AM – 07:02 AM, February 11
Dashami
11 February
Friday
07:02 AM – 6:38 AM, February 12
Dashami, Ekadashi
18 February
Friday
04:42 AM – 06:56 AM, February 19
Dwitiya, Tritiya
19 February
Saturday
06:56 AM – 04:52 PM
Tritiya
21 February
Monday
06:54 AM – 04:17 PM
Panchami
March 2022

No dates available for Vastu Shanti Puja

April 2022

No dates available for Vastu Shanti Puja

May 2022
2 May
Monday
12:34 PM – 5:39 AM, May 03
Dwitiya
11 May
Wednesday
07:28 PM – 05:32 AM, May 12
Ekadashi
13 May
Friday
06:48 PM – 05:31 AM, May 14
Trayodashi
14 May
Saturday
05:31 AM – 03:22 PM
Trayodashi
16 May
Monday
01:18 PM – 05:29 AM, May 17
Pratipada
20 May
Friday
05:28 AM – 05:28 PM
Panchami
25 May
Wednesday
05:25 AM – 05:25 PM, May 26
Dashami, Ekadashi
26 May
Thursday
05:25 AM – 10:54 PM
Ekadashi
June 2022
1 June
Wednesday
05:23 AM – 01:01 PM
Dwitiya
10 June
Friday
05:22 AM – 03:37 AM, June 11
Dashami, Ekadashi
16 June
Thursday
12:37 PM – 05:23 AM, June 17
Tritiya
22 June
Wednesday
08:45 PM – 05:24 AM, June 23
Dashami
July 2022

No dates available for Vastu Shanti Puja

August 2022

No dates available for Vastu Shanti Puja

September 2022

No dates available for Vastu Shanti Puja

October 2022

No dates available for Vastu Shanti Puja

November 2022

No dates available for Vastu Shanti Puja

December2022
2 December
Friday
06:56 AM – 06:57 AM, December 3
Dashami, Ekadashi
3 December
Saturday
06:57 AM – 05:34 AM, December 4
Ekadashi
8 December
Thursday
09:37 AM – 07:02 AM, December 9
Pratipada
9 December
Friday
07:02 AM – 02:59 PM
Pratipada, Dwitiya
Remedies to Remove Vastu Dosh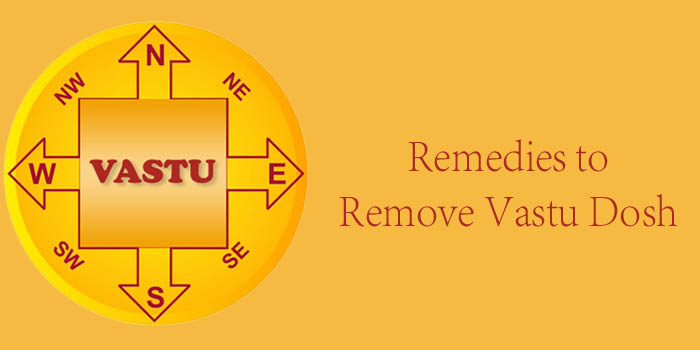 Vastu Dosh means the faults in the Vastu of a particular place due to the failure in compliance with the guidelines of Vastu Shastra. This can lead to prevalence of negative energies, health issues, financial crunches, and more. So, below are some remedies which can eliminate the effects of Vastu Dosh of one's residential places or one's business place –
Perform Ganesh Puja & Navagrah Shanti Puja in every three years
Perform Navachandi Yagya, Agnihotra Yagya, & Shanti Path
Keep Vastu Purusha idol, copper wire, pearl, snake made of silver, and powla in a red cloth along with red earth in the East direction.
On Tuesday, put red sand, Powla, and cashew nut in a red cloth in the West direction and worship them to bring peace in home or office.
People must only destroy the old buildings after taking the permission of Vastu Purush by worshipping him.
After the destruction of building, never take earthen pot, water, or seat home.
Rakhshoghna Sukta Jaap, Homa, and Anusthan is necessary.
Chant the mantra "Om Namo Bhagvati Vaastu Devtay Namah – Do Dasamsa Home" for 12500 times starting on Tuesday at least 108 times daily.
Always perform Griha Pravesh ceremony after Vastu Shanti Puja.
Never keep South-West room vacant
Paintings of a war scene, crying woman, angry person, owl and eagle are inauspicious. Remove them immediately.
Keep small bowls of salt in different corners of the house to absorb negative energy.
Hang metal bells on the entrance to increase inflow of positivity.
Symbols of Swastika and Om bring in happiness and positivity.
Always have your kitchen or the gas stove in the South-East corner of your home.
Light diya and incense sticks in morning and evening as fire is a cosmic cleanser.
Keep holy water in dark corners of the house and change it on weekly basis.
Avoid placing Cactus in homes or workspaces and ensure that there is at least one Tulsi plant outdoors.
Study must be done facing east.
Paint your walls with pastel or light colors as they attract spiritual happiness and mental peace.
Keep the north-east part of the house or office clean as men working in such directions may suffer health issues.
Vastu Puja Material (वास्तु पूजन सामग्री)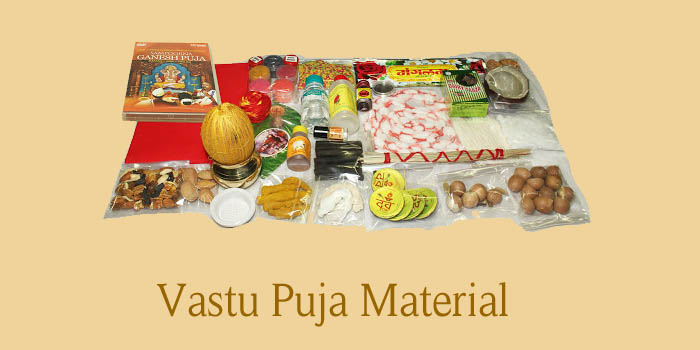 Before commencing with the Vastu Puja, it is important to make a list of items essential to perform it. Since its an auspicious occasion held to eliminate the negativities from a place, great care must be taken in gathering every item mentioned in the list. Here is the significant list of Vastu Shanti Puja samagri which you can have a look at –
Vastu Purusha idol/photo
Lord Ganesha idol/photo
Kuldevatha photo
Vastu Yantra
Panchagavya
Betel leaves
Darbh grass
Kalasha
Coconut
Rice
Sesame Seeds
Supari
Haldi
Kumkum
Sandalwood paste
Sugar
Milk
Ghee
Honey
Five types of fruits
Five types of flowers
Five kinds of sweets
Samidha (Mango wood)
Urad dal
Earthen lamp
Oil
Dhoop
Incense sticks
Vastu Puja Vidhi (वास्तु पूजा विधि)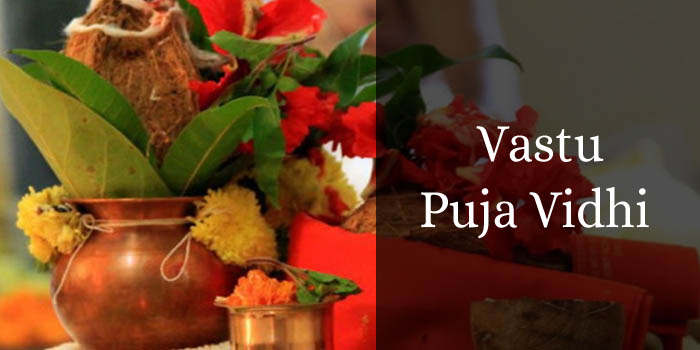 The auspicious occasion of Vastu Shanti Puja when performed in accordance with the right rituals and traditions, it removes all kinds of negative effects of Vastu Dosha from home or an office.
The following rituals are performed during Vastu Puja –
Panchagavya Prashan: Consume Panchagavya made from the five elements of cow – milk, ghee, cow dung, urine,
Swastika: As the holy symbol of Swastika eliminates negative energies from home and prevent it from evil eyes
Ganesh Poojan: The Ganapati Puja is considered auspicious before commencing any auspicious ceremony or Puja as it removes obstacles in life.
Sankalpa: The head of the house seek the blessings of the Vastu Devta and the Lord of the nine planets.
Kalash worship: A cooper Kalash is filled with water, a coin, and nine kinds of grains. A coconut is tied in a red cloth and placed on top of the kalash with five mango leaves in its bottom.
Kuldevata Smaran & Vandan: Coconut & betel leaf are offered to Kuldevata, Vastudevata, or guru to seek blessings.
Punyah- wachan: The Brahman (guruji) gives the blessings of "Let today's day be the auspicious day."
Matrika Pujan: It is performed to avoid violence.
Vasodhara Pujan: Worship of the Buddhist bodhisattva of wealth, prosperity, and abundance.
Nandishradh: The deceased elders and the ancestors of the family are worshipped.
Acharya Varana: Appointment of Guruji to perform the process of vastushanti.
Yogini Pujan
Kshetrapal Puja: The kshetrapal devata is worshipped with rice, urad dal and kapur. Pleasing him will eliminate negativities from the place and bless it with a positive Vastu.
Agneya Establishment
Navagraha Pujan: This Puja is performed to seek the blessings of blessings from Adidevata and 'Prathana Devata'.
Vastu Mandal Puja: The 62 gods are invited & worshipped to seek their divine blessings on home.
Grahamandal Puja: It involves worshipping of 42 Gods of Navagraha mandal.
Havan: Mango wood, rice, and ghee are offered in the havan to appease planetary gods.
Vastu Devta Homan: Samidha, kheer, sugar, ghee and sesame seeds are offered in havan process and "Beal-fruit" is offered to Vastu Devta.
Purnahuti: After the Havan, the mantra – "पूर्णमदः पूर्णमिदं पूर्णात्पूर्णमुदच्यते। पूर्णस्य पूर्णमादाय पूर्णमेवावशिष्यते॥" is recited for the successful completion of the Puja.
Uttarpooja: Gods are invited and worshipped with dhoop, flowers, lamp & naivedya.
Vastupurusha-Prayer
Abhishek: The holy water in the Kalash is sprinkled on the host and all the people present at the loactaion.
Dharapoojan: Goddess earth is also worshipped.
Dakshina: The Pandits or the Brahmans performed the Puja are given clothes and Dakshina.
Brahmin Food: Food is first offered to the Brahmins and then distributed to others.
The procedure for Vastu Shanti Puja is as follows-
The entire house should be washed thoroughly one day before Vastupujan.
Decorate the entrance of the home with a toran, rangoli, bandanwar, and flowers.
In case of Vastu Puja at home, the man and the woman of the house on keep a fast on the day of Vaastu Pujan and must not be broken until the Puja is successfully completed.
Lord Ganesha Puja is first performed to seek his blessings for a successful Vastu Shanti Puja.
Sankalpa is the second step of the Vastu Shanti Puja. Flowers, rice, and grains are offered to Mother Earth by the head of the family simultaneously reciteing mantras.
Bhoomi Abhishanchan is the third step which involves invoking the Mother Goddess. After that, the holy Ganga water is sprinkled with mango leaves.
Pran Prathista Puja is performed by chanting holy Vastu Shanti Mantra and offering rice, flowers, and grains to the Goddess.
Havan or fire ritual
Performing Aarti and distribution of prasad
Lastly, the holy items used in the Puja are wrapped in a cloth and dug in the pit in the corner of a house.
Vastu Puja Mantras
Vastu Mantra helps to get rid of these negative energies and invite auspiciousness in the premises. The deity of Vastu Mantra is Vastu Purush or the Kaal Purush.
The benefits of reciting the Vastu Shanti mantras are –
Chanting these mantras appease and calms the malefic planets such as Mercury, Saturn, Sun, Mars, Rahu and Ketu and strengthens the benefic planets like Jupiter, Venus, and Mercury.
They remove negative energies and bring happiness and prosperity.
Vastu Mantra blesses the occupants with health, wealth, and peace of mind.
These Mantras creates an aura of peace and happiness in the home or office.
It protects a building from evil supernatural forces, black magic and negative energies.
They have the power to remove stress and purges the environment.
Vastu Vedic Mantra (Vastu Purusha Mantra) –
For peace and harmony in the home
नमस्ते वास्तु पुरुषाय भूशय्या भिरत प्रभो | मद्गृहं धन धान्यादि समृद्धं कुरु सर्वदा ||
Vastu Dosha Nivaran Mantra – 1
ॐ वास्तोष्पते प्रति जानीद्यस्मान स्वावेशो अनमी वो भवान यत्वे महे प्रतितन्नो जुषस्व शन्नो भव द्विपदे शं चतुष्प्दे स्वाहा |
Vastu Dosha Nivaran Mantra – 2
ॐ वास्तोष्पते प्रतरणो न एधि गयस्फानो गोभि रश्वे भिरिदो अजरासस्ते सख्ये स्याम पितेव पुत्रान्प्रतिन्नो जुषस्य शन्नो भव द्विपदे शं चतुष्प्दे स्वाहा |
Vastu Dosha Nivaran Mantra – 3
ॐ वास्तोष्पते शग्मया स र्ठ(ग्वग्) सदाते सक्षीम हिरण्यया गातु मन्धा ।
चहिक्षेम उतयोगे वरन्नो यूयं पातस्वस्तिभिः सदानः स्वाहा ।
अमि वहा वास्तोष्पते विश्वारूपाशया विशन् सखा सुशेव एधिन स्वाहा ।
Vastu Dosha Nivaran Mantra – 4
ॐ वास्तोष्पते ध्रुवास्थूणां सनं सौभ्या नां द्रप्सो भेत्ता पुरां शाश्वती ना मिन्क्षे मुनीनां सखा स्वाहा |
Vastu Shanti Gift Ideas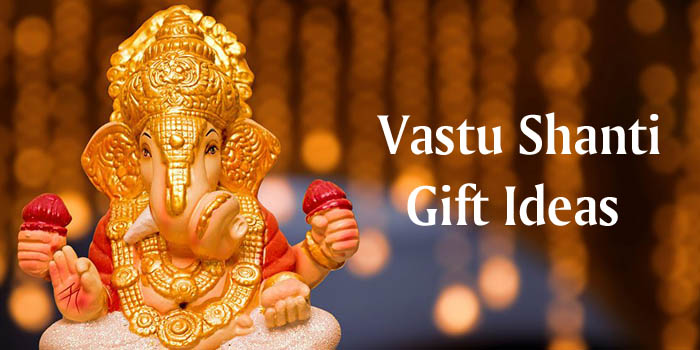 There are many popular vastu Shanti gifts that you can consider gifting the family performing a Vastu shanti puja. Good luck gifts make excellent choices for the occasion as they will bestow the home with positivity and happiness. They are as follows:
Feng Shui Laughing Buddha
Religious idols
Art paintings
Wind chimes
Crystal Turtle
Bamboo Plant
Scented candles
Silver utensils
Return Gifts for Vastu Shanti/Housewarming Return Gifts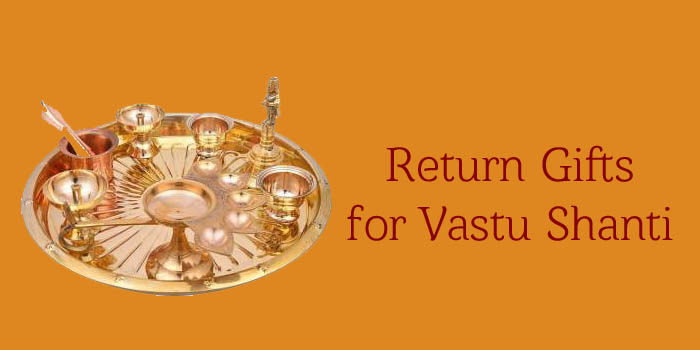 Apart from the usual Puja Prasad, there are some traditional gifts which are given to the guests and members present at the Vastu Shanti ceremony. They represent the token of gratitude on the part of the hosts to the guests for marking their presence on this special and auspicious occasion.
Some of the popular return gifts for Vastu Shanti, Griha Pravesh, or housewarming –
Sweet boxes
Religious idols
Shagun envelopes
Scented candles
German silver items
Portraits of Gods and Goddesses
Vastu Shanti Puja Rangoli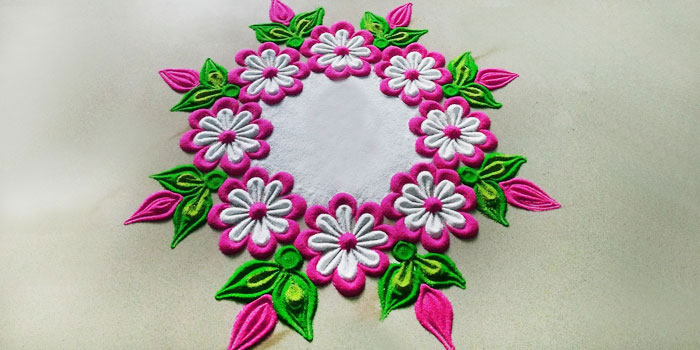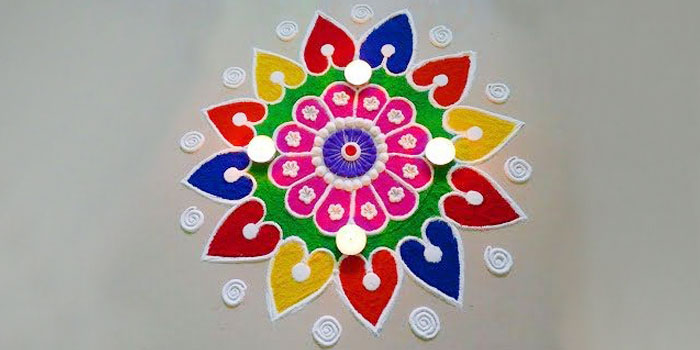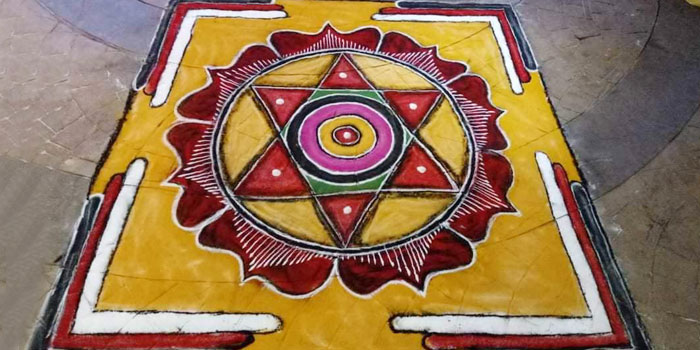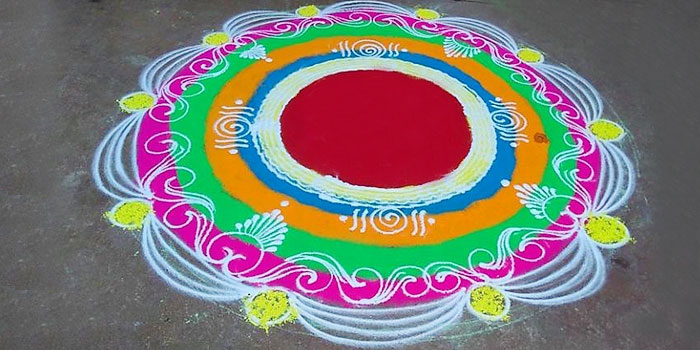 Making a beautiful Rangoli on the day of Vastu Shanti Puja according to the guidelines of Vastu Shastra will benefit the home as well as the dwellers in multiple ways like –
Rangoli uplifts the whole environment of home and life the family members.
The rangoli brings positive energy in the house.
Wavy shapes of rangoli help in developing a clear mind and opens doors of new opportunities.
'Rangoli' welcomes Goddess Lakshmi in the home. It welcomes the wealth and prosperity in the house.
It is believed that rangoli on the doorsteps or in front of the house wards off evil energies.
Vastu Shanti Puja Invitation Card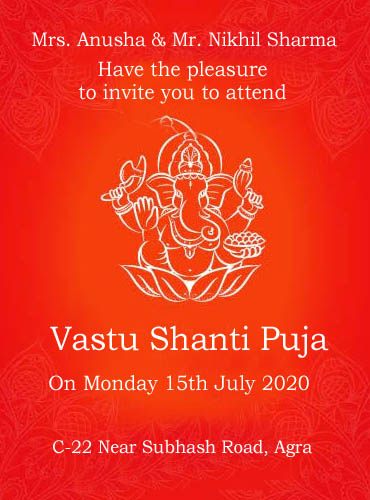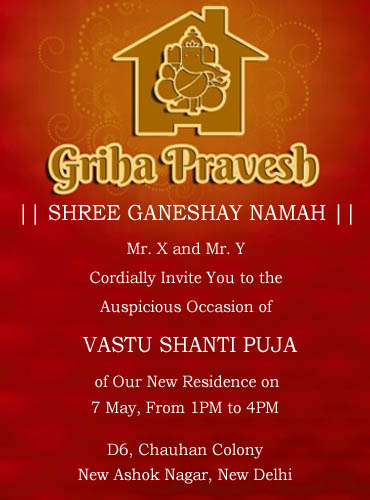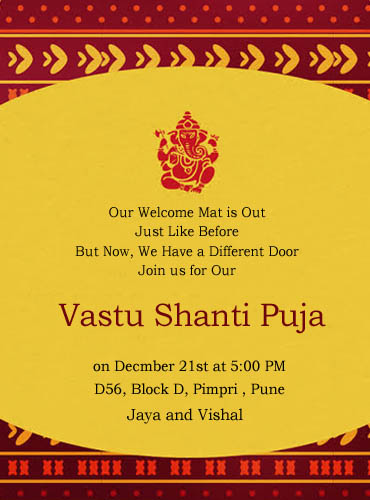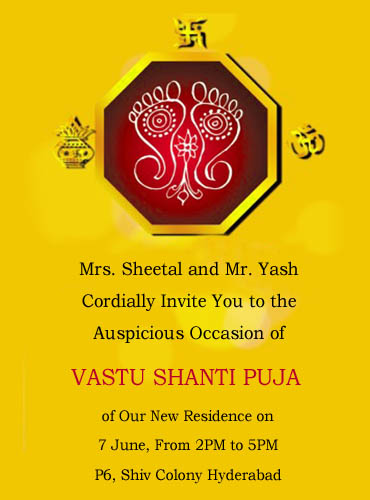 Send out these wonderful Vastu puja invitation cards to family members and friends to make them a part of your home or office purification ceremony.
Frequently Asked Questions – Vastu Shanti Pooja
Why Vastu Shanti Puja done?
Vastu Shanti Puja is performed to seek the blessings of Vastu Purush, the ultimate protector of home, plot, or a building and to remove prevailing Vastu Doshas.
What is Vastu Homam?
Vastu Shanti homam is performed mainly to remove negative energies from new residential or commercial buildings in an effective manner. Doing this will avoid unforeseen threats in a building and overcomes mental disturbances for a peaceful life.
What is Vastu Purusha Mantra?
नमस्ते वास्तु पुरुषाय भूशय्या भिरत प्रभो | मद्गृहं धन धान्यादि समृद्धं कुरु सर्वदा ||
Chanting this mantra brings harmony and peace in the home and removes Vastu Doshas.
What is the best time for Vastu Shanti Puja?
The best time to perform Vastu Shanti Puja is on the day of moonlit night of Shukla Paksha of any lunar month.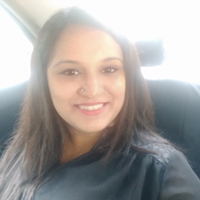 Latest posts by Sakshi Ecavade
(see all)