Bhumi Pujan Muhurat 2022 – Auspicious Dates for New House Construction
Packers and Movers Cost Calculator
"All walls start by laying the first brick. How little or great they become is up to you." – Anonymous
In India, people strongly believe in purchasing land and then constructing their dream home as per their needs or requirements. Getting their home constructed and designed on their choice of land gives immense pleasure and satisfaction to them. Their piece of land holds sentimental value in their hearts and therefore, they ensure to leave no loopholes in getting their dream home built in the best possible manner.
As people of India are extremely religious in their thoughts and actions, and always make sure to seek divine blessings in whatever they do, the ritual of Bhumi Pujan is no different. Whenever they purchase a plot for construction of their home or business, they ensure that this ritual is carried out in its true letter and spirit. So, before you actually commence building your home, it is better to know the best dates or best muhurat for Bhumi Pujan for 2022 to bless your new home with the blessings of the Almighty and to ensure that everything goes well as planned.
Significance of Bhumi Pujan in India
The ritual of offering prayers to the Almighty and Mother Earth (Bhoomi Devi) before commencing the construction of a building is called as Bhumi Pujan. A Foundation Stone or Brick is laid in a portion of a land and different Gods are invoked to seek their blessings so that there come no obstacle in the construction work. It is like seeking the divine permission to dig, till or drill the land. Another reason of performing this activity is to seek the forgiveness of the living beings residing underground as they habitat might get disturbed due to the construction activities. This religious ceremony is performed to appease he five elements i.e. Water, Air, Earth, Sky and Fire.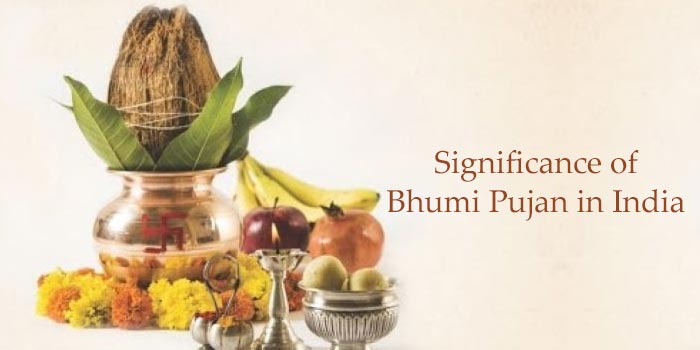 Some of the benefits of Bhumi Pujan include:
It also helps in eliminating Vastu Dosha or negative energies from the land.
It protects your home and family members from any natural calamities or accidents.
It purifies your house and increases good luck.
Griha Nirman Muhurat 2022: Auspicious Days, Tithis, Nakshatras, & Months
Bhumi puja is an important ritual which needs to be performed during an auspicious period of time to preserve its sanctity and get maximum benefits. So, find below the best days, tithis, nakshatras, months and lagna for bhoomi puja in 2022.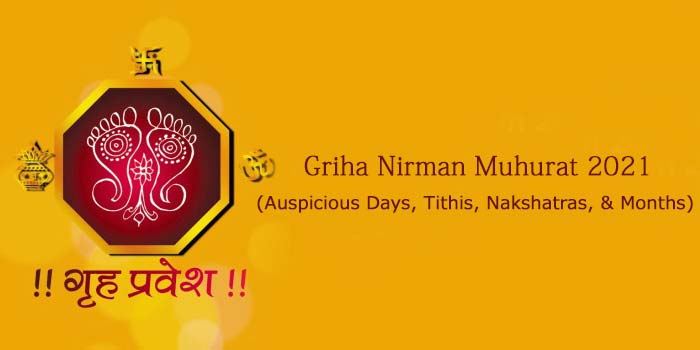 Auspicious days for neev pujan: Monday (सोमवार), Wednesday (बुधवार), Thursday (गुरुवार), Friday (शुक्रवार), and Saturday (शनिवार)
Shubh tithi for griha arambh: Dwitiya (द्वितीया), Tritiya (तृतीया), Panchami (पंचमी), Shashthi (षष्ठी), Saptami (सप्तमी), Dashami (दशमी), Ekadashi (एकादशी), Dwadashi (द्वादशी) and Trayodashi (त्रयोदशी)
Good nakshatras for bhumi poojan: Rohini (रोहिणी), Mrigashira (मृगशिरा), Pushya (पुष्य), Uttaraphalguni (उत्तराफाल्गुनी), Hasta (हस्त), Chitra (चित्रा), Swati (स्वाती), Anuradha (अनुराधा), Rohini (रोहिणी), Dhanishtha (धनिष्ठा), Uttarashada (उत्तराषाढ़ा), and Revathi (रेवती)
Best months for home construction: Phalgun (फाल्गुन), Vaisakh (वैशाख), Shravan (श्रावण), and Magha (माघ)

Vastu Muhurat for Bhumi Pujan in 2022

Are you looking for an auspicious date for house construction or bhoomi pujan in 2022? Just like marriages and griha pravesh, bhumi puja is also required to be performed during an auspicious time period to bring good luck and blessings. Here is the list of auspicious dates and timings for griha nirman in 2022:

Auspicious Dates for Bhoomi Pujan in January 2022

Auspicious Dates for Bhoomi Pujan in January 2022:

| | | | | |
| --- | --- | --- | --- | --- |
| Magha (माघ) | 17th January 2022 | Monday | Purnima | Punarvasu |
| | 20th January 2022 | Thursday | Dwitiya | Ashlesha |
| | 22nd January 2022 | Saturday | Chaturthi | Purva Phalguni |
| | 24th January 2022 | Monday | Shashthi | Hasta |

Bhumi Pujan Muhurat in February 2022

Searching for shubh muhurat dates for bhumi pujan in the month of February 2022? Find them here.

| | | | | |
| --- | --- | --- | --- | --- |
| Phalguna (फाल्गुन) | 2nd February 2022 | Thursday | Pratipada | Dhanishtha |
| | 3rd February 2022 | Saturday | Tritiya | Shatabhisha |
| | 5th February 2022 | Monday | Panchami | Uttara Bhadrapada |
| | 7th February 2022 | Thursday | Saptami | Ashwini |
| | 10th February 2022 | Friday | Navami | Rohini |
| | 11th February 2022 | Monday | Dashami | Mrigashirsha |
| | 14th February 2022 | Wednesday | Trayodashi | Punarvasu |
| | 16th February 2022 | Thursday | Purnima | Ashlesha |
| | 17th February 2022 | Friday | Pratipada | Magha |
| | 18th February 2022 | Saturday | Dwitiya | Purva Phalguni |
| | 19th February 2022 | Thursday | Tritiya | Uttara Phalguni |

Good day for house construction in March 2022

There are no good dates for Bhumi Pujan or house construction in the month of March in 2022.

Bhumi Pujan Shubh Muhurat Dates in April 2022

Following are the best shubh muhurat dates for bhoomi pujan in the month of April:

| | | | | |
| --- | --- | --- | --- | --- |
| Vaisakha (वैशाख) | 2nd April 2022 | Saturday | Pratipada | Revati |
| | 3rd April 2022 | Sunday | Dwitiya | Ashwini |
| | 4th April 2022 | Monday | Tritiya | Bharani |

Shubh Muhurat Dates for Bhoomi Pujan in May 2022

Find below the auspicious dates for the occasion of Bhumi Pujan for the month of May 2022 for your knowledge.

| | | | | |
| --- | --- | --- | --- | --- |
| Vaisakha (वैशाख) | 2nd May 2022 | Monday | Dwitiya | Krittika |
| | 6th May 2022 | Friday | Panchami | Ardra |
| | 7th May 2022 | Saturday | Shashthi | Punarvasu |
| | 12th May 2022 | Thursday | Ekadashi | Uttara Phalguni/td> |
| | 13th May 2022 | Friday | Dwadashi | Hasta |
| | 16th May 2022/td> | Monday | Purnima | Vishakha |
| | 18th May 2022 | Wednesday | Tritiya | Jyeshtha |
| | 21st May 2022 | Saturday | Shashthi | Shravana |

Bhoomi Puja Dates in June 2022

Planning a bhumi pujan ceremony in the month of June? So, find here the best dates for bhumi pujan shubh muhurat.

| | | | | |
| --- | --- | --- | --- | --- |
| Jyeshtha (ज्येष्ठ) | 1st June 2022 | Wednesday | Dwitiya | Mrigashirsha |
| | 10th June 2022 | Friday | Dashmi | Chitra |
| | 11th June 2022 | Saturday | Ekadashi | Swati |
| | 25th June 2022 | Saturday | Dwadashi | Bharani |

Auspicious Dates for Bhumi Pujan in July 2022

There are no auspicious dates for Bhumi Pujan in July 2022.

Griha Nirman Muhurat Dates in August 2022

Are you looking for an auspicious date in the month of August for Bhumi Pujan? Find below the best dates for bhumi pujan for your kind reference.

| | | | | |
| --- | --- | --- | --- | --- |
| Shravana (श्रवण) | 3rd August 2022 | Wednesday | Shashthi | Hasta |
| | 4th August 2022 | Thursday | Saptami | Chitra |
| | 10th August 2022 | Wednesday | Trayodashi | Purva Ashadha |
| | 13th August 2022 | Saturday | Dwitiya | Shatabhisha |
| | 17th August 2022 | Wednesday | Shashthi | Ashwini |
| | 18th August 2022 | Thursday | Saptami | Bharani |
| | 22nd August 2022 | Monday | Ekadashi | Mrigashirsha |

Neev Pujan Dates in September 2022

Bhumi Pujan needs to be performed during an auspicious time. Here are the best dates for this occasion in the September month:

| | | | | |
| --- | --- | --- | --- | --- |
| Bhadrapada (भाद्रपद) | 10th September 2022 | Saturday | Purnima | Shatabhisha |

Shubh Muhurat for New House Construction in October 2022

No dates are available for new house construction in the month of October 2022

Vastu Muhurat for Bhumi Pujan in November 2022

There are no good dates available for Bhumi Pujan in November 2022.

Grihaarambh Bhumi Pujan Muhurat Date for December 2022

Find here the good dates for the celebration of Bhumi Pujan in the month of December 2022.

| | | | | |
| --- | --- | --- | --- | --- |
| Margasirsa (मार्गशीर्ष) | 1st December 2022 | Thursday | Shashthi | Jyeshtha |
| | 2nd December 2022/td> | Friday | Saptami | Mula |
| | 7th December 2022 | Wednesday | Dwadashi | Shatabhisha |
| | 8th December 202 | Thursday | Chaturdashi | Purva Bhadrapada |
| | 9th December 2022 | Friday | Purnima | Uttara Bhadrapada |
| | 14th December 2022 | Thursday | Panchami | Rohini |
| | 15th December 2022 | Friday | Shashthi | Mrigashirsha |
| | 16th December 2022 | Thursday | Shashthi | Ardra |

Inauspicious Dates for New Home Construction 2022

Not all dates are good for home construction in 2022. There are some dates which must be avoided at any cost to avoid any kind of losses –

14th March 2022
14th June 2022
14th September 2022
14th December 2022

Bhumi Pujan Vidhi

Just like any other religious rituals in India, Bhumi Pujan is also required to be performed in a proper manner. So, here is the step by step guide for Bhumi Pujan in India:

The land must be cleaned for purification procedure with Gangajal after taking bath in the morning.
Appoint a qualified and experienced priest for Bhumi Pujan having a good knowledge of the mantras. The presence of a priest is compulsory to remove Vastu Dosha and any sort of negativities that may arise during the construction.
The priest must face the north direction and the host of the Bhumi Puja must sit facing the East direction.
The mantras are chanted to cleanse the body, place and posture.
The ritual of Bhumi Pujan starts with offering prayers to Lord Ganesha to eliminate any kind of hindrances in construction. An oil or ghee lamp is also lit.
Silver snake or Snake God is also worshiped as it is believed that Lord Sheshnaag keeps your house safe and secure. The Lord is invoked by pouring ghee, curd, honey and milk.
A kalash is filled with water with mango leaves and a coconut on its neck. A coin and betel nut is kept in the kalash to invoke Goddess Lakshami.
A small piece of land is dug to keep the foundation stone.
Flowers, akshat, turmeric, chandan, vermillion, incense sticks, moli, fruits, sweets, paan, supari, and sweets are offered with the recitation of sacred mantras.
Sweets and fruits are distributed among people.

The ingredients to be used in the Bhoomi Pujan include:

Turmeric powder
Kumkum
Sandalwood paste or powder
Incenses sticks
Camphor
Flowers
Fruits
Betel leaves and nuts
Coconut
Red cloth
Rice
Coins
Ghee
Mishri
Naivedyam
Milk
Mango leaves

Frequently Asked Questions – Bhumi Pujan Muhurat 2022

Q. What is Bhoomi Pooja?

Bhoomi Puja is an Indian tradition of honouring Goddess Bhoomi (Goddess Earth) and Vastu Purush (God of directions) before starting the construction work. It is believed that it removes all the negativities and Vastu Doshas in the land.

Q. Where is Bhumi Puja performed?

Bhumi Puja is performed in the noth-east corner of the construction site. The construction work must begin from this corner to make sure that this part of the land is lower than other ones.

Q. Which months are good for Bhumi Pujan?

Paush (January), Phalgun (March), Baisakh (May), and Margshirsh (December) are the best months for Bhumi Pujan.

Q. Which days must be avoided for Bhumi Pujan?

Saturdays, Sundays and Tuesdays must be avoided for conducting Bhumi Pujan in India.

Q. When should you do Bhoomi Pooja?

Mondays and Thursdays are good for Bhumi Puja.

Q. Which nakshatra is good for house construction?

Uttaraphalguni, Uttarabhadrapada, Uttarashada, Rohini, Revati, Mrigshira, Chitra, Shatbhisha, Swati, Dhanishtha, Anuradha, Hasta and Pushya nakshatras are good for new house construction.

Q. Which tithi is good for Bhumi Puja?

Dwitiya, Tritiya, Panchami, Shashti, Saptami, Dashami, Ekadashi, Dwadashi, and Tradyodashi are good tithis for Bhumi Puja.

Q. When is the best time to keep the foundation stone?

Foundation stone must be placed in the morning. Never put the foundation stone or brick in the evening or night.

Q. Which deities are worshipped during Bhumi Puja?

Goddess Earth, Vastu Purusha, Snake God and the five elements of nature are worshipped during Bhumi Puja.

Q. Who should perform Bhumi Puja?

The head of the family along with his wife must perform Bhumi Puja.

Q. Which Pakshas must be avoided for Bhumi Pujan?

Divaskarma, Shraadha, and Hadpaksha must be avoided for Bhumi Pujan.

Q. What is the effect of lunar constellations on Bhumi Puja?

In case a lunar day falls between 1st and 7th or 19th and 28th, then it is an inauspicious day for the performance of Bhumi Puja. Any lunar day falling between 8th ands 18th is auspicious for this ceremony.

Q. What other rituals are performed before construction apart from Bhumi Pujan?

There are five rituals which are performed before the construction of the building begins:

Bhoomi or Vastu Puja
Balidaana – Offering ritual in Hinduism
Hala Karshaana – Levelling of the site
Ankurra Roopana – Sowing of the seeds
Shilaayaasa – Laying of the foundation stone

Q. What ritual is performed during the construction of a house?

Fixing of the main door frame is the ritual which is performed during the construction of a house.

Q. Is it ok to start the construction work if a woman in the house is pregnant?

No, it is better to avoid the commencement of the construction work if a woman of the house is seven months pregnant.

Q. What things should be done after the purchase of a land?

Things that should be done after the purchase of a land are –

Compound wall: It is mandatory to construct the compound wall before the task of construction begins. The height of the south-west wall must be higher than the other walls. The north and east side walls must be shorter than the west and south walls.
Cow: It is auspicious to keep a cow or a calf on the empty land.
Plants: It is good to grow plants or trees on the construction site.
Bhumi Pujan: This ritual is necessary for the happiness and good fortune of the land and family members.

Q. What is the cost of performing Bhumi Puja?

The cost of performing Bhumi Puja ranges from Rs. 3,000 to Rs. 10,000

Q. What are the best dates for Bhumi Pujan in January 2022?

The best dates for Bhumi Pujanin the month January 2022 are:

17th January 2022
20th January 2022
22nd January 2022
24th January 2022

Q. What is the good neev poojan muhurat in February 2022?

The good neev poojan muhurat in February 2022 includes these dates – 2nd February, 3rd February, 5th February, 7th February, 10th February, 11th February, 14th February, 16th February, 17th February, 18th February, and 19th February.

Q. What are the best bhoomi pooja dates in March 2022?

There are no best bhoomi pooja dates in March 2022. Therefore, consult an astrologer to find an auspicious date for Bhumi Pujan in this month based on your horoscope/ Kundali.

Q. What are the good house construction muhurat in 2022 May?

The good house construction muhurat in 2022 May are –

2 May 2022
6 May 2022
7 May 2022
12 May 2022
13 May 2022
16 May 2022
18 May 2022
21 May 2022

Q. What are the shubh muhurat for niv pujan in June 2022?

1st, 10th, 11th, and 25th are the shubh muhurat for niv pujan in June 2022.

Q. What is the best Bhumi pujan date in July 2022?

There are no dates for Bhumi Pujan in the month of July 2022. Consult an astrologer to find a shubh muhurat date for this religious ceremony depending on your Kundali/horoscope.

Q. What are auspicious dates for Bhoomi Pujan in August 2022?

The auspicious dates for Bhoomi Pujan in August 2022 are 3rd August, 4th August, 10th August, 13th August, 17th August, 18th August, and 22nd August.

Q. What is the best date for neev pujan in September 2022?

The best date for neev pujan in September 2022 is 10th September.

Q. What is the auspicious muhurat for Bhoomi Poojan in October 2022?

There is no auspicious muhurat for Bhoomi Poojan in October 2022. However, you can ask an astrologer for a good date for this religious ritual for your Kundali/horoscope.

Q. What are the good dates for Bhumi Pujan in November 2022?

No dates for Bhumi Pujan in November 2022 are available. Consult an astrologer to find one to conduct this religious ceremony.

Q. What are the auspicious dates for Griharambh in Decemmber 2022?

The auspicious dates for Griharambh in Decemmber 2022 are –

1 December 2022
2 December 2022
7 December 2022
8 December 2022
9 December 2022
14 December 2022
15 December 2022
16 December 2022

Latest posts by Sakshi Ecavade

(see all)