How to decorate your home on Mother's Day?
Mother's Day is around the corner, and so is the tension to pull off a surprise party for the most important person in our lives.
Packers and Movers Cost Calculator
But more than one should be concerned about throwing a surprise party for their mums. They should do something that every mom loves. And that is organizing the house and ensuring it is well-maintained according to how your mom likes it.
Once you finish cleaning, organizing, and maintaining, it's time to plan a surprise party finally. For that, you have to introduce some home decor ideas for
Mother's Day to make your party preparations more wholesome and foolproof.
Here are some ideas on how to decorate your home on Mother's Day for a surprise party. These ideas fit perfectly for this part and will surely make your mom feel special on her special day.
Home decor ideas for Mother's Day
Start with the flowers: We know gifting a bunch of flowers to your mom on Mother's Day is not creative anymore. But who is talking about them and why? We are talking about having a banner made of flowers for her. This banner can either have 'happy mother's Day written on it, or you can go with just your mom's name to keep it sweet and simple.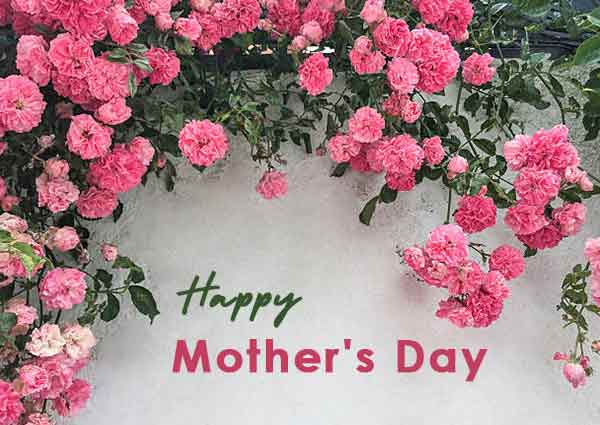 But, if you are looking for something different and unexpected for her, get a flower banner with 'this house belongs to the queen' and surprise her by putting it in the living room. It will look fantastic and smell very pleasant with all the fresh flowers (yes, you can go with artificial flowers, too, if you want them to last longer).
The tea set: We know our moms love their special tea set and never let us take it out. Only special guests are served tea in that cup. But hey, it's Mother's Day, and she is even more special today than the rest of the days.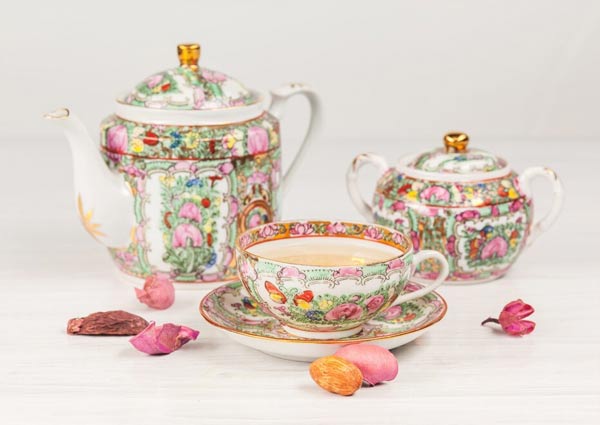 Place your mom's tea set on the coffee table, and make sure you pour her some tea. Ensure the coffee table is clean and her favorite scented candle is lit in the center.
Aromatherapy diffusers: If there is someone who works tirelessly for us, it's only our mom. No one puts their needs secondary and gives priority to what they want. On Mother's Day, we must ensure our mother is pampered with every possible thing in the world.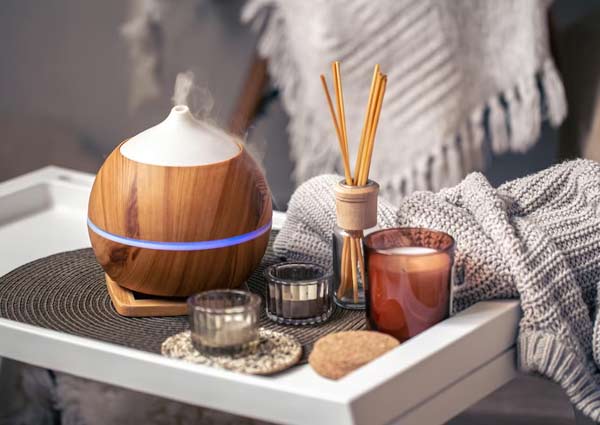 Talking about home decoration ideas for Mother's Day, add aromatherapy diffusers to a few places at your home. Make sure the fragrance is pleasant and something that your mom likes. Let the diffuser stay on till your mom wants it. The aromatherapy diffuser will ensure your mom feels mentally refreshed and physically relaxed. A feeling that every kid wants to gift to their mother.
Cozy throw blankets: Buy a soft and cozy throw blanket for your mom and put it on her favorite chilling spot in the home. It can be her chair on the balcony, her couch in the living room, or her bed, where she loves to read or spend quality time.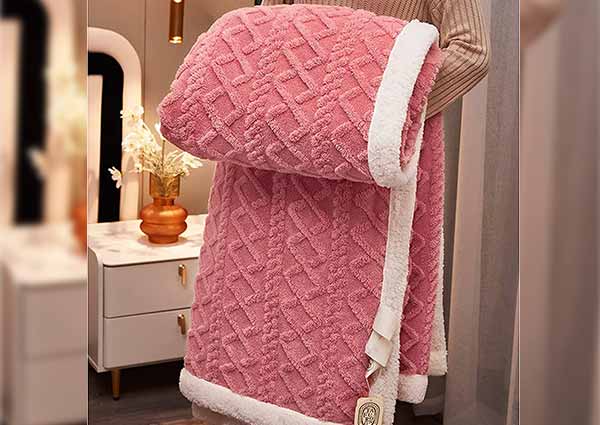 She will love the new addition of a blanket and admire your efforts in providing her comfort. The throw blanket can also be used as a great home decor item for your mom's room. So, you can place it there as well to make her room look more chic and welcoming.
Set up the dining table: Clean and set up the dining table to give your mom the best surprise. Wipe off the table with a clean cloth and scented cleanser. Put on a beautiful tablecloth and add a medium-sized flower vase at its center.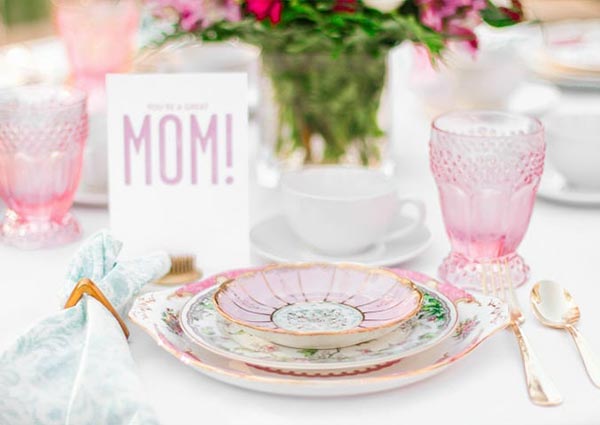 Then place candle stands on either side of the flower vase and put candles on them. Add some nice cutlery to the table and ensure everything is in place. Dust off the chairs and arrange them properly around the table.
Now serve some home-cooked food you make to your mom on the table. She will love to see how you have given your own touch to the dining table and how you are all grown up to serve your mom her favorite dishes.
Do the following things and prepare your home to make your mom happy. Your efforts will surely make her day all the happier and more memorable.
Mother's Day gift ideas
Any celebration is incomplete without presenting gifts to the person being celebrated. And mother's Day is that special occasion when every child wants to show their love and gratitude to their mother for her selfless love and unending sacrifices that she has made for them.
Here are some gift ideas for Mother's Day that your mom will love to the core, and you will get to see the desired reaction from her side.
Personalized Jewelry
We live in an era where getting a personalized touch with anything is easy. One can find many online websites that provide exactly what a person is looking for. So, buy your mom a personalized piece of jewelry, like a necklace whose design is made with her name.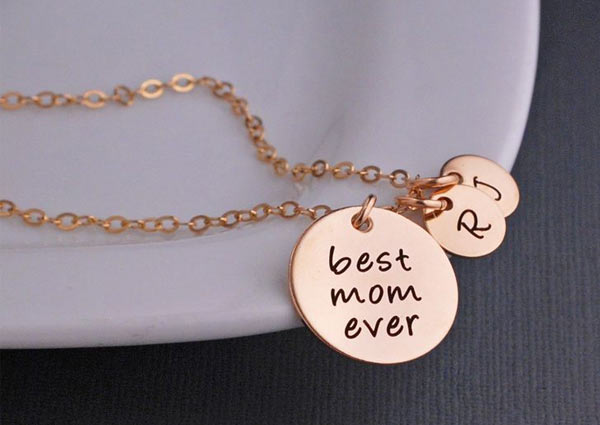 Or you can also buy her a ring that has the first alphabet of her name added on top of it. It will give an impression that you have deeply thought about the gift, making your mom feel special.
Handwritten card or letter with pictures
It doesn't matter in which era we live; the charm of handwritten letters and handmade cards can never go out of style. That's because, more than anything, the receiver appreciates all the time and effort a person puts into bringing his ideas and emotions to life.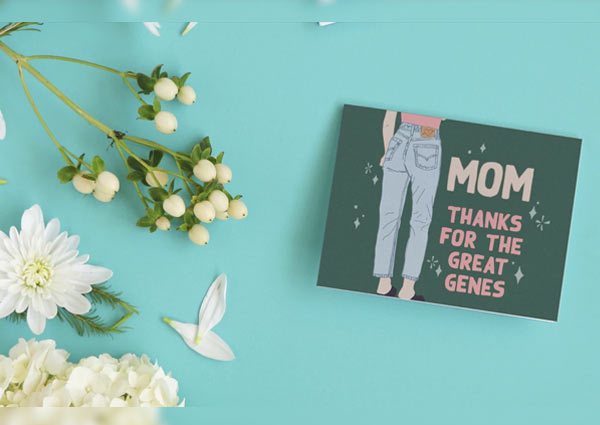 When you make a card or write a letter for someone, you put down your most raw and genuine emotions in it. This Mother's Day, do that for your mother and see how shedding happy tears after receiving the handmade card. Remember to add some images to it to bring the letter to life and make it more impactful.
Personalized gift basket
We all know our moms need skincare and other therapies too much, but she stays engrossed in their family so much that she often ignores her needs and stops caring for herself. To change that, you can buy her some skincare and body care items and put them in a beautiful basket.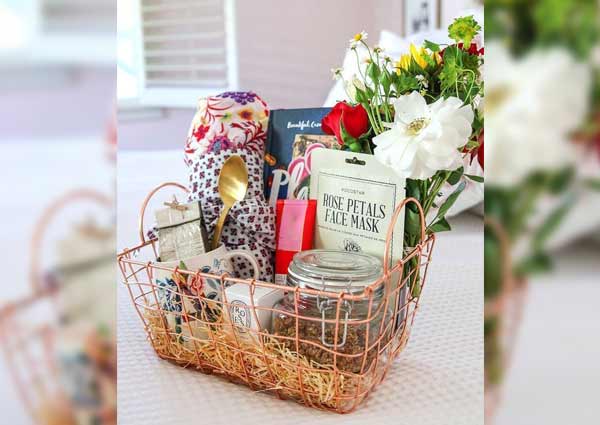 These products can include everything from shower gel to face sheets, eye roll-ons, night creams, etc. If you want to make it any different, add some sweets and candles in the basket and surprise her with a basket dolled up only for her. She will love it for sure.
A spa gift card or shopping voucher
Sometimes we cannot think of something our mom will love and find useful. Giving your mom a Mother's Day gift can be tricky when you don't want to do anything less than the best. In that case, a gift voucher from her favorite shopping brand or a gift card from a renowned spa or massage salon can save you.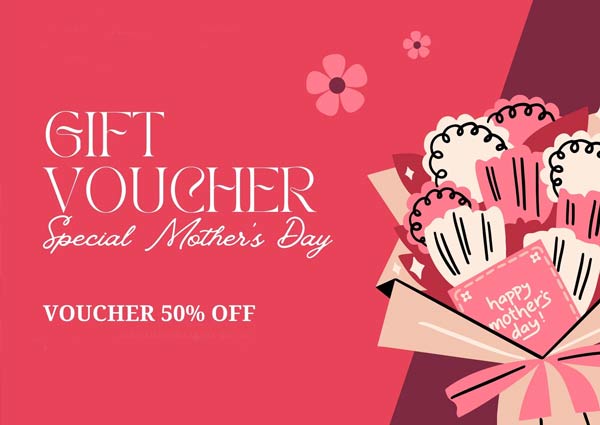 If it's too late to plan anything, give her either or both of these things and present them when you are on a date with your mom. She will highly appreciate your smartness and efforts to comfort her.
Take her on a getaway
A mother is never on leave; whether she is a working mom or a housewife, she cannot take a break as caring for her family is a 2487 job. Take her on a vacation or staycation to give her a break from her daily chores and her concerns for her family.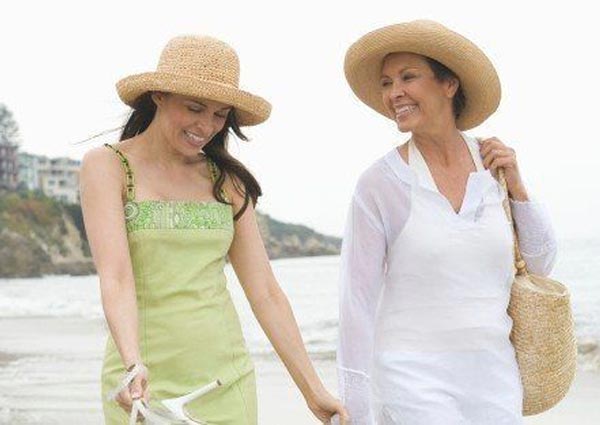 Book a suit for your mom and pamper her with a spa treatment, lunch by the pool, and dinner with a bone fire. Tell her to forget everything and just relax and chill. This will give her a much-needed break from her day-to-day life, and she will bless you for being so concerned for her and sensitive toward her need.
Surprise her with a cake and a bunch of flowers
An early delivery of Mother's Day cake with a fresh bunch of her favorite flowers will kick-start her day in the best way possible. Every kid knows almost when their mom wakes up. Get a customized Mother's Day cake with flowers delivered to your home at that time.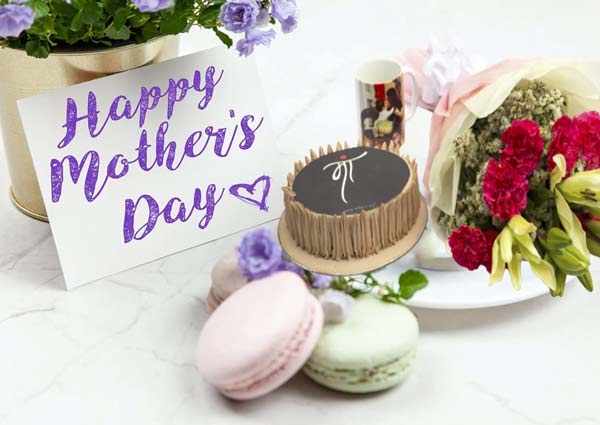 Getting such a sweet surprise early in the morning will surprise her to the bits and give her the most pleasant smile for the day. That will keep her entire day happy and happening, and she will praise you for pulling off such a sweet surprise early in the morning.
And those are some of the best Mother's Day gift ideas that will surely give your mom a lot of joy and express your heartfelt feeling for her. Do any one or more than one from the list and make the queen of your house feel like the most special person in everyone's lives.
Mother's Day quotes in English
After planning surprises for your mom, it's time to find out how you will wish her Mother's Day. Here are some heartfelt, emotional, and funny Mother's Day quotes in English. All these quotes are most unique and very impactful to dedicate to your mother:
"A mother's love is the fuel that enables a normal human being to do the impossible." – Marion C. Garretty
"A mother is she who can take the place of all others but whose place no one else can take." – Cardinal Mermillod
"A mother's love is the greatest teacher, and her heart is the finest classroom." – Unknown
"Motherhood is the exquisite inconvenience of being another person's everything." – Unknown
"A mother is not just someone who gave birth to you. She is the person who raised you, loved you, and shaped you into who you are." – Unknown
"A mother's love is patient and forgiving when all others are forsaking; it never fails or falters, even though the heart is breaking." – Helen Steiner Rice.
"Mother: the most beautiful word on the lips of mankind." – Kahlil Gibran
"Happy Mother's Day to the woman who mastered the art of hiding vegetables in our meals. You're a sneaky culinary genius!"
"Mom, thanks for always pretending to enjoy the weird homemade gifts I gave you as a kid. I promise I've upgraded my crafting skills since then!"
"To the mom who managed to keep a straight face while I told my wild, made-up stories as a child, you deserve an Oscar for your skills!"
"Happy Mother's Day to the mom who never failed to find my missing socks but couldn't find her own car keys for the life of her. You're a true magician!"
"Happy Mother's Day to the mom who deserves a trophy for enduring my teenage years. I'm sorry for everything, but you have to admit, it was quite entertaining!"
"Mom, you're the only person who can nag me all day and still make me laugh. It's a special talent you have!"
"To the mom who always managed to find the perfect balance between loving us and threatening to sell us on eBay. We appreciate your tough love!"
"Happy Mother's Day to the woman who did an amazing job raising me, considering my questionable choices as a teenager. You deserve a medal!"
Mother's Day quotes in Hindi
If you are looking for some messages to wish your mom in Hindi, here are some mother's day quotes in Hindi that you might like:
"माँ की ममता का कोई वर्णन नहीं हो सकता, उसकी ममता का आदान-प्रदान अमर होता है।"
हर रिश्ते में मिलावट देखी कच्चे रंगों की सजावट देखी लेकिन सालों साल देखा है मां को उसके चेहरे पर ना कभी थकावट देखी ना ममता में कभी मिलावट देखी
माँ के हाथों में मन्नत है, माँ के पैरों में जन्नत है
हर इंसान के जिंदगी में वह सबसे ख़ास होती है, दूर होते हुए भी दिल के पास होती है, जिसके सामने मौत भी सर झुका दे, वह और कोई नहीं बस माँ होती है।
"माँ है जिसके आँचल में सुख बसा है, उसकी दुलारी में खुशियाँ समाई हैं।"
वह माँ ही है जिसके रहते, जिंदगी में कोई गम नहीं होता , दुनिया साथ दे या ना दे, पर माँ का प्यार कभी कम नहीं होता।
मांग लू यह मन्नत की फिर जहाँ मिले, फिर वही गोद, फिर वही माँ मिले।
मंज़िल दूर और सफ़र बहुत है, छोटी सी ज़िंदगी की फिकर बहुत है, मार डालती ये दुनिया कब की हमे, लेकिन 'माँ' की दुआओं मैं असर बहुत है।
माँ उस बगीचे की तरह होती है जो हमेशा हरे-भरे रहता है, उसमें ताजगी भरी रहती है और जहाँ हमेशा सुकून मिलता है।"
माँ, तेरी दूध मलाई काला टिका, आज भी सब कुछ दुलारा है, लिख कर भी जाहिर ना कर पाउ, ये प्यार तेरा कितना प्यारा है।
If you find these Mother's Day quotes in Hind too heart-touching and perfect to express your feelings to your mom, then share them with her. Wish her a very happy Mother's Day in your own way, and let her know what she means to you.
Conclusion
Whether you live in an old home or have recently gone through home shifting and live in a new home, whether it's a rented apartment or your possession, doing these few things will make your home feel more comfortable, lively, and warm, especially for your mom on mother's day.
Add these home decor ideas for Mother's Day and see how your mom feels proud of you. If you follow the ideas mentioned above, your mom will feel proud of you firstly for thinking so much about her and secondly for having the home decor according to her taste and liking.
Stay tuned for more details on home decoration, interior decorator, home and office shifting, Vastu tips, or packing and moving services; call Thepackersmovers.com and get the best assistance from our experts.
Latest posts by Anishka Luthra
(see all)