It really makes people happy and confident when they find something good that they have never expected. The question here arises, "if I have to relocate from my current location to other state or country, will I will able to take my one more family member with me? Wondering, how can one leave their family members, then let me clear you that I am talking about your favorite pet that is also a part of your family since the first day you came to this place. Well, if this is the case, you can carry them also just by keeping few important Pet Moving Tips in the mind.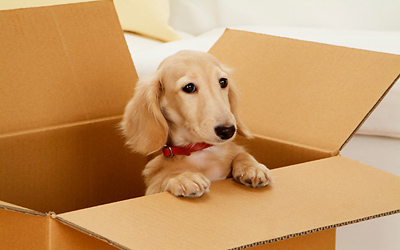 It is always better that you start planning a bit earlier for this as there are lots of things to complete before you actually move. It matters a lot if you are travelling by air or driving by road, moving to the same city or outside, relocating yourself or hiring Packers and Movers in Gujarat or anywhere else in India. Your pets will definitely feel and sense the change in location and might start showing anxiety in one or another way. 
In case you are travelling by flight to the new place and your pet cat is with you, then definitely you need to get prepared for it in advance. When we human get irritated when it is 2-4 hours journey, then pets will surely be facing this unexpected situation. When your pet cat gets stressed in the flight, there are possibilities that they might create a problematic condition for you. So, before you move, it is always better to consult Movers and Packers who can help you by suggesting few tips that will be of great use & you can enjoy the journey in full swing. Some of the Pet Relocation Tips are listed below that will help you in making relocation a pleasing experience. These are:
1. Make an extensive research about the country's rule for carrying pets, in case of international move
When you are travelling out of the country, you should always make a research regarding all rules and formalities that are needed to complete when you carry your pet cat or any other pet along with you. Certain countries ask for vaccination certificate of the animal and then show green flag to move further with pets. 
2. Have Sound Awareness about Financial Capabilities
Just in case, you are limited to certainly defined budget, then consult Movers and Packers who will let you what all facilities your pet cat will be provided. There are two possibilities of having a pet cat, first is, you have a small cat that you can carry along with you in a small-sized basket and then second is a big cat, then certainly needs to be transported separately into the cargo region of the flight. 
3. Keep your pet happy as much as possible 
No doubt, if you want to travel peacefully, you have to keep your pet happy throughout the journey. For this, you can carry some toys or any other relevant items to make them stress free during the move. 
These are just a few tips and but such useful tips are not limited to this much only. If you want to know more tips, you can go to our "Moving Tips" section and look for "Pet Relocation Tips" and get as much as information you want. By login to www.thepackersmovers.com, you can get a complete list of Packers and Movers in India for different cities. Not only this, the online directory of The Packers Movers even helps you in relocating worldwide without any hassles.
So, if you have plans to move to Gujarat or any other place, hire a service provider that offer Packers and Movers in Gujarat and also effective pet relocation service if you have a pet and enjoy pleasing relocation for other locations in India.