20+Best Diwali Decoration Ideas For Home To Welcome Happiness & Positivity
With the festival of Diwali approaching on 4th of November next month, you must be getting all prepped up to decorate your home in the most amazing manner. Surprising the guests with your decoration techniques is one reason and the other most significant one is to welcome good vibes, cheer, good luck, and divine blessings to your home. Though internet is the best place to find wonderful decoration ideas for Diwali, but scrolling through every website is not possible for all of us and we often get confused to pick the best Diwali decoration ideas for your home.
So, here we have brought some amazing decoration ideas for your home for Diwali festival at one place to make Diwali 2021 a joyous and memorable affair for you and your family.
Diwali Decorations At Home
As HOME is a special place in everyone's life and Diwali is a significant festival in the Hindu religion, so decorating it magnificently with lights and flowers will bring in positive vibes and grandeur in your Diwali celebrations. Diwali is an important festival to welcome divine energies and happiness in your home and welcome the blessings of Lord Ganesha and Goddess Lakshmi. Here, we have brought an amazing list of Diwali decoration ideas for home to help you decorate your home in a special manner.
1. Hula Hoop Chandeliers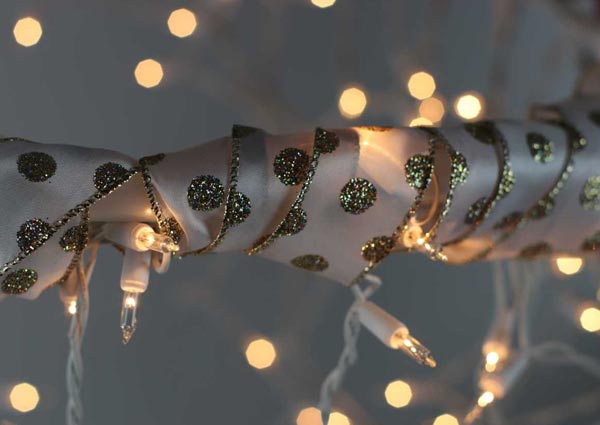 Pasting or wrapping fairy lights on the hula hoop to make a chandelier is the best way to bring life to your living room on Diwali. You can also make a chandelier using flowers along with fairy lights for that perfect festive feel.
2. Thread lanterns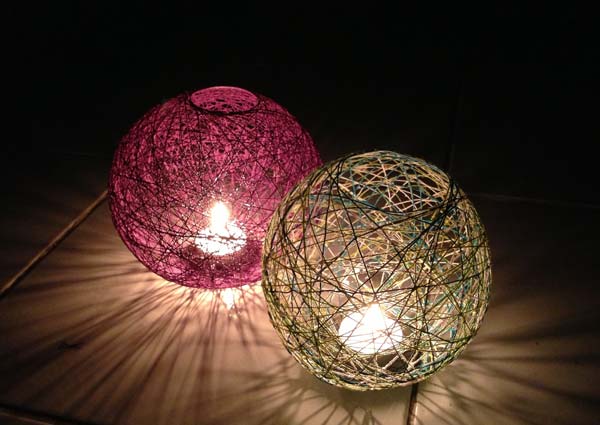 It's time to make use of your crafts classes in school. Just take a balloon, apply glue on it, and wrap the cotton yarn at different ways on it. After the glue is dried up, just remove the balloon from it by cutting it from the top and your thread lantern is ready. You can insert a bulb holder from the top and fix the bulb of your favorite color to decorate your home by hanging it.
3. Paper cup lights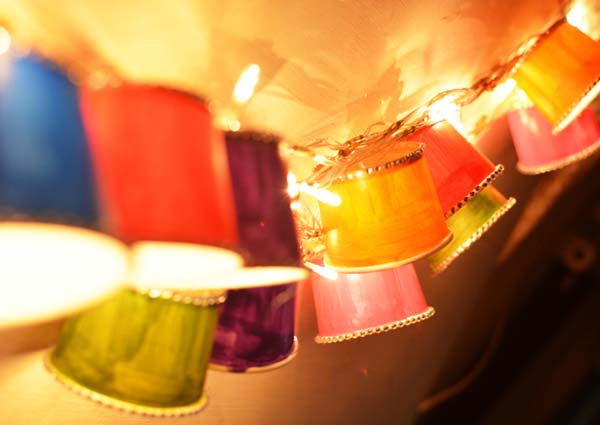 To make paper cup lights, you can make holes at the bottom of the paper cups and pierce string lights through them. If you are using plain white paper cups, then you can paint them up and cut the brim of the cup with designer scissors for perfect lampshade look.
4. Mason jar lights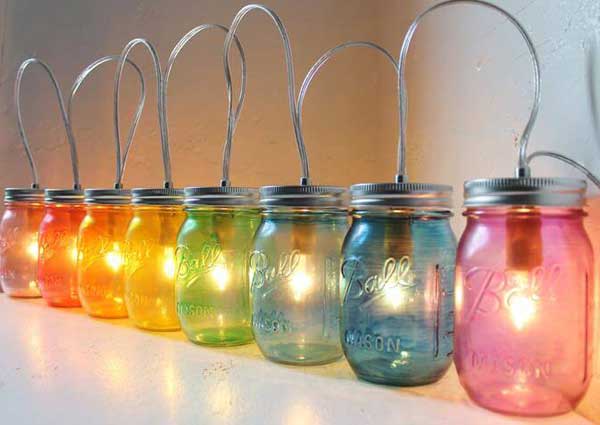 Just grab the empty mason jars in your home and put in some fairy lights in them. You can either put them on the side tables or make a hula hoop chandelier to hang them on the ceiling.
5. Bottle lights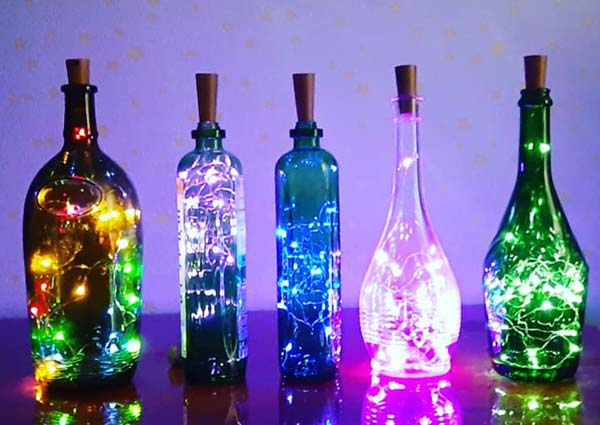 If you have empty wine or beer bottles at home, Diwali is the best time to use them for home decoration. Put some string lights into them or just bulbs of different colors and lock them with corkscrew. You can hang them at the entrance or inside your home on an empty wall or space.
6. Lights on tress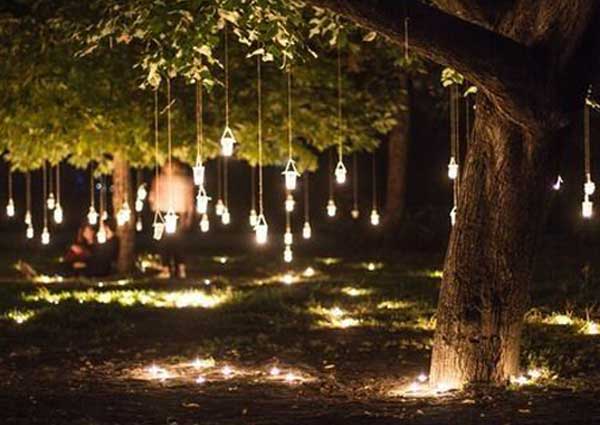 If you have an Areca palm plant near your entrance door or a tree in front of your house, you can just decorate them with lots of golden fairy lights to light up your home this Diwali. You can also do the same with the bushes in your garden area for perfect party setting.
7. Hangings of paper diyas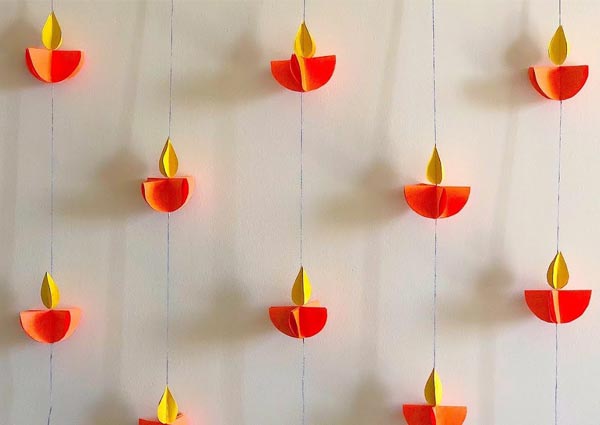 Just grab some colorful pastel papers and cut out shapes of diyas from them. For this, you first have to cut circular pieces from them in same sizes and then fold them two times once along the diameter and them into half. Paste two folded papers together to make a diya. You can cut out shapes of flames and paste them on top of the diyas. Glue them at equal lengths on a jute string of may be string lights and hang it on your empty walls.
8. Handmade lampshades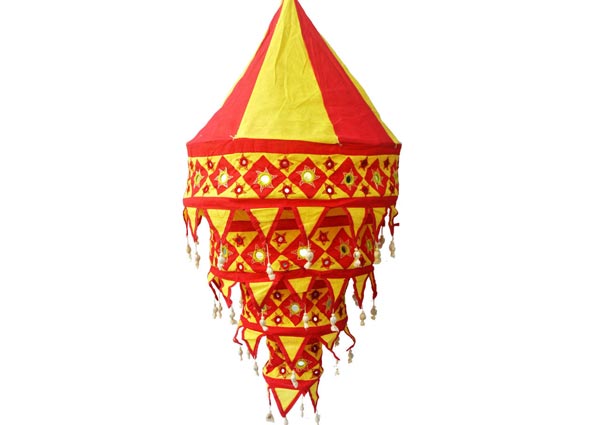 Why buy expensive lampshades from outside when you can make them at home simply grabbing some colorful papers. You can cut out designs on the pastel papers or simply just perforate them with a compass. Fold the pastel papers into cylindrical shapes and paste the ends. Now you can put them on lamps or just inset a holder for a bulb on top.
9. Rangoli
As rangoli is an indispensible part of the Diwali celebrations, you can pick a rangoli design made with flowers and colors to decorate the outdoors and indoors of your home. You can put diyas on the rangoli to make a design.
10. Floral bells
There are golden plastic bells available around the Diwali festive season. So, why not make them a part of the home décor? You can hang the bell at the end of the strong ribbon or rope and string marigold flowers in it. You can hang it on the entrance or at the empty entrances.
Diwali decoration ideas living room
As living room is at the first place where you step into a home, it becomes essential to decorate it on Diwali. More attention is required to decorate this living space. So, here we have brought a list of decoration ideas for Diwali that will amplify the beauty of your home in a magnificent manner.
Diwali decoration ideas with lights
Since Diwali is lauded as the festival of lights, so why just restrict your outdoors to bright fairy lights? Why don't just bring them in to light up our living spaces a bit more this Diwali! There are plenty of things that be done to decorate your home for Diwali with colorful and shiny fairy lights.
1. Fairy lights around windows and doors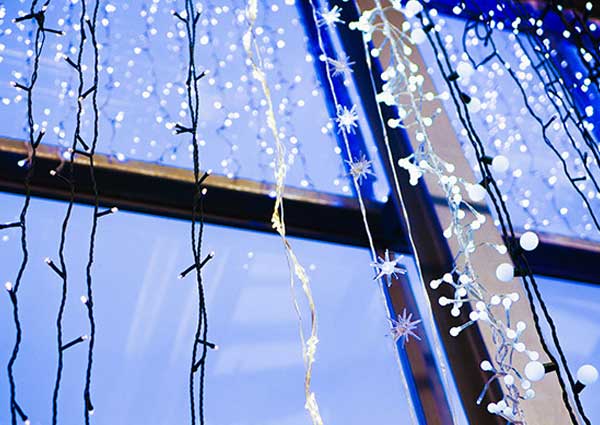 Fairy lights can not only brighten up the entrance of your home, but the insides as well. The best way to illuminate the indoors of your home is draping the fairy lights around the windows and doors. These Diwali lights will bring in positive vibes and light up the interiors of your home with happiness and excitement.
2. Fairy lights around furniture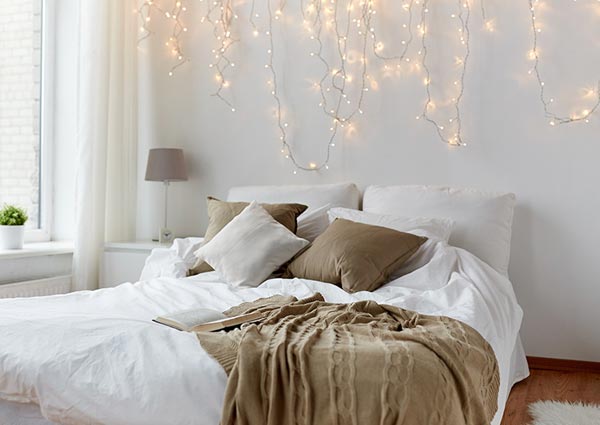 Furniture is what elevates the beauty of your living room. So, why not decorate it with still fairy golden lights. This will illuminate the center and walls of your living room. The sofas, the centerpieces, and the side units are the best places to decorate your house.
3. Fairy light on the curtains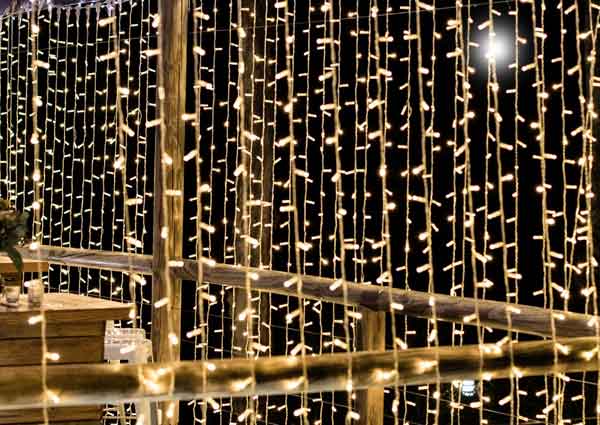 The easy-flowing curtains will look prettier when string lights are draped on them. Hanging the fairy lights on the curtains or maybe behind will immediately spruce up your home décor. If your living room has solid curtains, you can tie them on the sides and then wrap the lights around it. Or you can just use a sari or an old dupatta on your curtains and hang bright-colored twinkling lights on them to make house look ethereal. Or, you can hang the curtain of sheer fabric behind your solid curtains and hand the fairy lights in it.
4. Fairy lights as curtains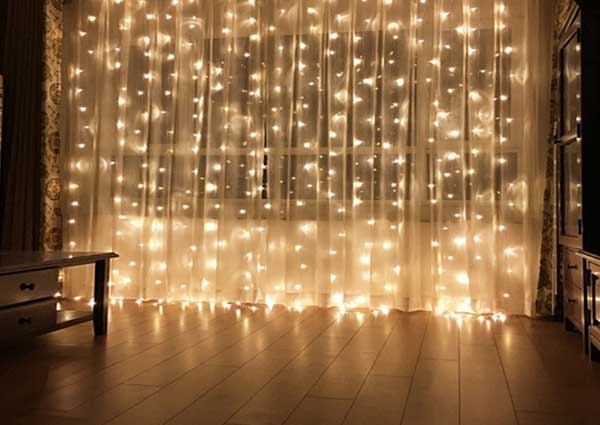 Living rooms with open spaces can be well-decorated with fairy lights in the style of curtains. Whether it is a large opening, a blank wall, or anything else, you can hang fairy lights in there to being in Diwali festive vibes.
5. A chandelier of fairy lights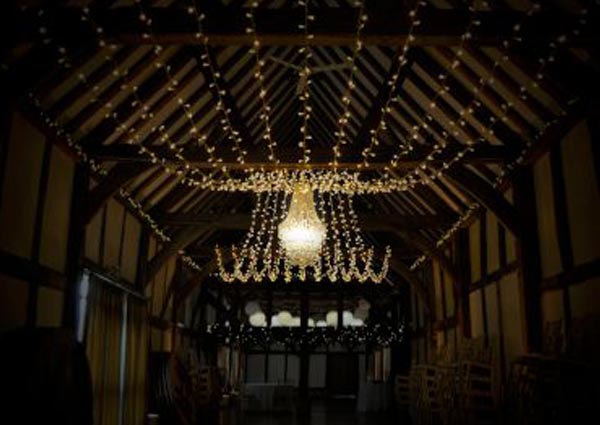 A large living room on Diwali looks empty and hollow if there is no enough play of fairy lights. Making a chandelier at home with fairy lights will illuminate your living space and brighten it all up with slightest of efforts. Just take a hula-hoop and wrap the fairy lights around it. Hang it in your foyer using a rope or a strong string and make your drawing room look just magical.
6. A table lamp with string lights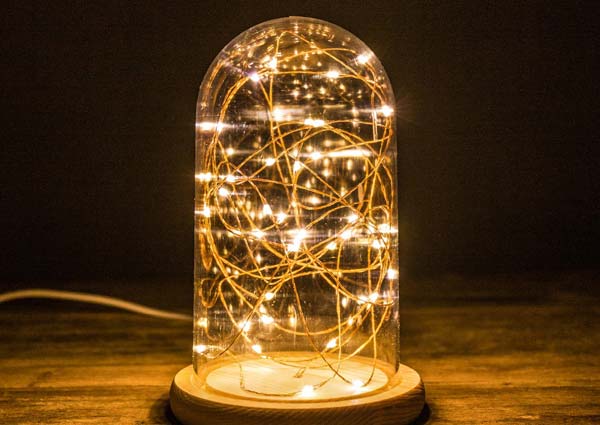 Fairy or string lights are a wonderful thing to lighten up your homes this Diwali. You can take a designer glass and put fairy lights in it. The reflection of lights from the glass will brighten up the interiors of your home altogether. Or you can paint the glass with glass paints for more colorful effects.
If you have empty glass jars, then you can put tea light in them and bring more beauty and charm to your home décor.
7. Fairy lights on plants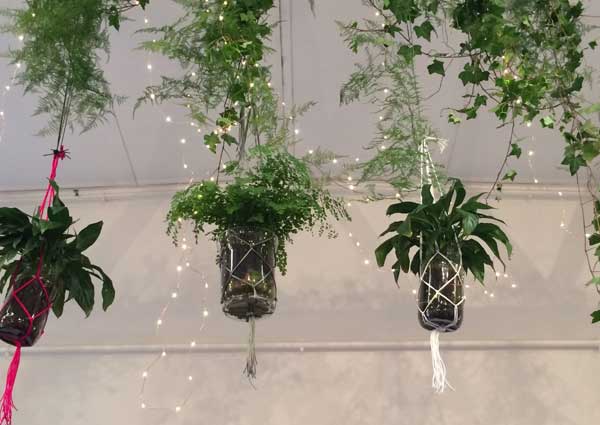 We all have indoor plants in your homes for home decoration as well as for air purification. So, why not decorate these natural beauties with some Diwali string lights? Well, just put some lights on your houseplants and outdoor plants just like you do in Christmas.
Diwali Decoration Ideas with Flowers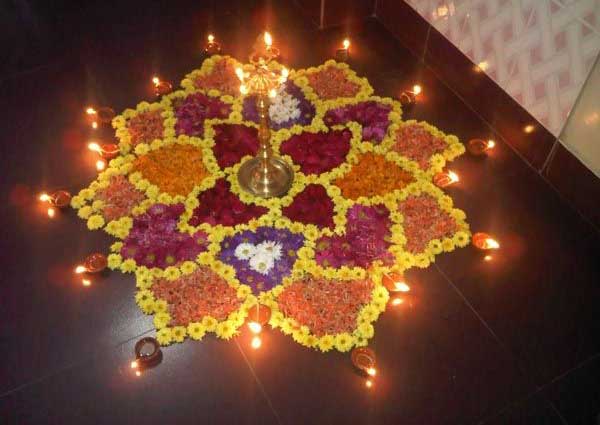 Diwali decoration seems to be incomplete without the beauty and fragrance of natural flowers. SO, why not use the beauty of flowers to elevate the interiors of your home with natural colors of the blossoms and the scent of the nature.
1. Decoration with marigold flowers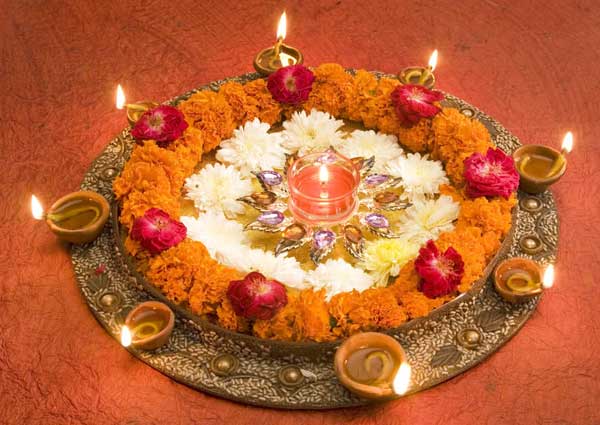 No religious rituals or ceremonies are complete without marigold flowers. These bright-colored flowers just brighten up the entire house with their hues and fragrance. Some of the best ideas to decorate your house this Diwali with marigold flowers are –
You can make garlands of these flowers and hang it on your main door with the combination of mango leaves.
You can fill the earthen pots with the garlands of marigold and pour a part of them outside.
You can decorate the entrance of your home with diyas surrounded by these flowers.
Just take a glass bowl, add some water, and place some orange and yellow marigold flowers on top with floating candles on it. This will make an amazing centerpiece for your living room.
If you have an empty space on a cupboard or a mantelpiece, you can make a chandelier with marigold flowers using a branch of a tree. You can sew these flowers onto the branch and let them hang from it
You can make garlands of marigold and decorate your furniture with them. Just add some string lights on it and see the magic happen.
2. A flower curtain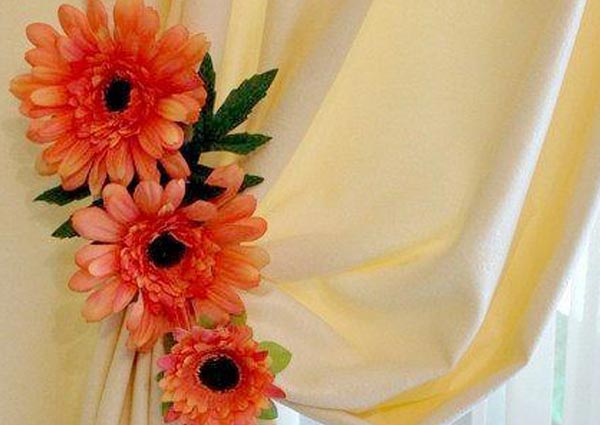 If there is an open space in your home connecting the living room, you can amplify it using a curtain made with garlands of flowers. You can either use flowers of different colors or simply pick marigold flowers too make this floral curtain.
3. Flower garlands for focal point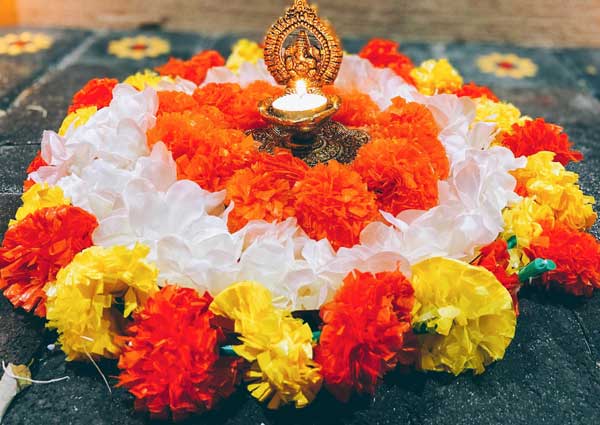 If there is an empty space on the wall, then you can create a wall decoration using flower garlands, lamps, and a wire to wrap fairy lights. This is a perfect way to bring in festive vibes to your home on this Diwali festival.
4. Wall hanging using flowers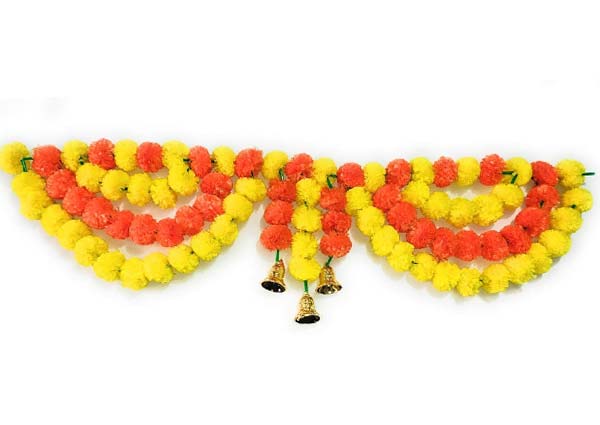 Make a wall hanging using flower garlands with a branch, steel rod, a stick or a hanger to bring beautiful festive vibes to your home. You can get yellow or red color flower garlands with fairy lights on them.
5. Flower garlands and balloon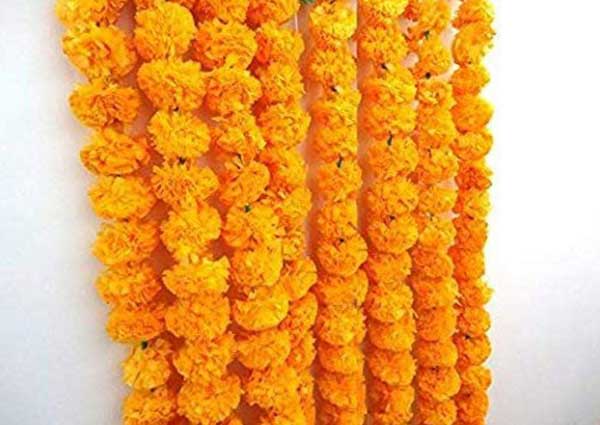 A pastel colored balloon with flower garlands tied to the string of the balloon is just a great idea for Diwali home décor. You can make the balloons float while the strings tied to something.
6. Flowers on curtain edges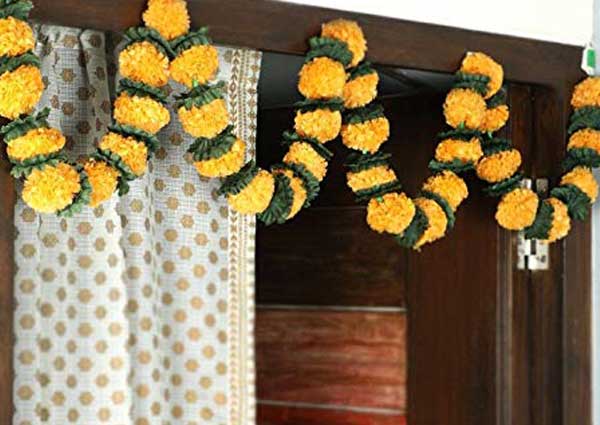 You can drape the edges of your curtains with the garlands of flowers for that perfect festive look. Use some leaves' strings along with floral garlands elevate the beauty of home interiors.
7. Flowers to tie curtains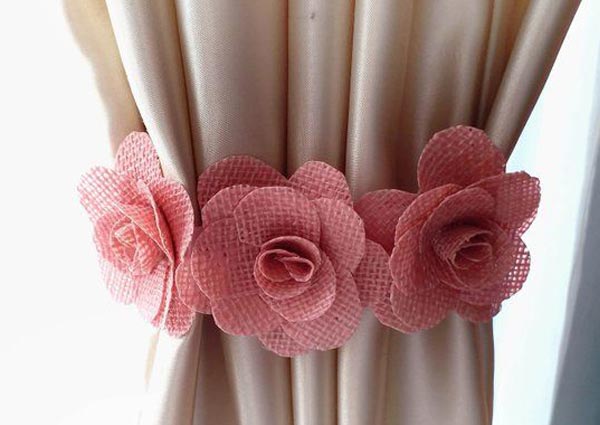 You can make customized small garlands of flowers to tie your curtains on one side. This simple Diwali decoration will just pump up the beauty of indoors with simplicity and grace.
Diwali Decoration Ideas with Diyas/Candles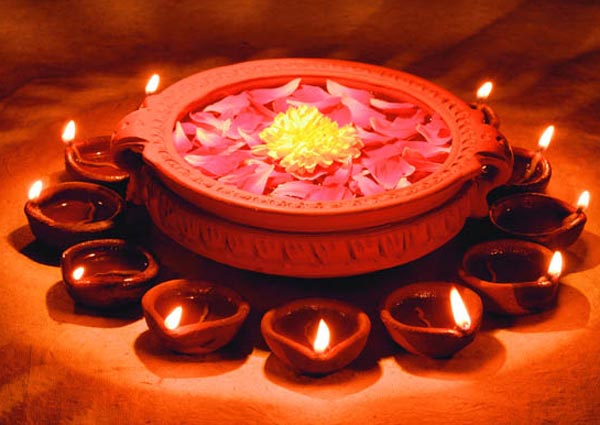 1. Paint them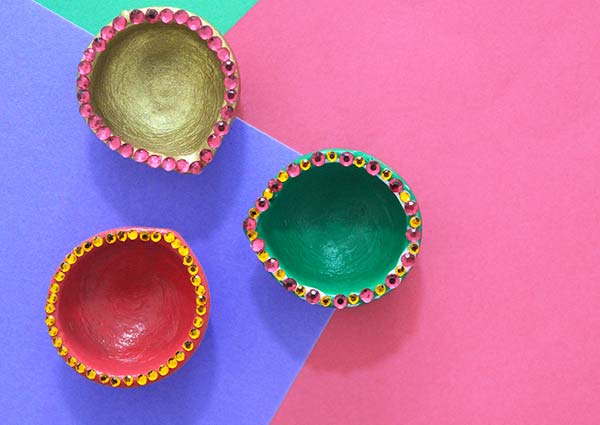 With a good variety of diyas or earthen lamps available in the market during the Diwali season, you can bring your creativeness out. You can paint diyas on your own and bring a designer feel to them. You can use bright colors like red, golden, silver, blue, green, magenta, yellow, etc. and decorate your home with them.
2. Hang your diyas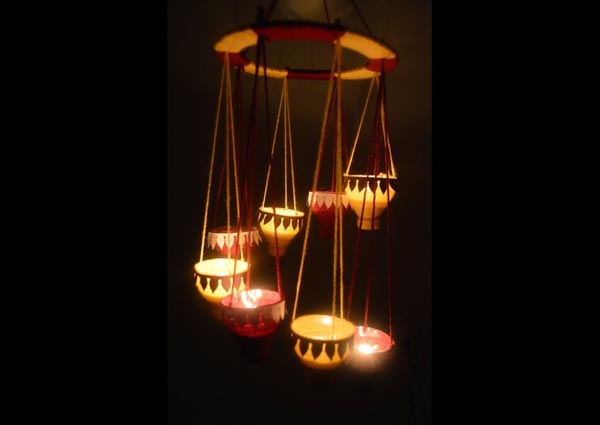 You can use a strong but thin rope to hang your diyas on the walls or maybe you can just make round cans from a cardboard or thermocol and paint them to make a hanging. When you hang them in symmetry or asymmetry on your home walls with lit diyas in them, it will just look amazing.
3. Glass crockery for tea light diyas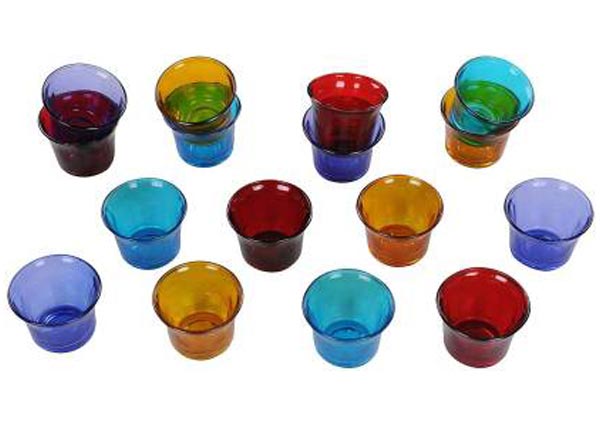 If you are searching for an innovative way to decorate your diyas or tea light candles, then just grab your tiny tequila or shot glasses and place your tea light diyas in them. Or, you can keep your champagne glasses upside down to make a candle holder and put your tea lights on top of them.
4. Diya stands with CDs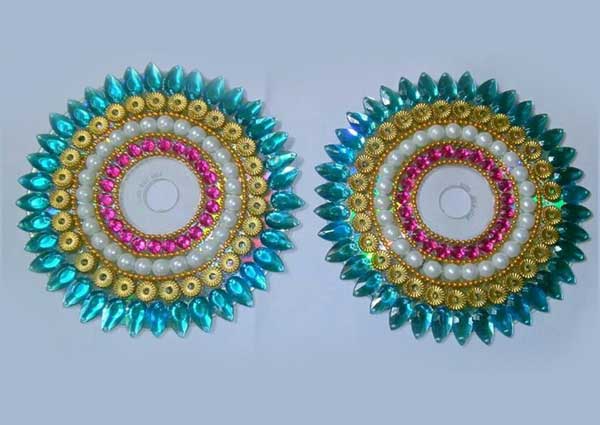 If you have old CDs in your home, you can stick them together and decorate them with stones and mirrors. Then you can put your decorated diyas on them.
5. Diya on rangoli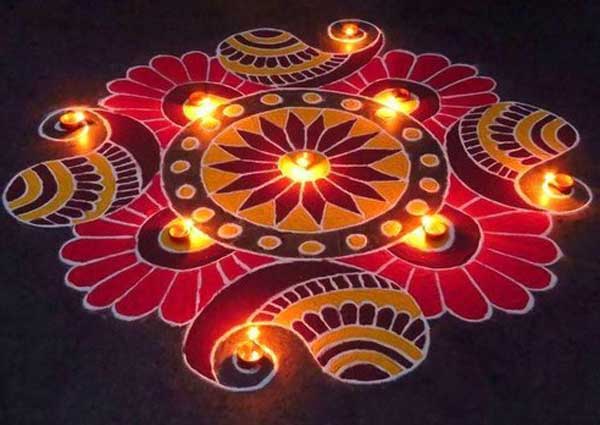 Rangoli is an indispensable part of the Diwali celebrations. So, why not accentuate its beauty by lighting diyas in it. You can put decorated diyas in your Rangoli to light up your home with the festive lights.
6. Diyas on decorated stones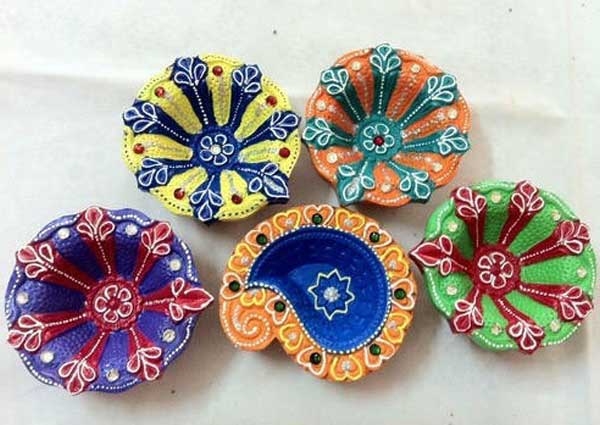 Grab some big stones from the garden and color them with fabric paints to make a diya stand from rocks. Now put your lit diyas or tea lights candles on top of them.
7. Bangles for diya decoration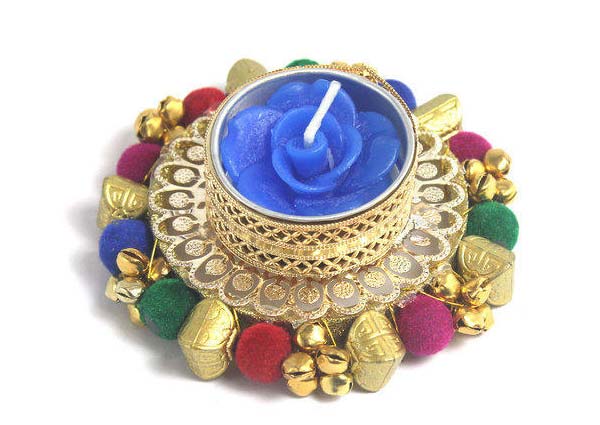 Create a centerpiece with multicolored bangles by sticking them together in a set of 12. Then place the tea light candles or a diya at the center to brighten up your living room.
Diwali decoration ideas for Puja room
1. Lamp decoration of puja room/mandir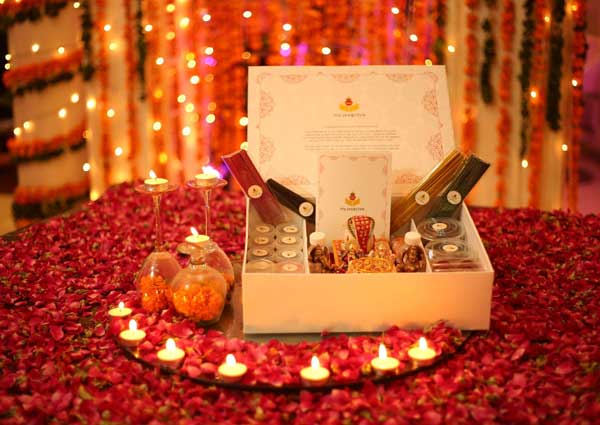 People love to decorate their puja room or mandir with lights and flowers. So, why not lit oil lamps to brighten up this religious space in your home? This will brighten up the puja room with bright light from the lamps. You can also use oil diyas to decorate your mandir and bring happiness and cheer in your celebrations.
2. Marigold flowers and mango leaves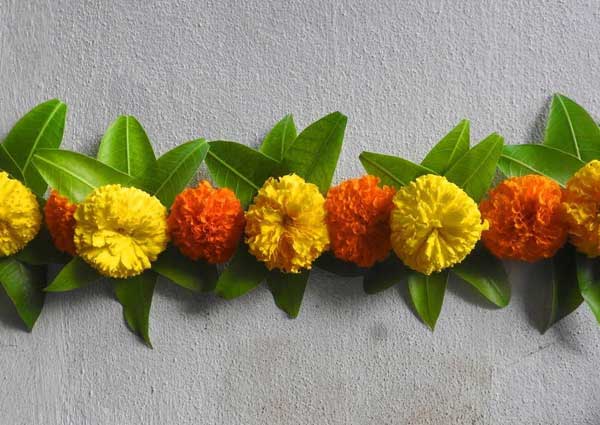 Another amazing way to decorate your puja room or mandir is with garlands of marigold flowers and mango leaves. As this space is already lit with diyas and lights, you can add some more auspiciousness to it with the beauty of these religious flowers and leaves to bring positivity and good luck to your home on this Diwali.
3. Everything silver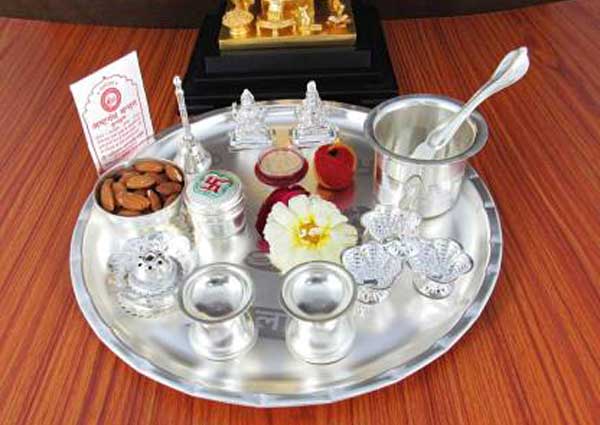 As silver is considered an auspicious metal for the performance of religious ceremonies, therefore, you can go for silver-colored or original silver ornaments and utensils for the Diwali Lakshmi Puja. Such decoration for Diwali will give a wonderful and authentic touch to your Diwali celebrations.
4. Flower garlands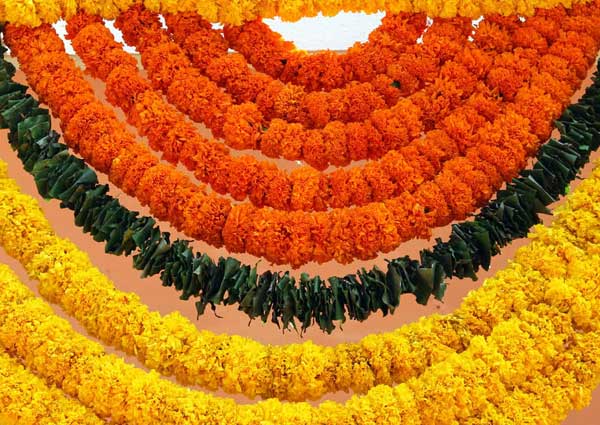 Festivities seem to have no flavors or cheerfulness without flowers. So, this Diwali, decorate your puja room with garlands of beautiful flowers. You can go for marigold flowers, daisies, or mixed flowers garlands for that perfect mandir décor. The fragrance of the flowers will immediately spruce up this religious place in your home on Diwali garbbing everyone's eyes.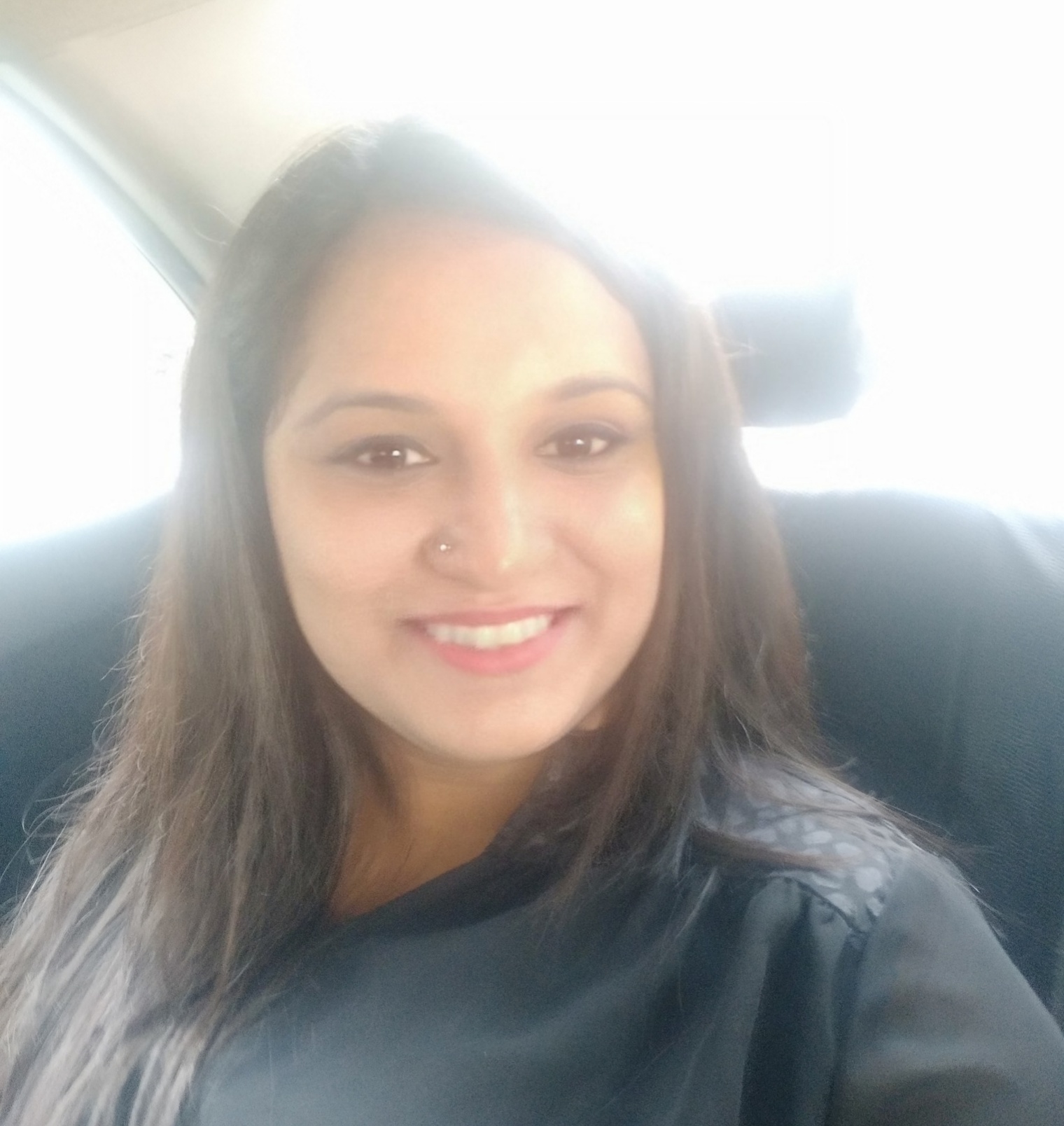 Latest posts by Sakshi Ecavade
(see all)