TOP 10 BEST OUTSIDE COLOUR COMBINATIONS FOR INDIAN HOMES
There was a time when being too concerned about home decor and maintenance wasn't a thing, but times have changed now. People invest in their homes and try their best to make them look as good as possible. And this effort is also applied to the exteriors of the house.
People have become smart enough to understand that a house is not only supposed to look aesthetic from the inside, but the exterior of the home plan an equally important role in uplifting its charm. And on that note, we have prepared a list of the best outside colour combinations for Indian homes.
Trending colour combinations for home exterior walls
Let us discuss all the trending outside colour combinations one by one. Please note that while these are some of the latest exterior color combinations trending, they are also the best colours if you are looking for an evergreen look to your house's exterior.
Medium grey with asymmetrically shaped stone tiles for walls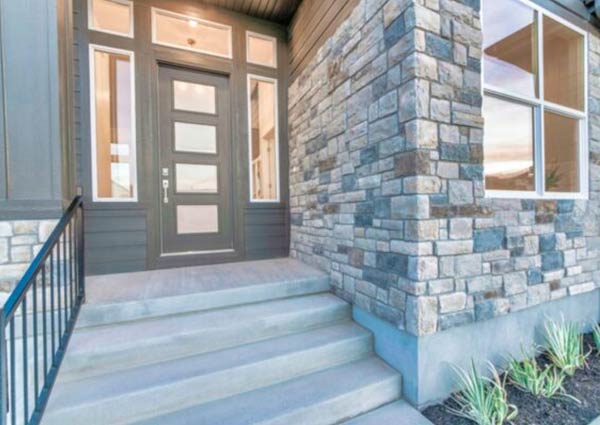 A classic way to design the exteriors of your house is by opting for a medium grey colour for the majority of the outside and pairing it up with some natural asymmetrically shaped stone tiles. You can add these tiles near the entrance wall to give it a uniquely different look while painting the rest of the house medium to light grey. Paint all the doors and windows with a lovely teak brown colour that will give the home exteriors the much-needed shine.
White, Red, and Brown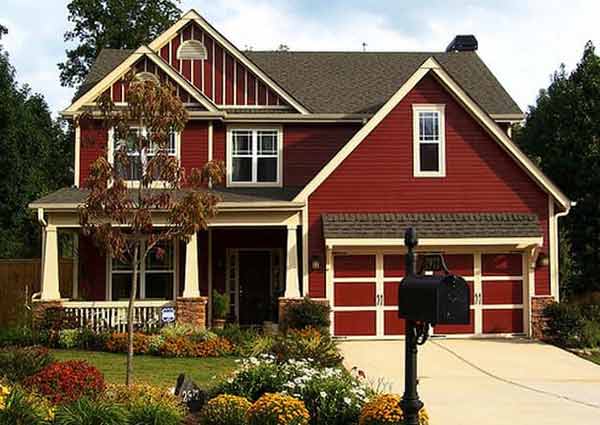 If you are looking for something trendy with a balance of vibrancy and subtleness, go for this trio. Start with painting the walls of your home with a light brown colour, and leave all the pillars and details that need a special touch. Now, paint the roof with a medium to dark red colour, whichever you think goes well with the theme and your idea of home exterior paints.
In the end, remember all the pillars and edges that you have left? Paint all those edges, detailing of the home, and all the pillars with white colour. It will instantly uplift the entire look of your home. If you want it to be more defined and professionally designed, paint the outside floor of your home red as well. Make sure the flooring is of brick stone, as this design will look the best only in such conditions.
White and peach or soft pink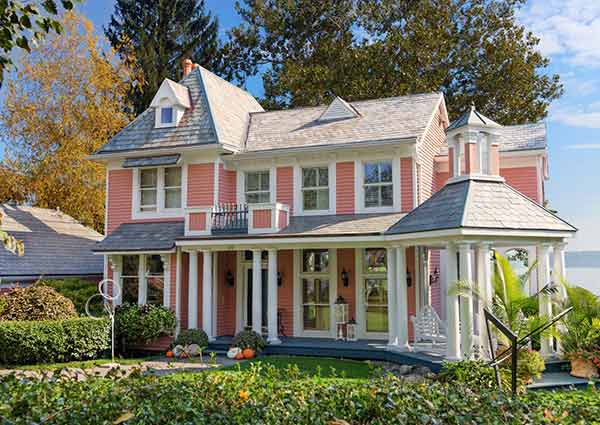 If you want your home to redefine what a statement home looks like, you must go with an elegant combination. And elegance majorly comes from subtle yet classic colours. A combination of white and peach colour is one such example. You can replace peach with a warmer shade of pink if you like.
On the other hand, having a white or a very light shade of brown will work best for doors and windows. These outside colour combinations work great for Indian houses as we get a lot of sunlight here, and peach and pink complement each other too well.
A combination of grey colours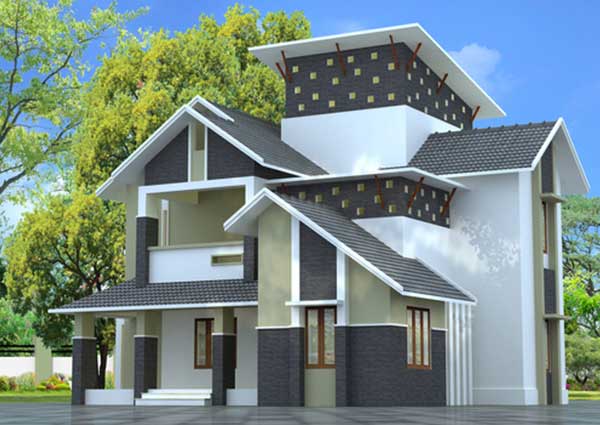 If you are planning on ditching subtlety and elegance and going loud and vibrant for the outside colour combination of your home, then we have your back. One of the most trending colour combinations for such homes is two shades of grey, one light and the other one a bit darker than that.
Paint the entire walls outside of your home with light grey colour and then paint the pillars, top and bottom details of the wall, and edges with a darker tone of the same grey colour. This will give your home a more refined look.
Tan brown with olive green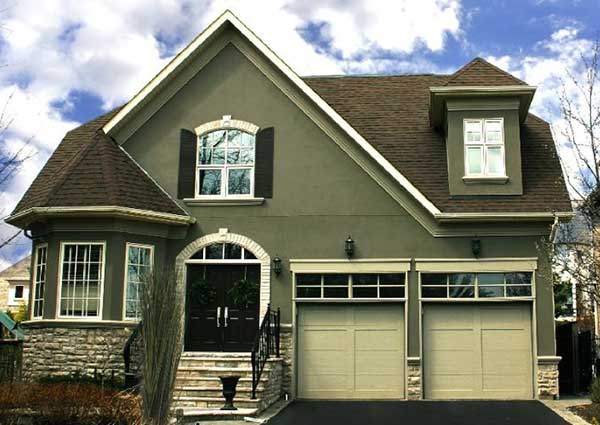 This is one of the latest and most trending colour combinations in India. It has recently gained popularity and is mainly seen in homes at hill stations or big villas on the plains. That's because it's a posh combination with a fine tone of olive green and a perfect shade of tan brown.
If you, too, want your home to look posh, go for this colour combination for home exteriors. This will not look loud on the walls and give the desired result on the exterior of your home. Paint the exterior of your home with tan-brown colours and do the pillars with white. Let all the doors and windows get covered in olive green colour.
If you want the outside colour combinations of your home to look classier, paint the floor and roof white. This will ensure the tan brown and olive green colours are not looking too vibrant while the white colour will also give a fair share to the outside colour combination to shine properly.
Cream and red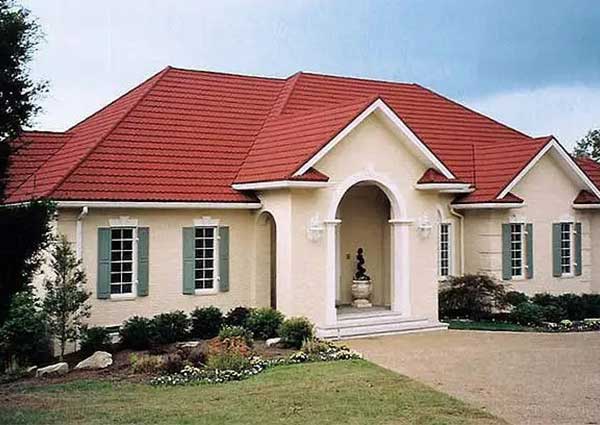 This isn't the latest colour combination for outside of the home but a trending one. Every home has areas on its outside walls that have different shapes, designs, and patterns. These areas only look good if they are painted the same as the other plain areas of the wall. So, create a lethal combination like cream and red colour and paint your home in its hues.
Paint the plain walls with cream colour and the designs with red colour. While the cream colour will represent traditional themes of colours, red will show off the modern ones. The roof should be white, while the floor can have any marble.
Black and white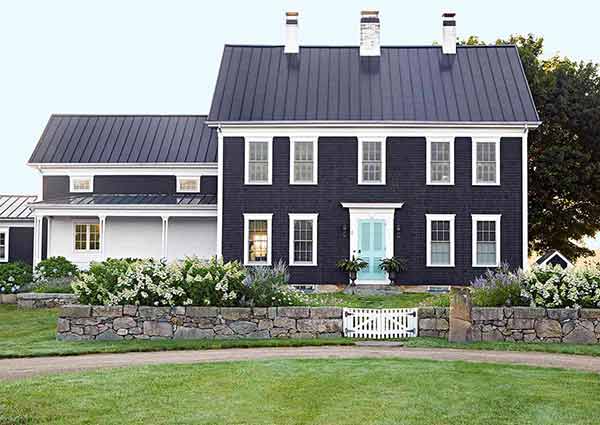 The evergreen classic colour combination works perfectly fine as the outside colour combination. And if you search for some great inspiration on the internet, you will learn how people get too creative while painting their homes with black and white colours.
Half home white and half back, white front side and back black side, black roof and floors with white walls, white walls and black pillars and edges, black roof, doors, and winds with white walls, pillars and edges too. There are countless ways to put these colours on the outside of your home creatively. Make sure to test what you visualize before finalizing everything so it can also be modified easily.
All white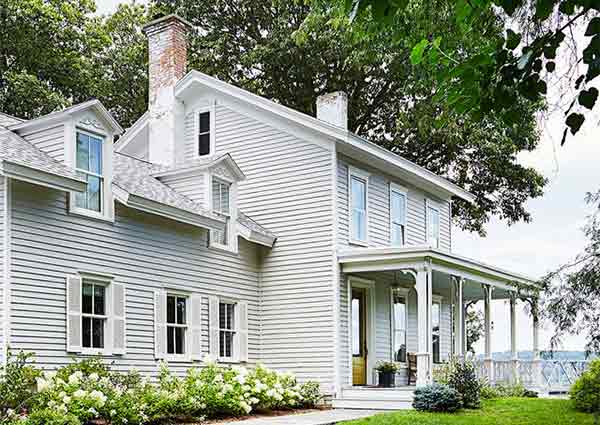 This one is for the risk takes, for those who believe a home is lifeless without top-notch design, and those who want the outside colour combination to be a mixture of classic, trendy, and chic. All white homes are all of it and much more.
And if you are not just painting your old home but constructing a new one, try painting the doors and windows visible from the outside to be all white too. We know this colour demands maintenance, but it is worth it. After all, your home will look like a replica of homes from fairy tales.
Electric blue and orange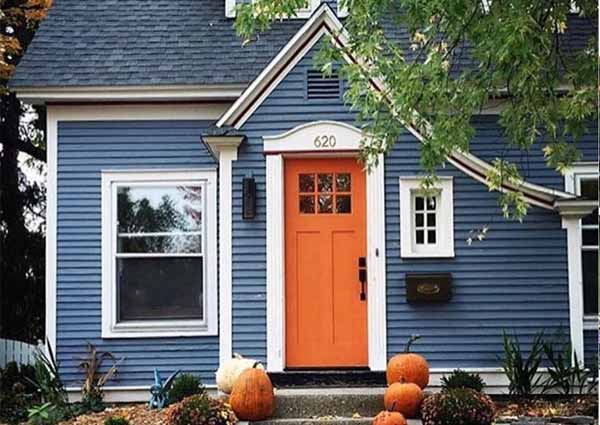 Plain homes and simple themes are only some people's cup of tea. Some like to be a little extra and risk being bold. For all those bold people out there who want the exteriors of their homes to be colourful, vibrant, and lively, electric blue and orange is the latest colour combination for you.
The best way to execute this colour combination is by having a white roof, blue walls, orange pillars, edges and outline of walls, and a concrete grey floor. Apply these outside colour combinations and light up your home with beautiful hues of different colours.
Grey and white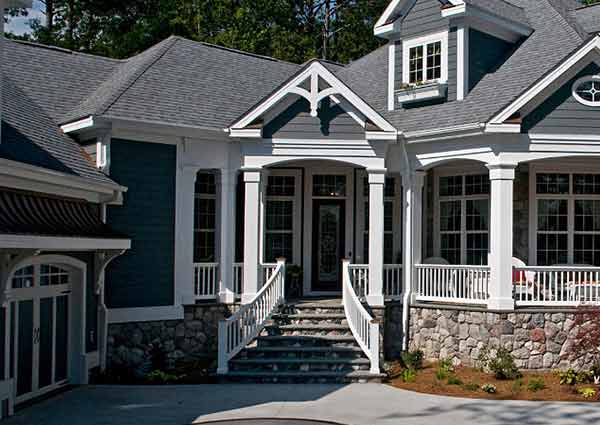 This is another hit outside colour combination that is also very versatile. Versatile because you can select the tone of colours on your own and customize the exterior colour combination. Whether you want it to be off-white with light grey, pure white with medium grey, or shiny white with deep grey, the choice is entirely yours.
You can fix the tone of the grey and white outside colour combination and set it according to your taste and vibe. Another thing that makes it versatile is you can put the pain however you like. This outside colour combination is flexible with walls, roofs, pillars, and other parts of the home's exteriors.
Vastu tips for home exterior
We Indians highly believe in the benefits and importance of Vastu shastra for home. Whether it is for the home's architectural design, placing furniture inside the house, buying plants, instruments, and other equipment to remove all Vastu doshas, or performing a Vastu Shanti puja during griha pravesh, we do it all and much more for the betterment of the house.
Here is a colour guide according to the Vastu shastra of the home:
Light blue colour:
If you have a north-east-facing home, the light blue colour is the best for home exterior walls.
White:
is the best colour on exterior home walls for an eastward-facing home.
Yellow colour:
If your home is in the south direction, painting the exterior home walls yellow will benefit you according to Vastu shastra of the home.
Orange and pink:
These two outside colour combinations work great for home exterior wall paint for southeast-facing homes. You can do them together or separately, that's a personal choice. Silver also works great for exterior wall colours for southeast homes.
Light brown and peach:
Light brown or peach these two colours are best for homes in the southwest direction. The good thing is, they will also look good together, so if you have a southwest-facing home, opt for this outside colour combination and satisfy the Vastu of your home too.
Shades of green:
Homes in the north direction should be painted with green colours on the exterior of the house. Pista green is one of the best shades of green to opt for as exterior wall colours, according to Vastu south facing home.
Light grey, white, and cream:
All these lighter shades of colours are ideal for a home facing the northwest.
Blue and white:
These two colours are great for a west-facing home because white and blue signify water, and the west direction represents water. Besides being good, according to the Vastu, blue and white are a great outside combination. So, whether you paint them together to separately is your choice.
Note: Painting the entire home black is not a good idea from Vastu's point of view. It attracts negativity and mental health issues.
Those are some of the best Vastu colours for the home, but you can always consult your trusted Pandit Ji before doing anything essential for you if you need help with how to do it.
Exterior home decor ideas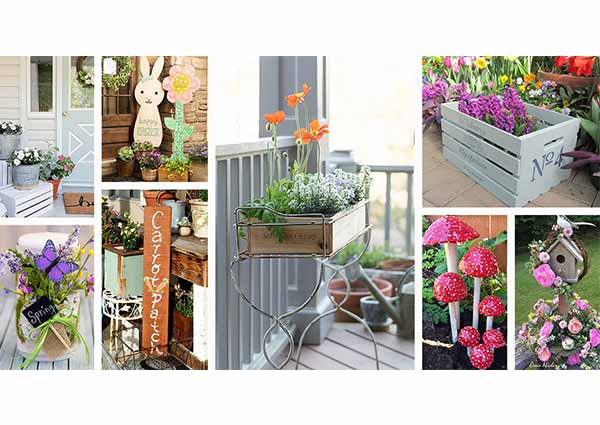 Before summing up, we have some exterior home decor ideas for you that will make your home look much more welcoming and beautiful.
Add fancy yet graceful lamps on both sides of the entrance. This will increase lighting at night and make your home look great.
Add plants near your entrance area, giving a warmer and more welcoming vibe. Make sure the plants are fit for the outdoor environment, natural, and healthy. You can also throw fancy lights on these plants and light them up occasionally.
Add wall hangings or wind chimes that are suitable for entrance purposes.
Put a painting or aesthetic mirror on one of the walls at the entrance. This slight detail hints that the decoration is well thought one and executed accordingly.
Frequently Asked Questions
Q. Which colour combination is best for the outside walls of the home?
Multiple colours are excellent for the exteriors of your home. All these home exterior colour combinations are mentioned above with their explanations.
Q. What is the most trending colour combination in 2022 for outside walls?
Dusty charcoal with white is the most trending colour combination for the exteriors of a home.
Q. Which exterior colour makes your home look bigger from the outside?
Light colours make your home look bigger from the outside. Choose a lighter shade of any colour and make your home look as massive as possible.
Q. Which colour is best for the home entrance, according to Vastu shastra?
Light blue is the best colour for the home entrance, according to Vastu shastra.
Q. Do outside colours have any effect on the positivity of the home?
Yes, every detail in your home matters regarding positivity, including the colour you choose for the outer walls. That is why going according to Vastu shastra is essential when choosing colours for home.
Latest posts by Anishka Luthra
(see all)