Paint colour ideas for home temple according to Vastu
Indians are very particular about Vastu and temples in their home. They make sure these two things are always up to the mark and in sync with each other. But there are always some dos and don'ts associated with everything, and knowing it all is important to get the best of the best.
And the same goes for the colour of your home's temple too. To ensure it is according to Vastu, you must first research the same.
Here is a mini guide on paint colour ideas for the home temple, according to Vastu. Follow this guide and be the interior decorator of your home. We assure you it will get positivity blooming at its peak in your home and improve the Indian mandir design.
Top 10 best Paint colour ideas for home temple according to Vastu
The first and foremost thing to understand before getting the list of best shades for temple at home is that according to Vastu, our temple must always have the lightest of colours painted on its walls. This gives out pleasant and positive vibes, just as a temple requires.
The second thing to know here is, having deep colours is fine to paint on the walls of the room where you have placed your temple. But having darker tones of any colour is not ideal as the home temple's colour.
So, always go for lighter shades. Below are 10 such shades that are light and perfect colours for temple at home. Have a look and pick out the best one for your home.
1. Light yellow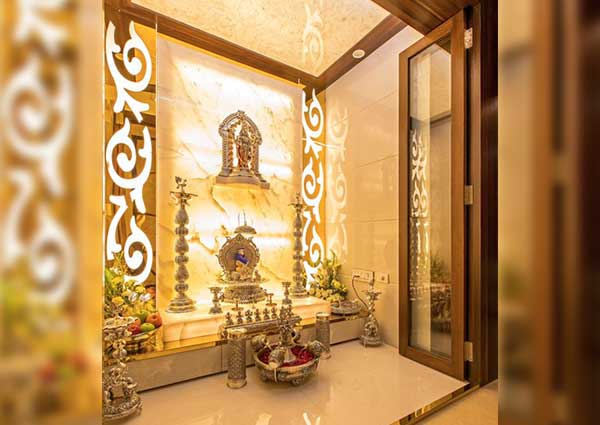 If you ask any Vastu expert to tell you the best colour for temples at home, they will say yellow. That is because the yellow colour is ruled by Jupiter, who is known as the guru or supreme teacher of all other planets. Jupiter is known for its intellect and influences a person's mind with intelligence, positivity, power, and energy. Hence having this colour on your temple's walls is a good option.
2. Lavender pink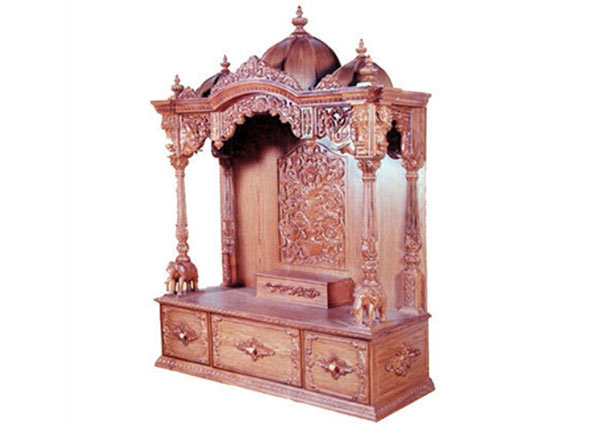 Pink, as you know, is considered the greatest colour of love and affection. And only a true believer can understand the relationship between god and his devotees. Ruled by Venus or shukar, pink is a feminine colour associated with energy and passion. Having a soft pink shade like lavender as the colours for temple at home will increase the energy flow from that space.
3. Mint green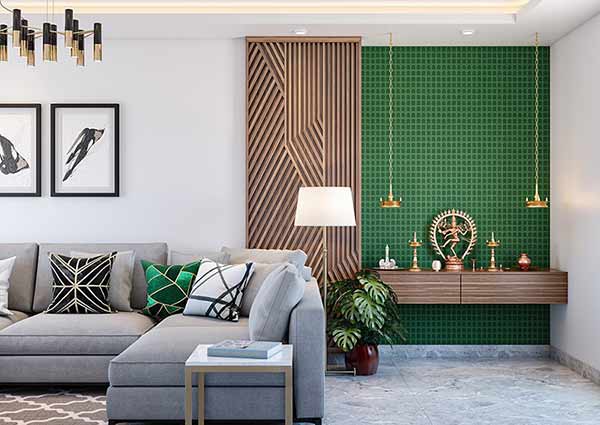 Indian temples and astrology go hand in hand. Astrology is also the fuel of Vastu, which Indians vastly believe. And according to Hindi astrology and Vastu, the green colour is ruled by Mercury or Budh, who is also responsible for the beauty of people.
With all these qualities that the green colour posses due to its connection with mercury, it is known for providing calmness to the mind and soothing the soul. Hence, having a light shade of green is considered auspicious and hopeful of controlling one's mind.
4. Pure white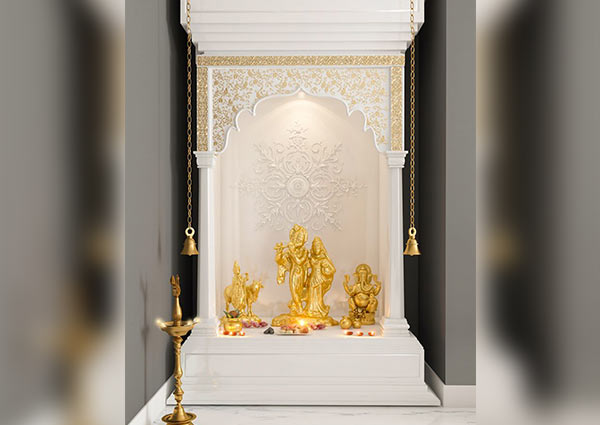 White colour has a lot of significance in Hindu astrology. It is known as the purest colour of all, and men prefer wearing white coloured traditional clothes on important occasions and while performing rituals.
Having white colour for temple in home is therefore seen as very auspicious. It not just satisfies Vastu but also gives a charming and aesthetic look to your mandir at home. The white colour is ruled by the moon and is known to purify a person's soul. There is no better choice than having this on the walls as the colour for temple at home.
5. Carrot orange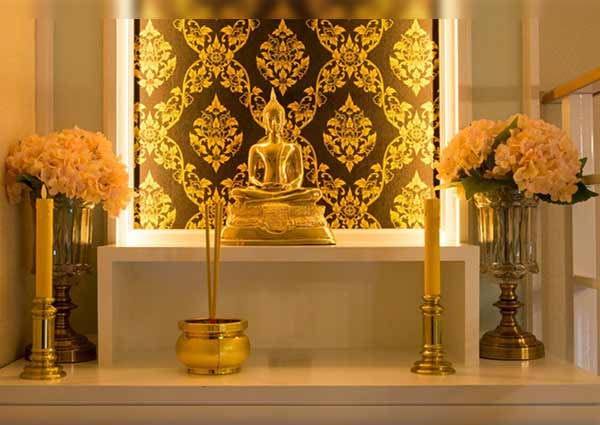 Carrot orange colour is a light shade of orange, and just like yellow, orange is also one of the ideal colours for mandir at home. And just like yellow, orange is also ruled by Jupiter. So, now you have two options to choose a colour for mandir at home to attract power, intelligence, and positivity altogether.
6. Sky blue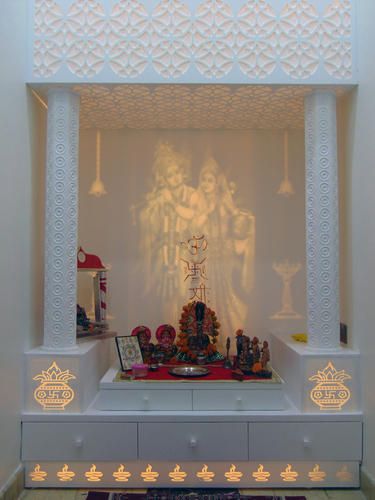 In the list of best paint colours for temple at home, if there is any other colour that tops the list, just like yellow, it's definitely the sky blue colour. Sky blue is another best option to have as the colour for mandir at home.
Saturn, or Shani, is the ruler of the blue colour and also the one who brings justice to people's lives. Due to its connection with Saturn, the blue color brings trust, tranquillity, self-confidence, and peace to people's lives.
Painting it on the walls of your temple will boast the positive energies that this zone gives out and multiplies the effect of the blue colour in your life.
7. Pale purple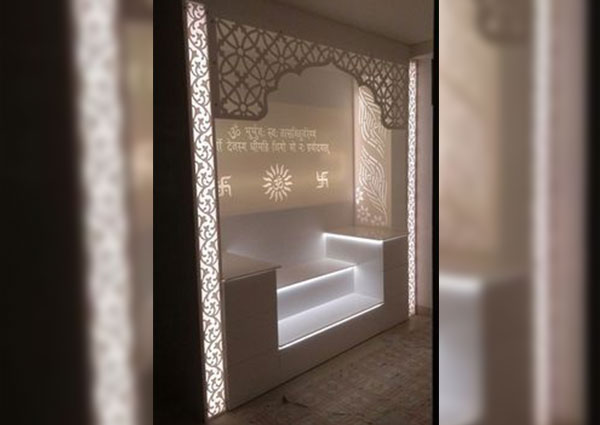 Purple is another colour ruled by Saturn because of its close appearance to blue colour. A pale purple shade will bring powers similar to the sky blue colour because Saturn and Rahu are their rulers.
Also, since purple is the colour of imagination, perfection, fame, and creativity, having it on the walls of your home's temple will bring improved and fruitful thoughts in the devotee's mind and push him to do it better.
8. Misty rose (shade of red)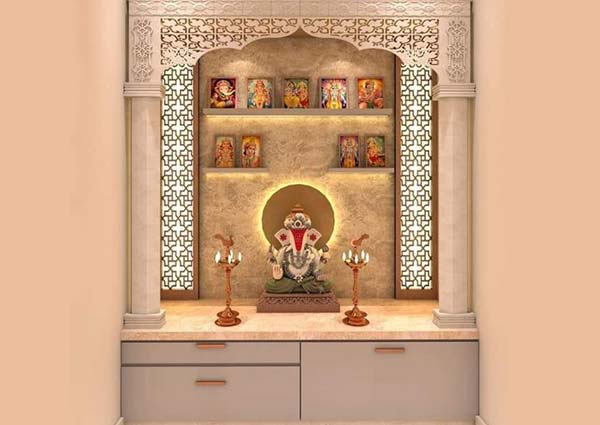 Misty rose comes under a very light shade of red in the shade card of paints. And almost everyone knows who rules the colour red. It is none other than mars or mangal, making red or misty rose a colour that projects negativity and positivity.
But the thing to know here is the deeper shade of red you choose for your temple, the more it will increase the power of mars negatively. Hence, opting for a lighter tone of red is preferred for balanced positivity from the planet.
Talking about why a misty rose is a good option as a colour for temple at home, it signifies royalty like the sun, and constructive energies, too, if painted a proper shade of red.
9. Fairy tale (shade of purple)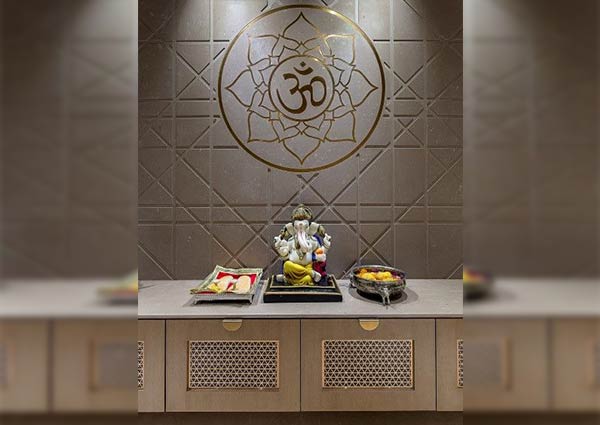 The fairy tale is another delightful shade of purple that looks very soothing to the eye. And just like pale purple, the fairy tale is governed by Saturn and Rahu. Hence, it has got qualities precisely like that of pale purple.
These qualities include glamour, the creativity of imagination, perfection, fame, and prestige. So, you can choose between these two colours if you opt for a purple shade as the inside colour for temple at home. And get all these qualities coming out from your temple in abundance.
10. Desert sand (shade of brown)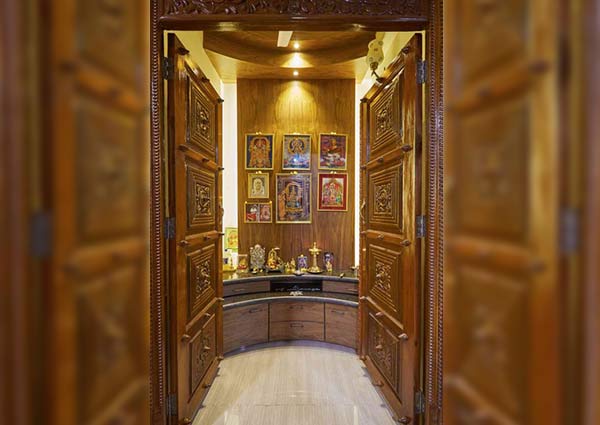 Dark brown shade as the final colour for temple at home looks good only if painted on the wood. Painting the walls of your home's temple with deep brown colour will not look attractive because concrete will not give the desired result.
That is why you must go for a lighter shade of brown if you paint it on the walls. Ketu governs the brown colour, and while Ketu is a shadow planet, selecting a light shade of brown, like desert sand, will keep negativity away, and you will only receive its goodness.
Due to its association with Ketu, the brown colour represents comfort, security, wealth, stability, and protection. So, having this colour in your temple in the correct proportion can be positive.
Tips on selecting the colour for your home's temple
Here are some important tips on paint colour ideas for home temple. Read them carefully and follow them when deciding on the colour of your home's temple
Deeper shades of red signify anger and fire. So don't use them at all. If you want to add red colour for the mandir at home, either go for a very light tone like the one mentioned above or make a combination of light red with peach or white colour for temple at home.
Every colour is associated with 1 planet, and planets are potent to influence our lives effortlessly. So, always research the Vastu and other astrological details of the colour you pick. Ask your family pandit if the colour you are opting for is fine according to the direction in which you have placed your mandir.
If you cannot choose a colour and Vastu details and home decor tensions are not letting you make a proper decision, go for white colour. The white colour signifies purity and peace. While astrologically, yellow is considered the best colour for mandir at home, white is preferred more than yellow as it is the safest option in this case. So, the white colour for mandir at home means devotion paired with purity, which is surely a good combination.
Bottom Line:
Choosing the right colour for your home and choosing the right colour for your mandir are equally important. Not just from the point of view of interior decoration but also because of the effect of Vastu on these things.
Temples at home single-handedly create and maintain peace and positivity in our homes. So, giving them the attention they deserve is a must. Choose the right colour for your temple at home and do the Griha Pravesh of positivity and success.
For more details on home decor, Vastu for home and home shifting services in India.
Latest posts by Anishka Luthra
(see all)