Colour Combination of Kitchen
Your kitchen, just like any other area in your house, should reflect your personal sensibilities or style. There was a time when most people would ignore or overlook their kitchen while designing their house. Now, thankfully, a lot of homeowners give their kitchen area its due importance. Some people like calling an interior decorator to get the job done, while others do the interior decoration on their own.
When you wish your kitchen to have a distinctive personality of its own, you must infuse some vibrant colours into it. While you will get limitless options to choose from, you must ensure that you use the different colours you choose in the right proportion.
While choosing a colour scheme for your kitchen or modular kitchen colours, you should consider the purpose for which it is a part of your home. If you have a cozy kitchen designed only for cooking purposes, you could use bright colours. If you have a huge kitchen area, you should opt for colours that help you in creating a good ambience.
When you mix and match two or three colours that are different from each other, the combination that is created looks very unique. Of course, using colours that are traditionally known to complement each other is an option you can always explore.
If you are about to experience home shifting and are currently designing your home, read the details below to get the best colour combination for the kitchen. When you are scratching your head over the kind of colours, you should explore for your kitchen, here are a few things you could consider:
Using Colours Innovatively
Colours have been used in different ways to design kitchen areas. While you can go for the tried-and-tested methods of using colours, you can also think of a few creative ways to use them. Use patterns that have never been tried out before but you think will look good. To find out how combining two contrasting colours would look, mix them up on computer software first.
While bold colours are not really used for kitchen flooring, you can go for the same if you think it will work for the kind of kitchen you have. When you opt for a bold colour scheme for colour combination of kitchen, you can pair it up with white wall cabinets and worktops. Colours can also be used to make the kitchen look more elaborate or spacious.
Use Accessories
To make your kitchen look vibrant, you can procure accessories of different shapes and colours. Of course, buying random accessories of varying shades wouldn't be a good idea. After you finalize a particular visual design for your kitchen, choose accessories that feature colours that would complement it well.
The best part about collecting accessories for your kitchen is that they would prove to be useful in the long run. Apart from making your kitchen look more colourful, they will help you get a lot of your work done more efficiently. Whether you are finalizing kitchen trolleys colouror the colour for a basic piece of equipment, you must be careful.
While buying a shirt or a decorative item, you often get confused about which colour combination you should go for. So, you can imagine how tough it would be to settle for the right colour combinations for kitchen. A good way to narrow down your options is to have a look at some of the popular modular kitchen colour combinations.
Here are some of the most popular colour combinations for kitchen:
Dark Blue and Light Blue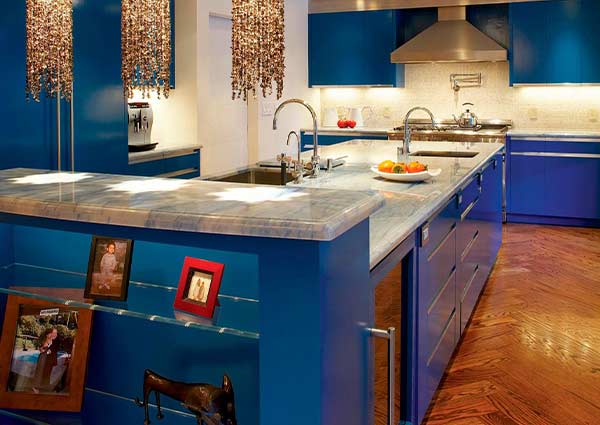 If blue is your favourite colour and you wish to use colours to design your kitchen with, you could opt for two different shades of blue. On bigger elements or objects like walls or cabinets, you could use light blue. Dark blue would be more appropriate for window treatment, dishware, rugs and seating.
Blue and Orange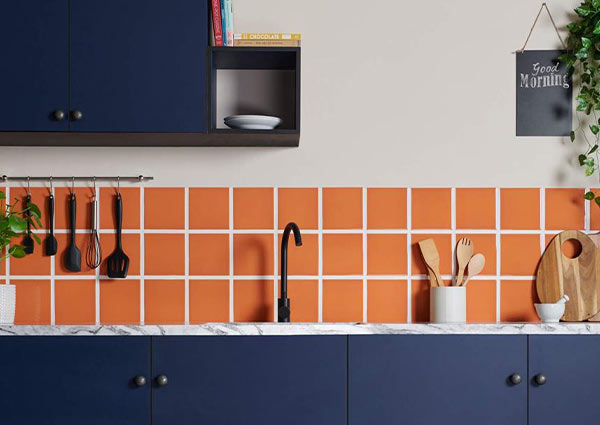 When you wish your kitchen area to exude a sense of vibrant energy, this is the colour combination you should go for. Citrus orange is quite a bold colour and it complements soft blue very well. When the woodwork and cabinetry in your kitchen feature white or some other subdued colour, you can should use blue and orange for the rest of the areas.
Charcoal Gray and Purple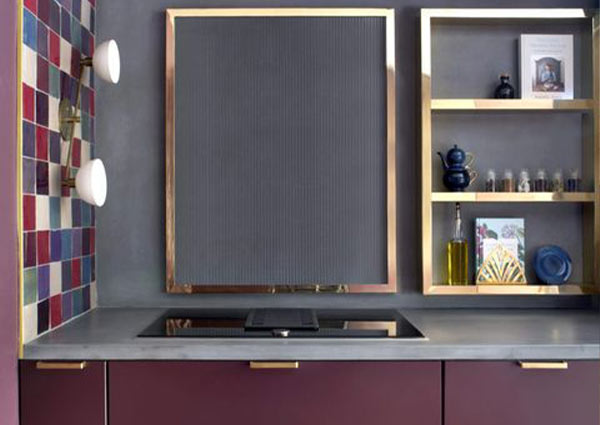 While going through modular kitchen colour combinations, you cannot ignore this. A lot of people believe that purple, as a colour, would be too bold or bright for the kitchen. However, when you pair it up with gray, you realize it was not a bad option at all. Purple and charcoal gray prove to be a good combination that adds a lot of visual energy to the interiors of your kitchen.
Green and Gold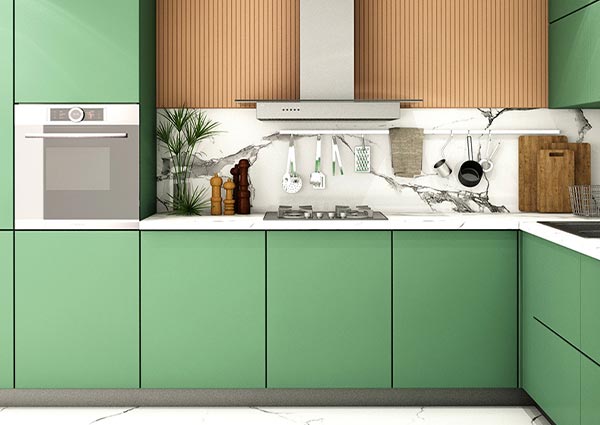 It might be a little difficult for one to imagine green and gold together in one's head. However, when you do use these two colours in your kitchen, you realize they complement each other pretty well. You can use a variety of metallic gold accessories including faucets, light fixtures and cabinet hardware.
Black and Red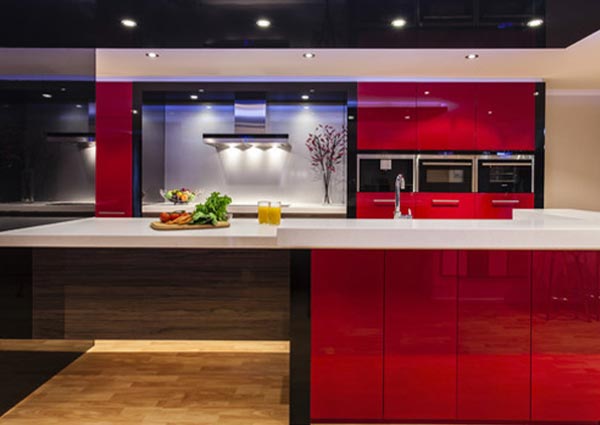 If there is one colour combination that has worked well for most elements, it is black and red. Based on your personal preferences and the style of your kitchen, you should choose a shade of red that, you believe, will work the best. Deep red would work well for a traditionally designed kitchen. The cabinets, countertops and flooring should be coloured in black.
Pink and White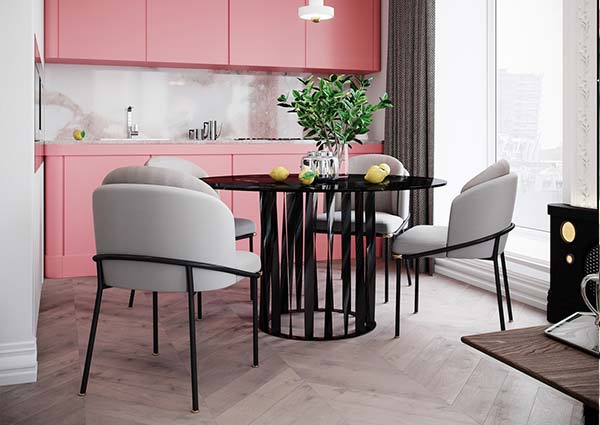 When pink is mixed with crisp white, the resultant colour looks very pleasant to the eyes. It is also the kind of colour that would work wonders for your kitchen area. People, who wish for their kitchen to look fresh at all times, go for this colour combination. Apart from the furniture, you can use this colour on a bunch of accessories as well.
Grey and Yellow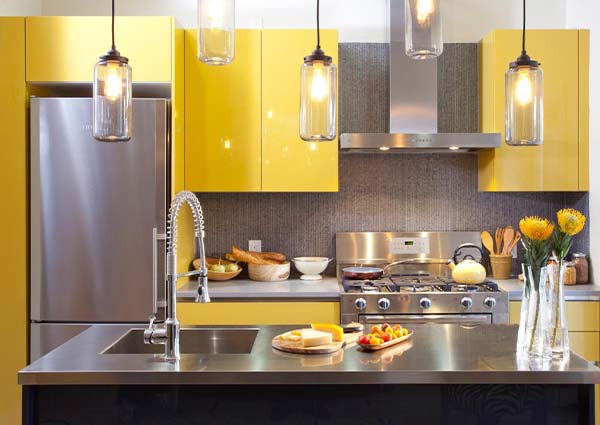 Grey and yellow might seem like an odd combination but when you use it smartly, the result can be very impressive. Grey works wonderfully as a background colour on cabinets and walls. If vibrancy is what you are looking for, you can go for sunny yellow. You can have a look at various shades of grey before deciding on the one you should pair up with yellow.
Black and White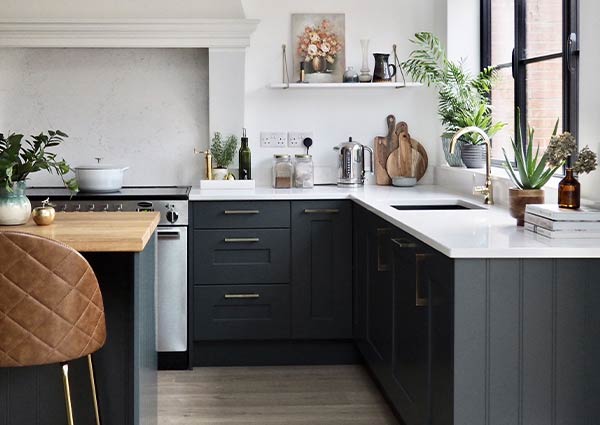 When you are going through kitchen colour ideas and looking for a very safe option, black and white is the combination you should go for. This is the colour combination that helps your kitchen achieve a balanced look. Once you decide to go for black and white, you must ensure that these two colours are used in the right proportion and do not eat into each other's space.
Mint Green and Brown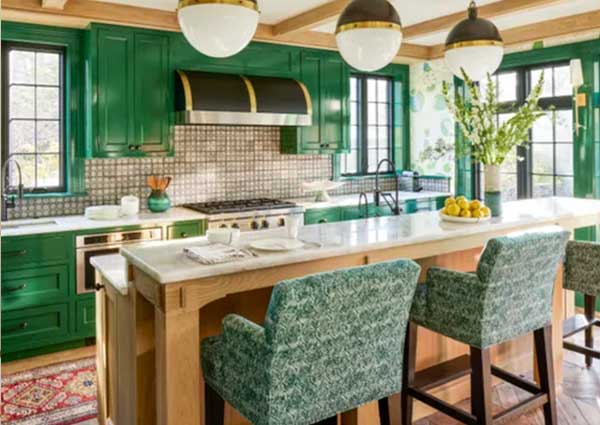 If you like unconventional things, mint green and brown is the colour combination you should opt for. The softness in mint green complements the rustic tone of brown exceptionally well. The wood flooring and the ceiling beams should be brown-coloured and the wallpaper or the backsplash should be coloured in mint green.
Blue and Brown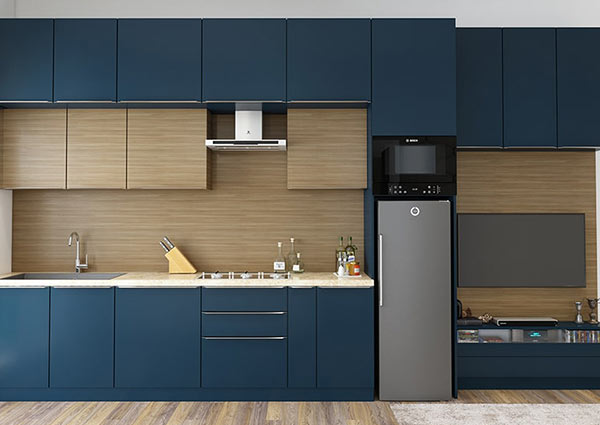 When your house, including the kitchen area, boasts of a contemporary look, you should contemplate pairing up blue and brown. It is also the colour combination that appeals to a large number of people, regardless of what their personal sensibilities are. Despite being a tried-and-tested combination, it gives you enough scope for experimentation.
Grey and White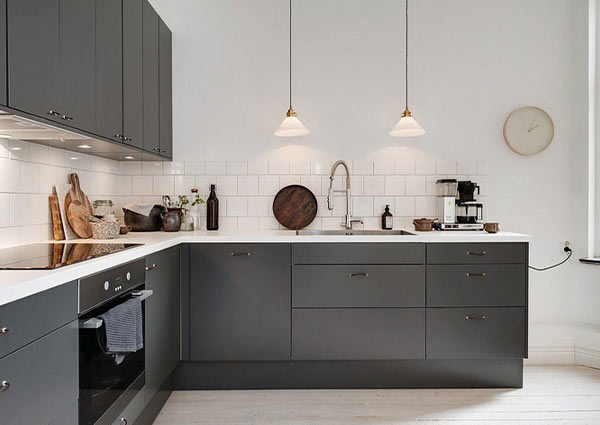 The grey and white combination works extraordinarily well not just for one's kitchen but all the areas in the house. This combination works very well for those who prefer minimalism over gloss. While using these two as the primary colours, you can choose a few other colours to complete the visual design of your kitchen.
Silver Grey, Red and White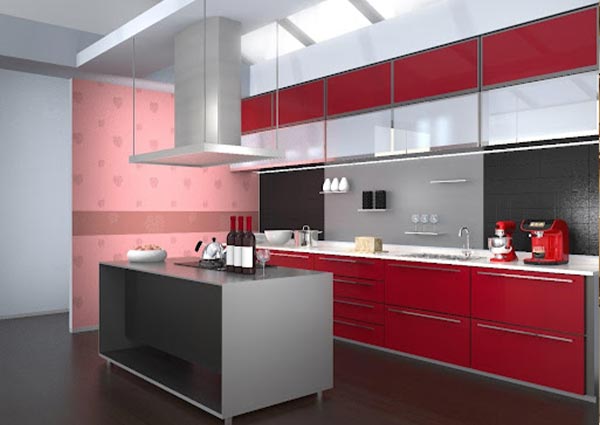 If you want to go for three distinctive colours, then you could pick silver grey, red and white. While red will add a certain amount of drama to your kitchen area, white will keep things subtle. Silver grey would work very well many of the accessories in the kitchen. How well this combination works depends on you effectively you put it to use.
Light Brown and Deep Brown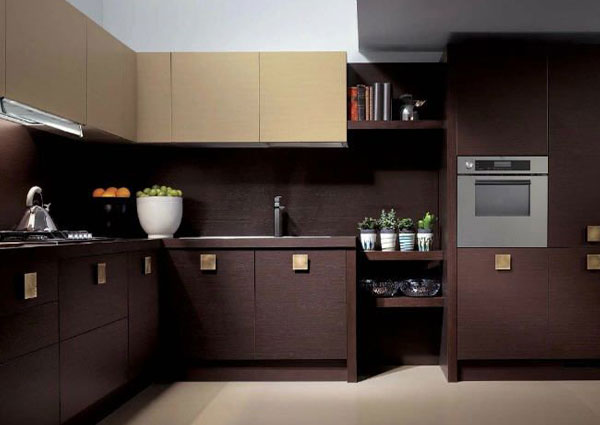 Brown is one colour that never looks out of place in a kitchen. That's the reason you see this colour being used predominantly in most kitchens. You can use different shades of brown to make your kitchen look elegant and dynamic at the same time. While you can use light brown to paint the walls, deep brown can be utilized for the cabinetry and the woodwork.
Blue, Copper and Gold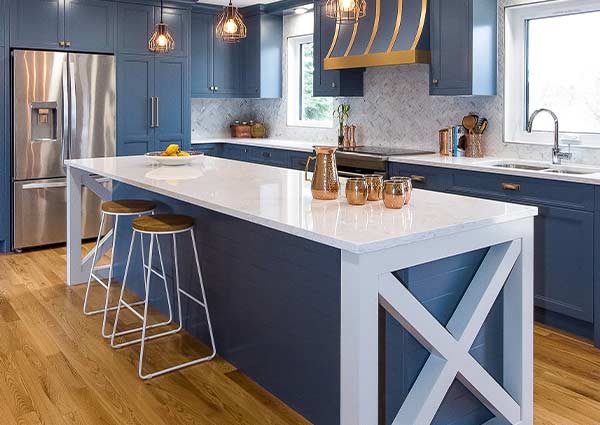 A colour combination in kitchen that always works is this. Blue complements metallic hues very well. In a kitchen, you can use blue paint to make the walls look vibrant. Gold and copper can be used on side tables, knobs and lampshades. These days, gold-coloured sinks have become quite fashionable and desirable.
Ocean Teal and Pastel Green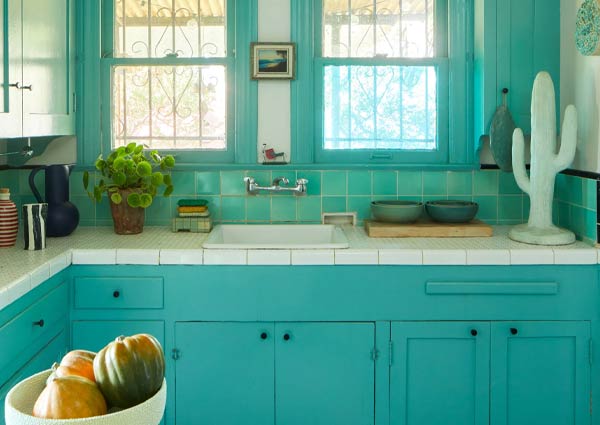 For modern kitchen areas, teal has emerged as a very popular option in the last couple of years. Regardless of what time of the year it is, this is one colour that will not go out of fashion. Perhaps, there is no colour that complements ocean teal as well as pastel green. They belong to the same family and hence, prove to be a good combination.
Yellow, Prussian Blue and Ivory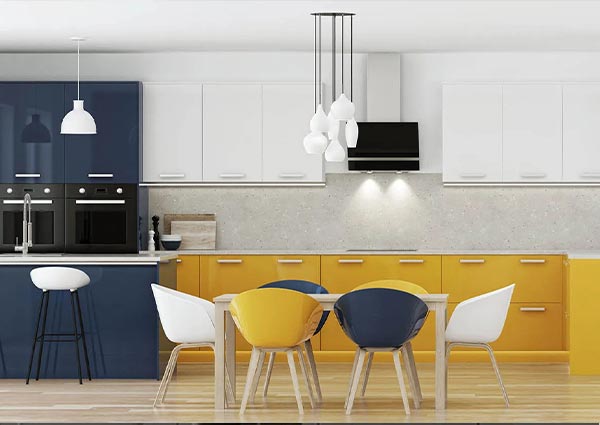 If you want to make a statement and wish for your guests to notice the efforts you have put into designing your kitchen, this is a colour combination you should opt for. A colour block can be created effectively with the help of Prussian blue. Since it does not fade away or get stained easily, you can use it to paint your walls or cabinets.
Teal and Bronze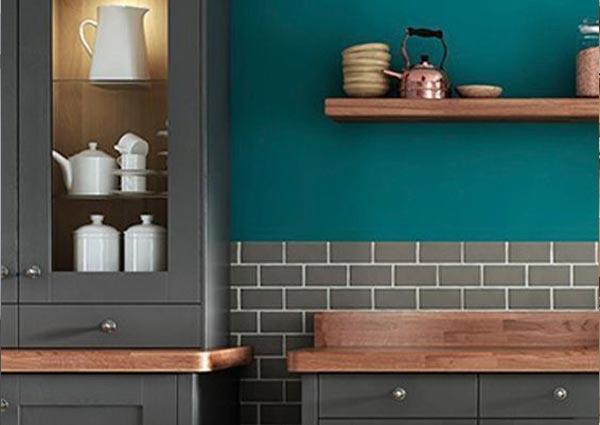 Those who wish their kitchen area to have an earthy look and feel to it should go for teal and bronze. While bronze helps in adding a sense of warmth to the kitchen, teal makes it look modern. You must remember that this colour combination works for a kitchen area that is receiving a good amount of natural light.
Cream and Green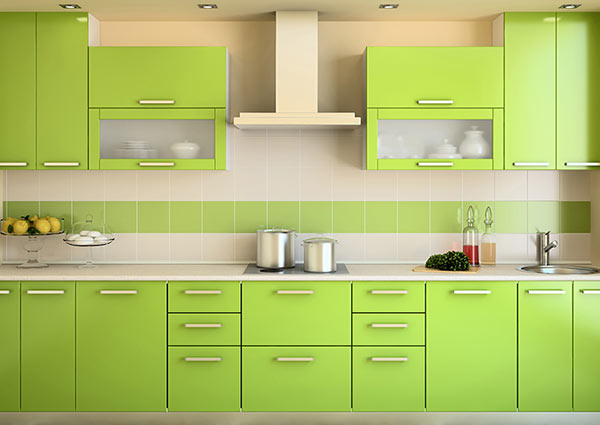 This is the colour combination that would appeal the most to those who like their kitchen to exude calming energy. If you want to create a dining area inside the kitchen, then you have another reason to use cream along with lighter hues of green. Using this colour combination enhances the aesthetic value of your kitchen greatly.
Blue, Beige and Mustard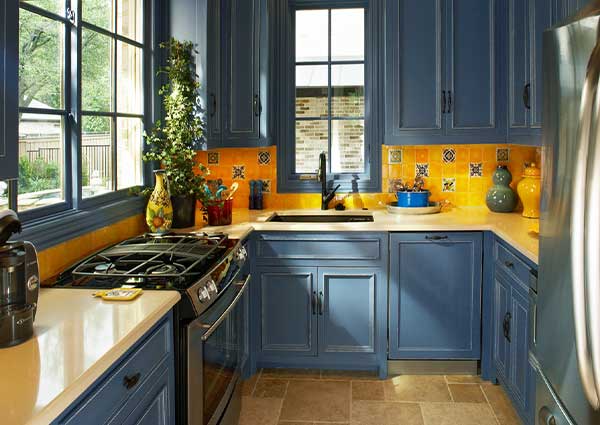 Using bright shades along with natural colours for the kitchen is always a good idea. Yellow is one of the most popular colour options for kitchen areas. When you use it along with blue and beige, your kitchen looks very interesting visually. If you are confused as to which shade of yellow to use, you could opt for mustard yellow.
Ivory and Burgundy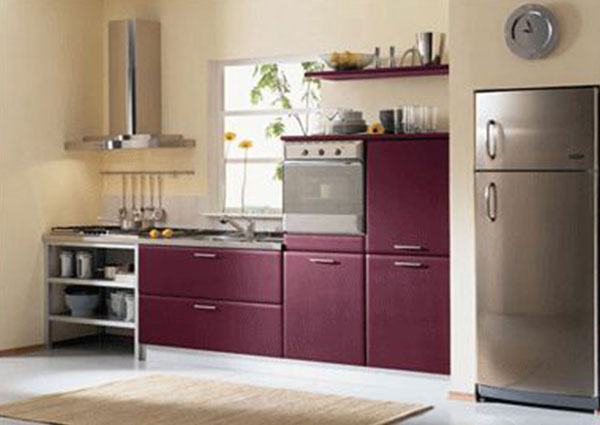 When you are looking for kitchen laminate colour combinations, this would be a good option.When you pair ivory with burgundy, your kitchen looks bold but it doesn't make your eyes feel uncomfortable. This combination is most suitable for homes that are quite spacious and boast of a westernized design.
Sea Green, Walnut Brown and Cream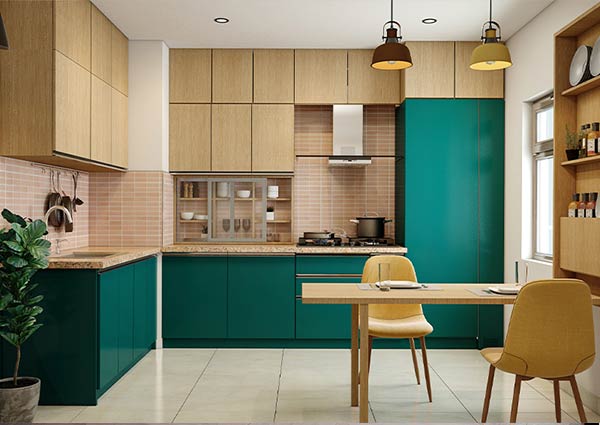 Sometimes, contrasting colours create a very interesting pallet. This is something you realize when you use sea green, walnut brown and cream together. This combination has a very soothing effect and that's one of the reasons why many people prefer it. Since these three colours are very different from each other, you can decide how and where you wish to use them.
Ruby Red, Lush Cream and Grey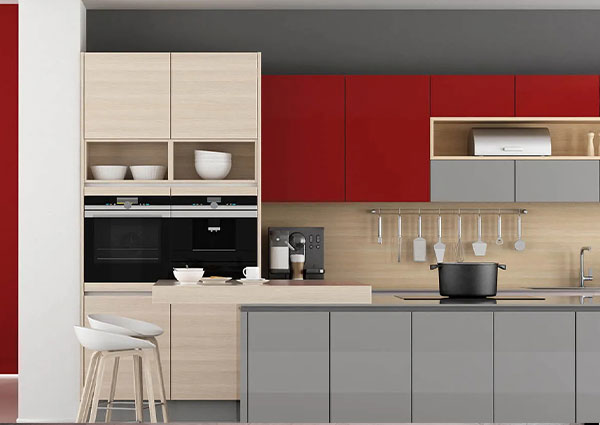 If you are interested in combinations that are trending or in vogue, you could opt for ruby red, lush cream and grey. While most shades of red would complement grey and cream, it would be a good idea to choose ruby red. Combining three colours for the kitchen area is a good option when you are living in a smaller-sized apartment.
While designing their kitchen, homeowners often wonder which would be the best colours for this particular space. It is important to remember that every kitchen area is different from the other. While choosing the colour combinations for your kitchen, you should try to gauge what would work the best for it.
So, if you are about to shift to your new home and plan a Griha Pravesh Puja soon, see if your kitchen colour combination is as beautiful as a dreamland. If not, try changing it according to the latest trends or Vastu colour combinations for the home, and then start living in your new home. Check out this space for more details on home decor and shifting.
Latest posts by Anishka Luthra
(see all)