8 Best Yantras for Peace and Harmony at Home & Office
Do you want to bring peace, happiness, and prosperity to your home after facing too many difficulties in your family life? Have you tried enough to balance your personal and professional life, but finding it difficult to strike a balance?
Packers and Movers Cost Calculator
Well, you can bless your home with all the positivity and good luck by bringing home these effective and auspicious Vastu Yantras that have been tried and tested for centuries by the people who have attained desired results. Apart from performing a Vastu Puja at home, you can also install some Yantras that can also fetch you what you are seeking.
But, let us learn what these yantras are and how do they work?
What is a Yantra?
The Sanskrit term "Yantra" is the culmination of two words – 'Yam' meaning to control and 'Tra' stands for an instrument. So, it is a device or an instrument that helps in controlling different cosmic energies in a home or a workplace. Yantras are geometric manifestations of Gods and Goddesses that also act as mediums attracting different kinds of energies that are beneficial for people. They transfer divine powers of Gods and Goddesses to the people through the chanting of the mantras.
Yantras eliminate negative energies and brings positivity in people's lives. They bring prosperity, joy, peace, harmony, welfare, and good fortune to people. Every yantra has a different mantra and chanting it emits divine blessings from the yantra.
Popular Vastu Yantras for Home for Peace & Prosperity
1. Shree Yantra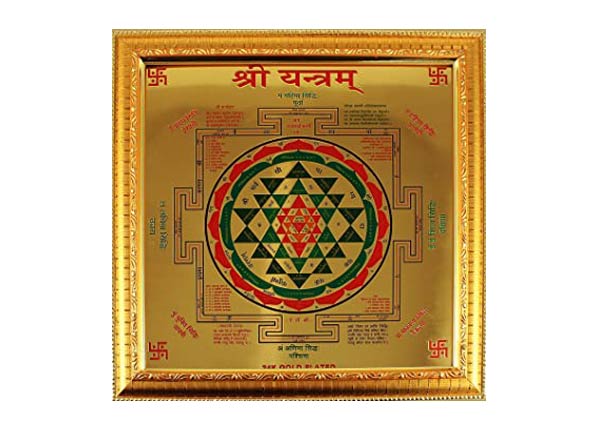 Being one of most powerful and auspicious yantras, the shri yantra possess all Gods and Goddesses. Associated with Goddess Lakshmi and symbolizing wealth, this yantra eliminates all kinds of hurdles and negativities from people's lives. It gives out inner cosmic powers that have the ability to fulfill anyone's aspirations and brings success. Placing it in the right place in your home or office can welcome good luck.
Where to place Shri Yantra:
Shree Yantra should be placed in the North-East direction on the day of Friday. Before installing it in your home or office, you should wash this yantra with milk, water, and saffron.
Benefits of Shri Yantra
It brings good luck and prosperity to your home or office.
It helps in attaining a peaceful mind.
This yantra also brings spiritual benefits to people.
Shri Yantra promotes a successful career and business by removing hurdles.
Negative energy is also removed from your house.
How to place Shri Yantra:
Sprinkle some water at the place where you want to keep this yantra. Spread a yellow or red cloth and place it. Recite this mantra for 108 times – "Om, Shreem Hreem Shreem Kamle Kamalalaye Praseed, Praseed, Shreem, Hreem Shreem Om Mahalaxmaye Namah." Once the puja is performed, you should put a red cloth on it and offer yellow flowers, jaggery, and incenses sticks to this yantra on every Friday.
2. Shri Vyapar Vriddhi Yantra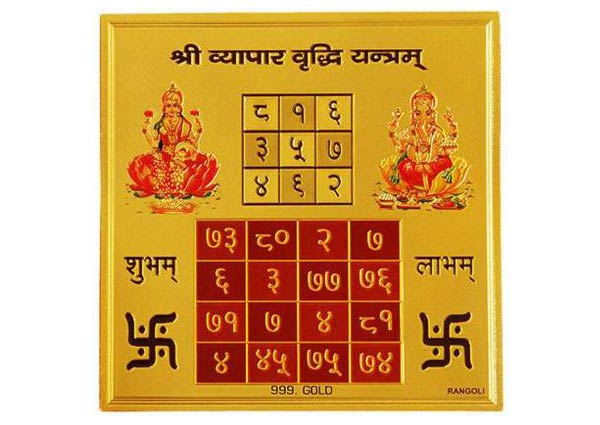 Shri Vyapar Vriddhi Yantra is an auspicious instrument to bring success and good business opportunities. Symbolizing Lord Ganesha and Goddess Lakshmi, this yantra is believed to bring peace and prosperity in your business. This Yantra eliminates hurdles that comes in the way of success of your business and bless it with positivity and prosperity. It can be installed in a factory, office, shop, showroom, godown, or any other professional place.
Vyapar Vriddhi Yantra is also installed on the day of Dhanteras to increase wealth. People offer laddoos, flowers and coconut to this Yantra. Those facing financial losses in theur business can install this Yantra in their office or shop to get profit and financial stability.
Where to place Shri Vyapar Vriddhi Yantra:
It should be placed on an altar in the North-East or East direction in your place of business or home on Thursday or Wednesday.
Shri Vyapar Vriddhi Yantra benefits:
It is a harbinger of success, good luck, and prosperity in all the business and professions.
3. Shri Kuber Yantra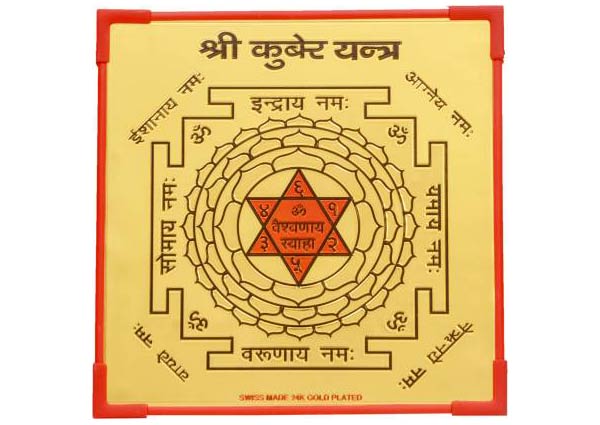 Shri Kuber Yantra is one of the significant Vastu yantras that eliminates vastu doshas in a home or office and brings financial prosperity as well. As Lord Kuber is the God of wealth, this Yantra attracts money. It also removes negativities and hurdles from one's personal and professional lives.
Where to place Shri Kuber Yantra:
North or East direction is the best for placing Kuber Yantra in a house or office. Before putting this Yantra, it should be washed with water and dots made with sandalwood paste should be applied on it in the corners. Burn incense sticks.
Benefits of Shri Kuber Yantra:
An auspicious Kuber yantra brings good opportunities, prosperity, and good luck. Offering prayers to it will eliminate hurdles.
Shri Kuber Yantra Mantra:
Recite this mantra for 21 or 108 times – "Om Hreem Shreem Hreem Kuberaya Namaha".
4. Shri Durga Bisa Yantra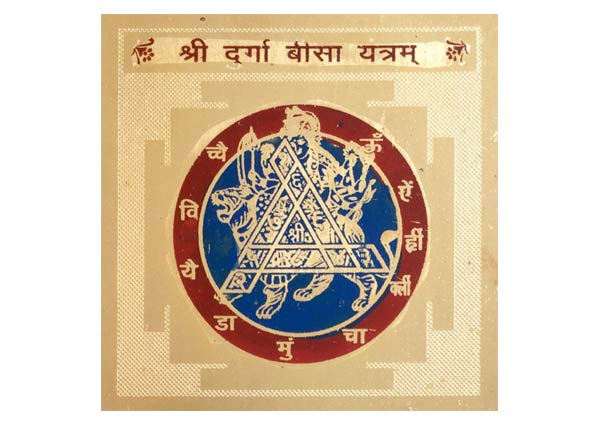 According to Vastu Shastra, Shri Durga Bisa Yantra is an epitome of Goddess Durga that is used to remove negativities from your homes. The right placement of this Yantra in your home eliminates hurdles and brings prosperity and positivity in your life. It invites bravery and keeps enemies at bay.
Benefits of Shri Durga Bisa Yantra:
This Yantra brings desired results when worshipped daily with full devotion. Not just it removes difficulties and evil eyes; it also helps in the creation of strong bond between the family members. This helps in bringing happiness and harmony in the house.
Shri Durga Bissa Yantra removes sense of fear and boosts self-confidence. It brings financial stability and wealth in your business.
Where to keep Shri Durga Bisa Yantra:
Shri Durga Bisa Yantra should be kept on an altar. You can also hang this Yantra in the North or North-East direction. It should face South and South-East direction.
Mantra of Shri Durga Bisa Yantra:
Recite this mantra for at least 21 times – "Aaeng Hareeng Kaleeng Chamundaye Vichche".
5. Panchmukhi Hanuman Yantra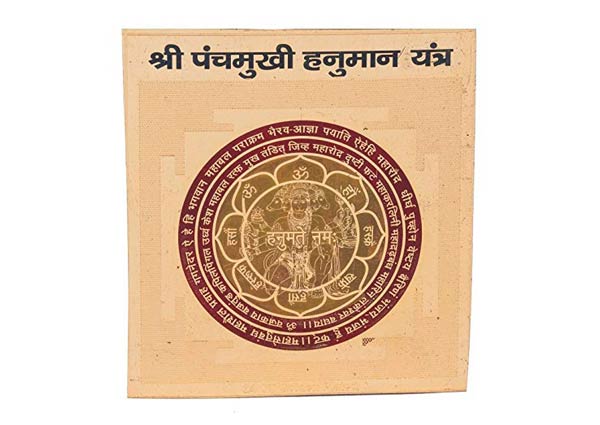 Under Vastu Shastra, Panchmukhi Hanuman Yantra holds tremendous importance. This Yantra reflects five avatars of Lord Hanuman and eliminates bad and malicious effects of evil eyes from your homes and offices. It eliminates negative energies from your place and removes negative effects of Saturn planet. Even this yantra removes malicious effects of black magic.
Benefits of Panchmukhi Hanuman Yantra:
This removes obstacles from a person's life.
This Yantra pacifies the effects of planet Saturn.
Panchmukhi Hanuman Yantra helps people recover from serious illnesses really fast.
It balances life, mind and body.
It brings courage and self-confidence to people to deal with problems in life.
Where to keep Panchmukhi Hanuman Yantra:
The best direction to keep this yantra is North-East or North direction facing the South.
Panchmukhi Hanuman Yantra Mantra:
Panchmukhi Hanuman Yantra Mantra Chant following Panchmukhi Hanuman Dhyan mantra-Panchasyachutamaneka vichitra veeryam |Sri shanka chakra ramaniya bhujagra desam ||Peethambaram makara kundala noopurangam |Dhyayethitam kapivaram hruthi bhvayami ||
6. Sukh Samriddhi Yantra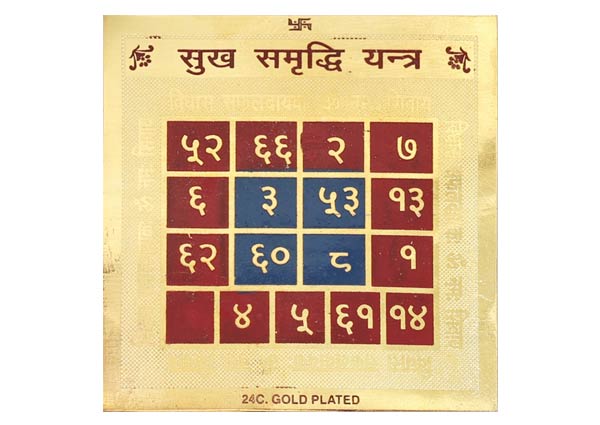 For a good family life, it is necessary that happiness, peace and harmony reside in a home. The fights and misunderstandings among the family members disturb family life and positivity flushes out of your homes. When Sukh Samriddhi Yantra is installed in your house, it brings peace to the environment and blesses it with positive energies and prosperity. This improves the focus of your family members and brings cheerfulness to your home.
Benefits of Sukh Samriddhi Yantra:
Sukh Samriddhi Yantra symbolizes Lord Ganesha and brings peace and prosperity in homes. It is known to balance family life and brings good fortune to it. This Yantra increases patience and understanding in the family members.
Where to keep Sukh Samriddhi Yantra:
This yantra should be placed in the East direction. The best day to install Sukh Samriddhi Yantra is Wednesday. After taking a bath on a Wednesday morning, wash this yantra with clean water and place it in the East direction or at the place of worship. Light a lamp and offer flowers and incense stick.
Sukh Samriddhi Yantra Mantra:
"Om Mangal Moortye Namah "
7. Manokamna Prapti Yantra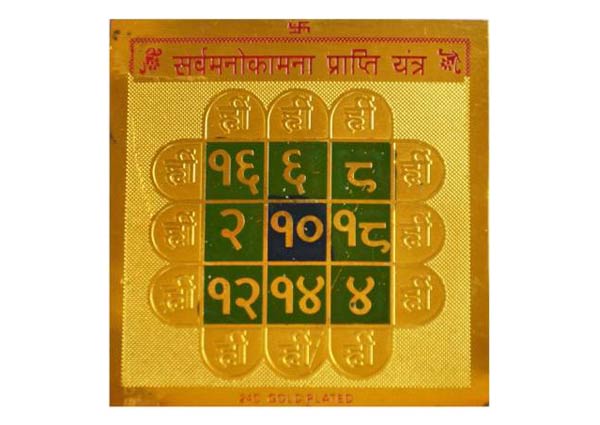 Symbolizing Lord Vishnu, Manokamna Prapti Yantra is believed to bring success and prosperity in the house or office. Lord Vishnu is the preserver of the Universe and offering Him prayers with dedication removes hurdles from your life. Similarly, this Yantra fulfills all your desires when worshipped with devotion. People facing cute difficulties in life for a long time can bring Manokamna Prapti Yantra home and removes bad energies from your life that obstructs the flow of happiness and prosperity.
Benefits of Manokamna Prapti Yantra:
Manokamna Prapti Yantra brings family harmony and peace of mind.
It brings good luck and positivity.
Removes hurdles and negativities.
Improves focus in your life.
It brings wealth and success to the people worshipping it.
This Yantra imparts spirituality.
Where to keep Manokamna Prapti Yantra:
East is the best direction to keep Manokamna Prapti Yantra.
Manokamna Prapti Yantra Mantra:
Om Aim Hreem Kleem Mum Sarvamanokamna Siddhi Sadhya Sadhya Swaha.
8. Karya Siddhi Yantra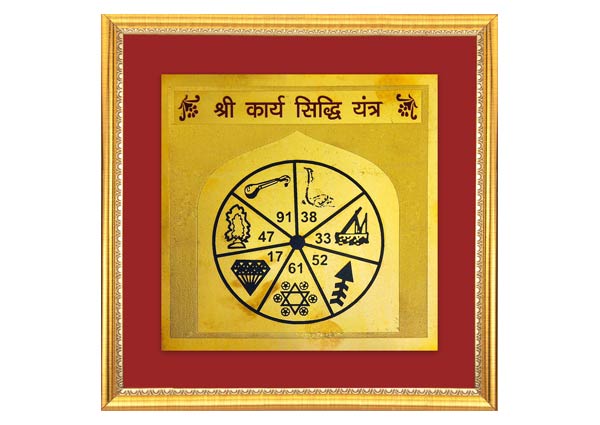 A good professional life improvises standard of living and brings satisfaction to people. A troublesome professional life hinders their growth and brings negativities in their lives. Karya Siddhi Yantra helps in overcoming this problem by balancing their professional life. It is a powerful yantra which means fulfillment of desires and brings good luck. Worshipping this Yantra wholeheartedly removes troubles, hurdles and blockages from people's lives and helps them overcome stressful situation with courage and patience.
Benefits of Karya Siddhi Yantra:
It helps in overcoming obstacles in professional life.
It paves way for success and improves focus and dedication.
This yantra eliminates dangers, failures, diseases, and evil eyes from your life.
Karya Siddhi Yantra blesses with knowledge, intellect, intelligence, confidence, and family progress.
It brings courage to a person to fight with challenges in life.
Where to keep Karya Siddhi Yantra:
South-East direction is the best to place Karya Siddhi Yantra in your home. Offer sindoor, incense, and sweets to this Yantra to get desired results.
Karya Siddhi Yantra Mantra:
Om Hrim Shrim Klim Namah ||
The Ending Note
According to the astrologers, Yantras are one of the powerful remedies to remove all kinds of Vastu doshas from a house or a workplace. When they are placed at the right place and worshipped devoutly, they bring a positive balance to your life. So, have a look at these listed yantras to bless your home or office with positivity and happiness and pick the right one for you.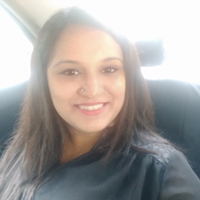 Latest posts by Sakshi Ecavade
(see all)