9 Places to Visit in India in March
Winter is almost over, and people are coming out of their houses to enjoy the spring to the fullest. The trees are all set to bloom, and people are looking for the best destination to have a mini vacation in the month of March.
But before we spill the beans on the best places to visit in India in March, here's why planning a trip this month is a great idea:
The weather during this time is pleasant. Neither too hot nor too cold.
Most schools and colleges are closed in March, so it's a good time to plan a family trip.
The financial year almost gets over in March, so one can plan a trip according to their budget.
The main reason to plan your trip in March is that many seasonal, cultural, and religious festivals occur across India during this time.
So, now that you know why March is an ideal month to go on a vacation, look below and get all the details you have been looking for.
Top 9 places to visit in India in March 2023
1. Vrindavan: Festival of Holi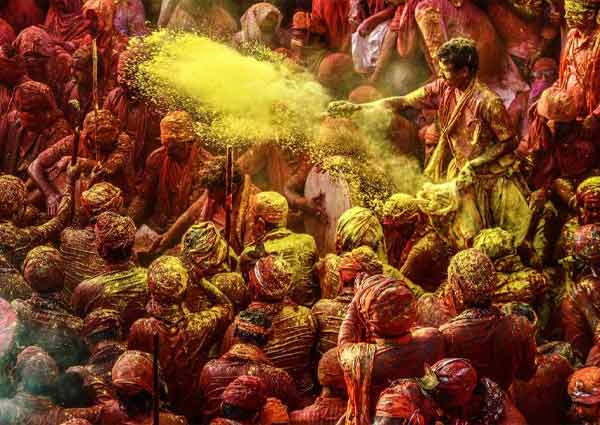 Mathura and Vrindavan's Holi celebrations are world-famous. People visit Vrindavan during this time to play Holi in the most fun-filled and raw form. Here, holi is played enthusiastically using flowers, herbal colours, etc.
People visit temples and then play Holi while dancing to the dhol beats and enjoying refreshments. The celebration of Holi in Vrindavan lasts for about a week, and people from across India come here to play Holi with their friends and with Lord Krishna.
2. Goa: The Shigmo Festival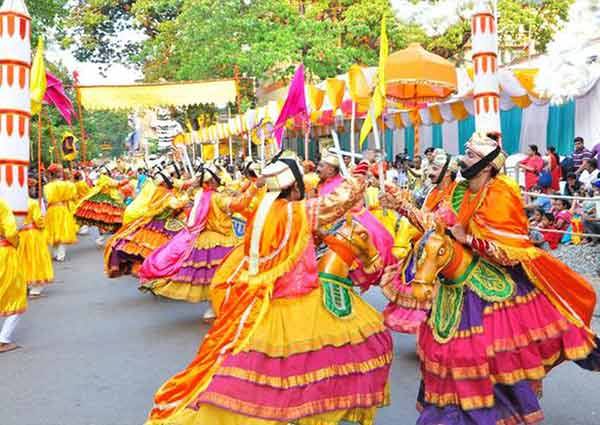 How many times have you visited Goa? Do you know about this famous festival celebrated in the 'party capital' of India? It is okay if you don't because not many people know about the celebration of the Shigmo festival in Goa.
The festival is celebrated by the Hindu population living in Goa. The reason behind this celebration is to welcome back warriors after Dussehra to their home who left their families behind to fight back the evil. This is the religious history of the Shigmo festival.
So, these warriors were welcomed back with a lot of folk dance, music, delicious food, and enacting various scenes from the famous ancient Hindu epics that depict the victory of good over evil.
3. West Bengal: Basanta Utsav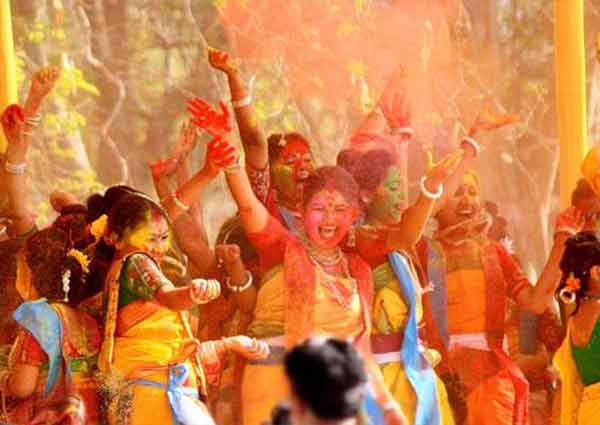 Basanta Utsav, also known as the 'celebration of spring,' is celebrated in West Bengal every year in the month of March. Basanta Utsav is another form of Holi since the day and way of celebrating Holi and Basanta Utsav have a lot of similarities.
The festival is celebrated with music, dance, and wishing each other Basanta Utsav while applying colours and throwing flowers at each other. So, if you are in Bengal during Holi, get ready to celebrate a festival similar to Holi but experience a difference in a cultural celebration of the same.
4. Mount Abu: The Traditional Gangaur Festival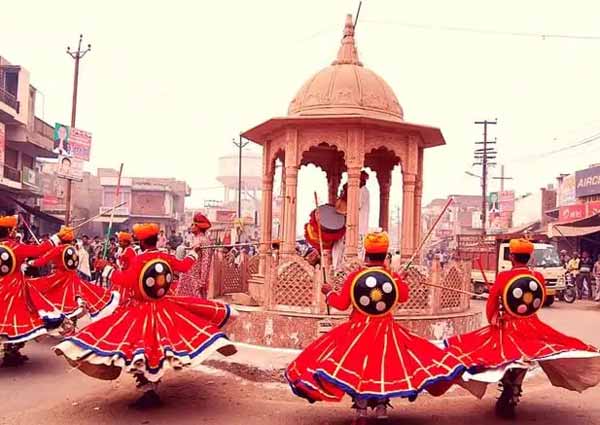 Who doesn't know about the famous Gangaur festival celebrated in various parts of Rajasthan? The Bollywood movies and daily soaps have made them famous, and rightly so. But were you aware of the fact that the famous Gangaur festival is also celebrated during the spring season in the month of March?
Now that you know this detail, pack your bags and head straight towards Mount Abu to spend your days in traditional celebrations. In the 15-day-long festivities, you will wear beautiful traditional clothes, pray in front of Lady Parvati and Lord Shiv for prosperity, and witness a traditional celebration of one of the holiest festivals of Rajasthan. Isn't that one hell of an experience?
5. Ratnagiri: Velas Turtle Festival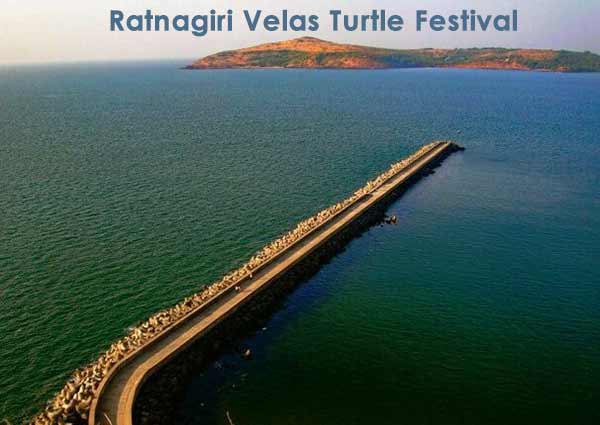 Looking for a soothing celebration with nature? Then the famous Velas Turtle Festival in Ratnagiri in Maharashtra is your place to be. The beach welcomes from early February till late April. The Ratnagiri beach welcomes multiple turtles in multiple sizes that cover the beach and make it a sight to behold for the onlookers.
The tradition is followed by villagers releasing turtles into the water and turtles staying on the land for some time before finally merging with the water. The best time to witness this beautiful union of nature and humans is during the spring season in March.
6. Udaipur: Mewar Holika Dahan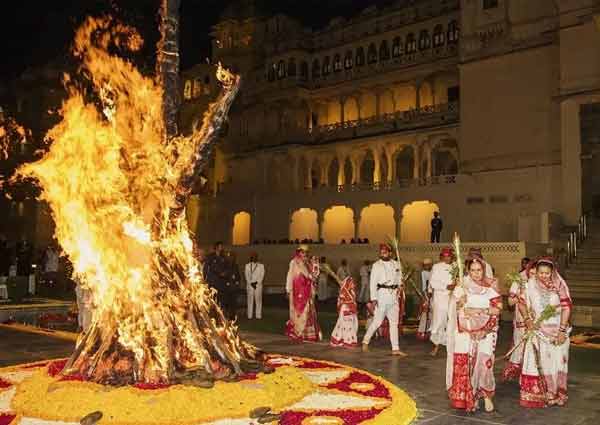 Whether one celebrates Holi or not, the celebration of Holika Dahan, a few days before Hoil, is no secret. People all over India celebrate Holika Dehan, but what's so special about Mewar's Hoilka Dehan celebration?
The royals in the region do Holika Dehan in Mewar, so the celebration is grand, and everyone is invited to join them. Multiple elephants, horses, and camels are decorated, and a parade takes place from Shambhu Niwas Palace and ends at the royal residence of Manek Chowk.
Folk dance is also performed around the holy fire called Hoilka while singing folk songs, and the ceremony is concluded with 'prasad' and dinner.
7. Jaipur: Elephant Festival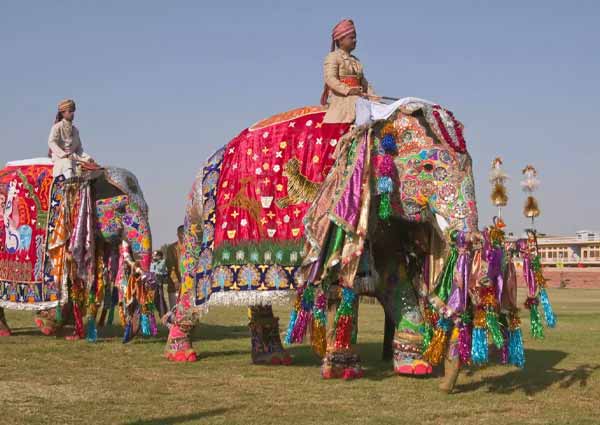 We know Jaipur for a lot of reasons. With a rich history, grand forts, a perfect destination for vacation, and multiple stories to hear from the locals about the glory of Rajputana, there are many things in Jaipur to witness. And so is the famous elephant festival of the city that takes place in the month of March when the spring season is at its peak.
The cultural festival in Jaipur is celebrated on the full moon day of Phalgun Purnima, according to the Hindi calendar, which usually lies in the month of March. The festival is celebrated to signify glory, and elephants are considered the most royal and glorious animals in the past.
That is why the name of the festival is 'Elephant Festival,' and elephants are incredibly decorated on this day to walk in the parade. Apart from elephants, horses and camels are also decorated to walk in the parade with elephants. These animals are fondly and carefully decorated with jewellery, head plates, saddles, etc., and are given a wonderful makeover to represent the royalty of Rajputana.
The festival is then celebrated with dance, music, live concerts, and colours and flower petals thrown over elephants to welcome them and play with them.
The entry fee for this cultural festival is free for all, and everyone across the country is warmly welcomed to witness and be a part of it. So, when are you experiencing this unique festival?
8. Rishikesh: International Yoga Festival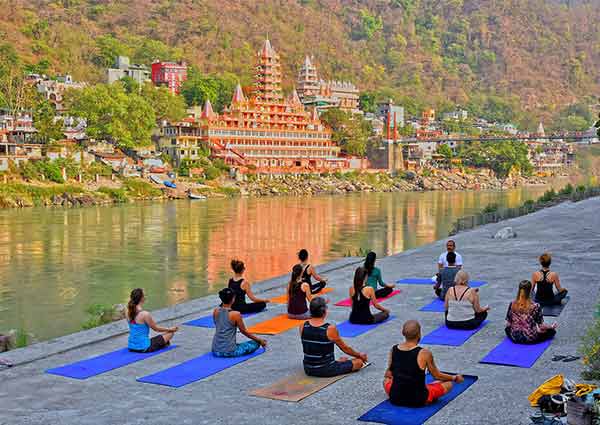 If you think there is no celebration for the spiritual people, then look at the international Yoga festival held every year in Rishikesh in the month of March. It is an annual festival of Yoga that takes place in Rishikesh, Uttarakhand, because Yoga originated in this place.
The international yoga festival is organized by Parmarth Niketan annually in March, and people worldwide participate virtually. To experience the festival live with many prominent Indian personalities, you must register to get an official entry. Visit the website to know more and plan a healthy and spirituality-filled vacation in Rishikesh https://internationalyogafestival.org/
9. Mizoram: Chapchar Kut Festival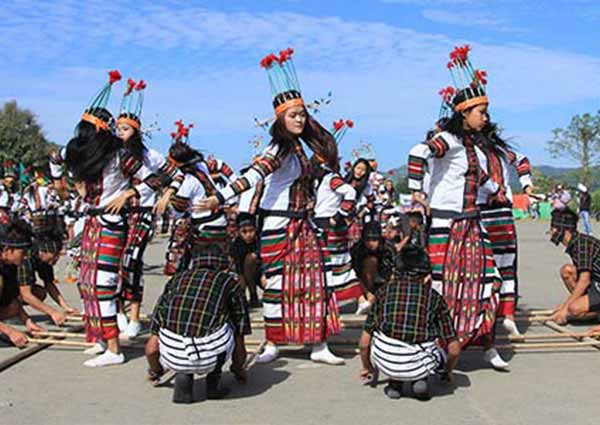 People of Mizoram every year wait for spring to arrive daily to celebrate the Chapchar kut festival. Chapchar kut festival is a traditional festival of Mizoram celebrated in the month of March to welcome good harvest and burning bamboo trees to make the land fertile.
This traditional festival is believed to prepare the land for another great harvest and provides the much-needed ingredient for the fertile land. The festival is also fondly celebrated to strengthen friendships and relationships amongst the citizens of Mizoram. Hence, they celebrate the festival with full enthusiasm.
People of Mizoram get dressed in their traditional attires, perform skits, play music, have folk dance, distribute sweets, and have a ball of a time together. So, if you are planning to visit Mizoram this year, March is the perfect month to go and enjoy their festival and understand their community closely.
And those are the top 9 places to visit in India in March and enjoy some of the best seasonal festivals celebrated in India in March. So, which place are you planning to visit this year and why?
Bottom Line:
India is a culturally and traditionally rich country. One can effortlessly find some or other celebration in multiple corners of India. Looking for the best, most happening, and fun-filled places in India to visit in March is not at all a task.
One can easily find them on their own or get help from the above list. Also, Thepackersmovers.com provides relocation services to all the cities mentioned above. So, if you plan to settle down permanently in any of these cities, call us to arrange the best moving services in India.
To know more about home decor, Griha Pravesh Shubh muhurat, and relocation services, call us or stay tuned.
Latest posts by Anishka Luthra
(see all)