Best ways to pack your clothes for a DIY shift
Has it ever happened to you when you felt that not packing clothes properly on vacation increases the space they take up in a bag? And this leads to making more and more bags to fit all our selected clothes in them?
Imagine this happening during home relocation. And due to that, the number of goods you will have to relocate because you packed your clothes improperly due to hurry.
You can easily pack your clothes properly without spending too much time on them. You just need to know the best technique to pack clothes for the DIY shift, and you will be good to go. Below are some of the best ways to pack clothes for shifting that will decrease your number of luggage while shifting and reduce packing and moving charges simultaneously.
Before you pack –
Declutter:
Don't we all have clothes that we feel like donating because they no longer serve their purpose? So, why waste time and money on the things you don't need anymore?
You will go through these clothes while packing your closet for the shift. So, keep them in a different bag instead of packing them with the rest of your luggage. This bag will contain all the clothes you are ready to donate to those who can use them for a better purpose.
Doing this will ensure you are not carrying unnecessary baggage while shifting, and no extra amount is spent on shifting goods you no longer need.
Segregate:
We all have different types of clothes. Formals, casuals, party wear, nightwear, etc., we have multiple types for multi-purpose use. And this is quite obvious that not every other cloth can be packed with equal importance. Some clothes need the extra protection of packing, so they don't get damaged. And then some clothes can be casually packed because they are manageable and inexpensive.
You must segregate all your clothes and make sections based on their importance, quality, and use. Formal and party-wear clothes should be carefully packed together. Casual clothes can be backed with little seriousness, whereas night suits can be given the least importance while packing.
Choose your packing material:
When it is a DIY shift, you don't have to be too critical about your packing. Ensuring the packing is safe is enough instead of how you packed your stuff.
We have multiple things at our homes that can help us pack our clothes and save money simultaneously. Here's what you should look for in your home to pack your clothes for a DIY shift:
Luggage bags and suitcases
Cupboard storage boxes
Cardboard boxes
Vacuum and poly bags
How to pack clothes for shifting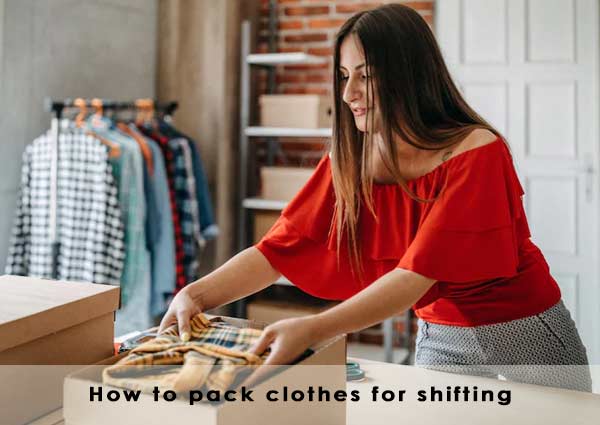 All the clothes in our closet can be classified into two broad categories:
Expensive and delicate clothes
Inexpensive and casual clothes
The luggage bags and suitcases can best be used to store heavy, expensive, and important clothes like formal and party wears and any expensive ethnic dress. That's because suitcases are sturdy and ensure they are not pressed down with any weight, so the clothes don't get damaged.
Cupboard storage boxes can accommodate all the casual clothes that are mildly expensive and important. Casual clothes are usually the clothes that we wear to the supermarket and on casual outings. So they are neither too expensive nor too fragile.
Vacuum and poly bags can have small clothes like socks, gloves, handkerchiefs, bow ties, regular ties, belts, hats, etc. Keeping them all in one place is important so that you don't lose any of them, especially clothes that come in pairs, like socks and gloves.
Since we have more clothes than bags and boxes in our home to store the clothes while shifting, you would need extra storage boxes. These can be cardboard boxes that can be used to store all the night suits and tracksuits we wear at home.
For shoes and other footwear, you can use old cardboard boxes at home or pack them in small jute bags and put them in a luggage bag altogether.
Important tips on how to pack clothes for shifting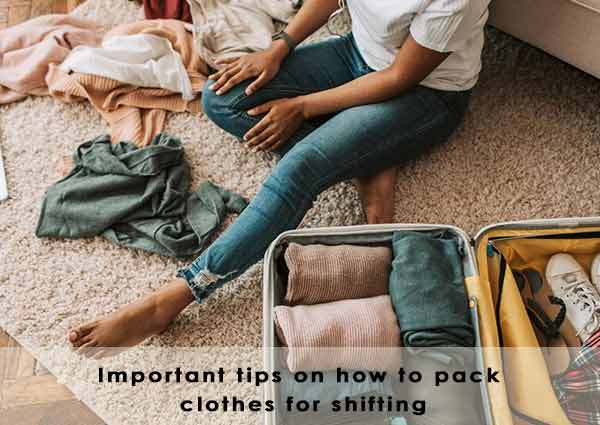 Here are some important things to keep in mind while packing your clothes for a DIY shift:
Always pack hanging and non-hanging clothes separately. Hanging clothes are usually ironed and hence should be handled carefully. You would not like to ruin them, so that careful packing can help in this case. Non handing clothes are usually those that do not need to be ironed. So, they can be casually folded and put with multiple other clothes without worrying about ironing.
To prevent your shoes and other footwear from losing shape due to packing, you can stuff them with your unwashed socks or waste paper. Then, putting them all in one bag and not worrying too much about their shape will be fine.
Always wash clothes before packing them. Since shifting is a bit hectic and washing clothes will not be the first thing you do after entering your new home, make sure most of your clothes are clean before packing.
Always pack fresh and dirty clothes separately. You can also add clothes fresheners in the bag that contains unwashed clothes.
Don't pack all your clothes together. Keep all the essential clothes with you. These should be packed at the last minute of shifting.
Cardboard boxes with clothes shouldn't be overloaded as they can tear the cardboard apart. Keeping light clothes in such boxes is preferable.
Place all the heavy and baggy clothes at the bottom and light weighted clothes on the top. This will balance out the weight of the storage box.
Add naphthalene balls in your bags and boxes containing clothes if you have a long-distance shifting. This will ensure no mites or pests enter the bags too much on the natural fabric of your clothes.
Bottom line:
We all need some best packing and moving tips to make relocation easier. And since our clothes are our weakness because they represent who we are, keeping them safe during a shift is crucial. Follow the tips above, and your clothes will be safe throughout the relocation process.
Stay tuned for more details on the home and office shifting, Griha Pravesh Muhurat, or interior decoration ideas for the home.
Latest posts by Anishka Luthra
(see all)