10 Trending and evergreen kitchen countertop Designs
Hey reader, all set to build the new home of your dreams? Or are you still looking for ideas to make it a beautiful, trending, classy, yet evergreen abode that wins your heart every time you enter your new home?
If that is what you want to achieve, we suggest you give extra attention to all the major corners of your house. Multiple spaces can make or break the home décor game, and we must take care of these spaces mindfully.
The kitchen is one such area that should be pitch-perfect while being a perfectly suitable place to do the daily cooking chores. So, how do you make it beautifully practical or practically beautiful? By having a great colour combination of kitchen or some solid and spectacular kitchen countertop designs.
Below are some everlasting kitchen countertop designs that will leave all its viewers short of words for their praise. Have a look:
Quartz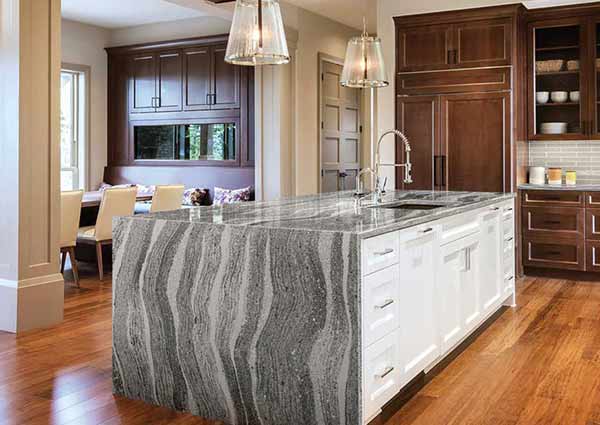 We usually like those materials for our kitchen countertops that are durable, appealing, and low maintenance. And Quarts fit perfectly in all these categories. The very lavish looking and shiny stone, quartz has a very long life, and the best part is it is heat resistant.
They come in multiple designs, patterns, and colours to choose from. You can easily get a quartz countertop that matches the entire theme of your kitchen. The only disadvantage of having a quartz kitchen countertop design is it is expensive. But being durable neutralizes this factor as well, so you don't have to change the stone for a long time.
So, you can work on your kitchen countertop with quartz stone without worrying about damaging it. Also, its shine stays intact for a very long time as well.
Marble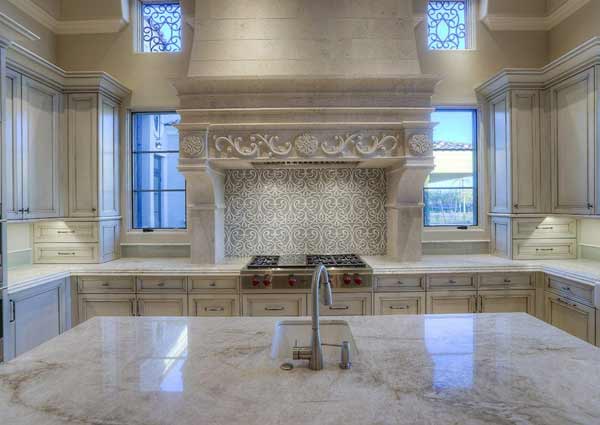 If you are looking for a high-end luxurious look in your kitchen, then marble stone for your kitchen countertop design is just perfect. The stone comes under the limestone category, considered one of the world's most beautiful, stylish, chic, and expensive stones.
The stone is scratch-proof, heatproof, highly durable, and very cool. Not just the touch but marble also looks cool in the kitchen if you design the rest of the wood of your kitchen according to the white marble.
It comes in different ranges, so it is relatively inexpensive. The only disadvantage of marble kitchen countertop design is it gets stained easily so should be cleansed once you are done working on it. Apart from that, the stone is low maintenance and a classic choice for home décor.
Butcher Block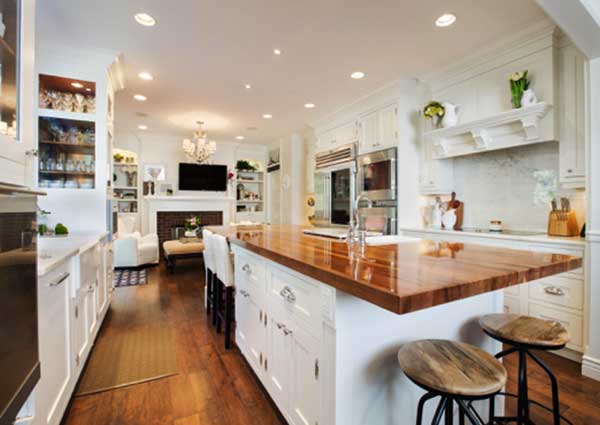 Times are evolving, and people want to be different in everything they do. It mainly includes their home décor taste and preferences. Gone were the days when kitchen shelf designs were all about solid stones and marbles. People now like to keep it different like having a wooden kitchen countertop or at least having a stone that looks like that.
The butcher block kitchen countertop design is precisely the same. The material is made with hardwood strips, such as maple or oak. These strips are then glued together and sanded to smoothen the wood. It is then given the final look and the shine it has to create a smooth surface.
They are not too new but aren't old designs either. People choose butcher block kitchen countertop designs for their new, warm, and old-school look. Their natural beauty complements the rest of the woodwork in the kitchen and hence proves to be an excellent option for kitchen shelf designs.
Some advantages of butcher block kitchen countertops include durability, resistance to cuts, affordability, and stains, which also give a very inviting feel. But their disadvantages include high maintenance, prone to bacterial growth if not properly cleansed, and needing regular oiling to keep the natural wood's shine intact.
Concrete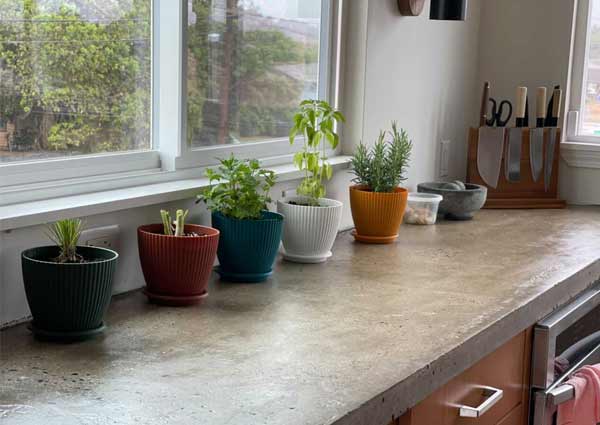 If you want your kitchen to have that typical industrial look like a cafe, then having a concrete kitchen countertop will be great. You can also pair it up with an industrial home ceiling design for the kitchen. Your kitchen will look next-level bombastic, as if some interior designer has designed it for you.
Concrete kitchen countertop designs are highly aesthetic, cost-effective, versatile, and practical for the kitchen. Installing these kitchen countertops is also very easy since you can adjust them while the home is still under construction and with other ongoing concrete work.
While concrete kitchen countertops are expensive but durable with minimum maintenance requirements, so they can be an excellent option to install in your home. Their major advantage is the flexibility they have. You can customize it however you like, change its size according to your need, and add your own colours, textures, and patterns to your liking.
Soapstone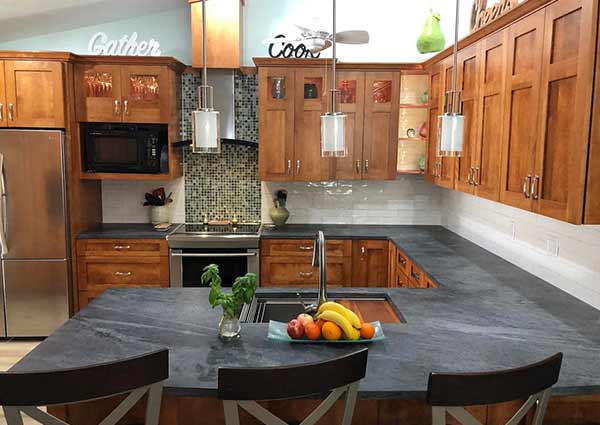 Soapstone is a strong, lavish-looking, hard stone with a smooth and shiny surface that looks very appealing to the eyes. It usually comes in monochrome colours like black and grey but one can choose the shades and textures of these colours for their kitchen countertop design.
While the stone is rugged and durable but not as durable as other stones because, unlike marble and granite, soapstone is softer and smoother, making it a bit more delicate than other stones. So, one must take care of it if they want to avoid their kitchen shelf being scratched and stained.
Corian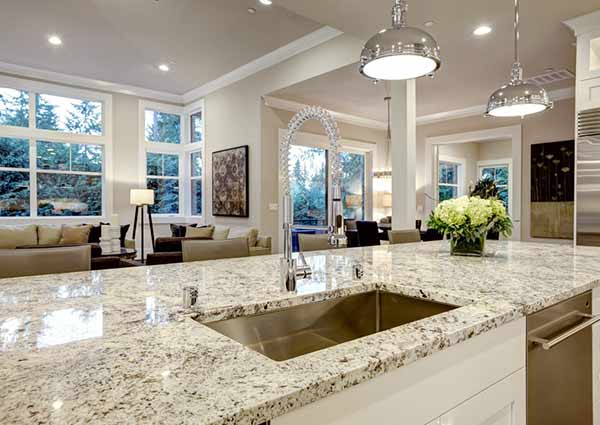 Corian is not a natural stone, but it does look like one of how it is made. The faux stone gives a beautiful look and comes in so many colours that you might go out of styling options, but the stone will continue providing you with new colours, patterns, and designs to decorate your kitchen shelf and countertops.
You can style it well with kitchen wall tiles, but since it is not an entirely natural stone, it is not too durable and could be more heatproof too. So, it is suggested not to install Corian stone on the kitchen countertop where you have placed your gas stove.
You can add it to the service counter and enjoy its classy look by hanging beautiful lamps on the ceiling. It will increase the lighting effect for extra shine in the kitchen through the stone.
Engineered Stone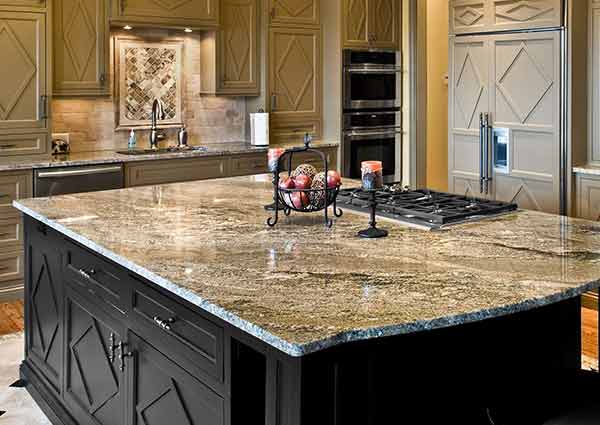 Engineered stone is resistant to scratches, stains, and heat. It combines crushed quartz with resins and pigments, making it an extremely durable and long-lasting material. Hence it is very durable and cost-effective.
The best part about having an engineered stone kitchen countertop design is the stone is so low maintenance that you don't need to buy anything extra to keep it clean, shiny, and in good condition. Just wipe it off with a wet cloth, and your work is done.
The only downside of this stone is its cost. Engineered stone is more expensive than other stones, but its qualities make it long-lasting, which ultimately means the cost you pay for it is worth it.
Terrazzo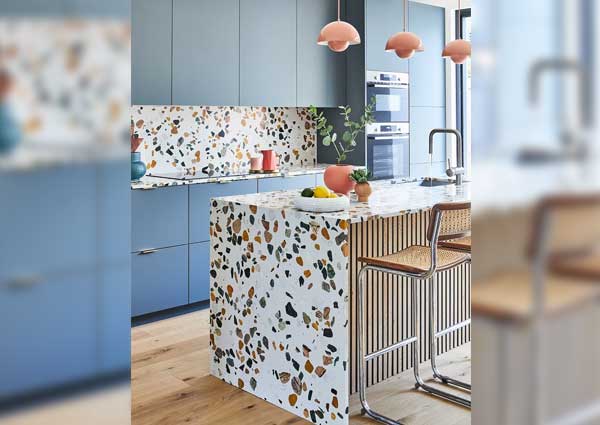 Do you like a mix and match of natural and manufactured materials? We suggest a terrazzo kitchen countertop design if you are skeptical about such kitchen countertop ideas.
Terrazzo is a composite material made from a mixture of marble, quartz, granite, and glass chips set in a cement or resin binder. This means it has a perfect blend of good qualities of all these materials. Its durability, long-lasting nature, and quality of getting customized to suit any design preference make it a popular choice for kitchen countertop design.
But since they are man-made and have multiple elements mixed into one stone, terrazzo is quite demanding regarding the stone's maintenance. It is also expensive, depending on how you customize it and how much you buy the stone.
Other than that, terrazzo is a fresh, famous, and one of the most trending kitchen shelf designs nowadays for home decor. It has outnumbered its contemporaries.
Recycled Glass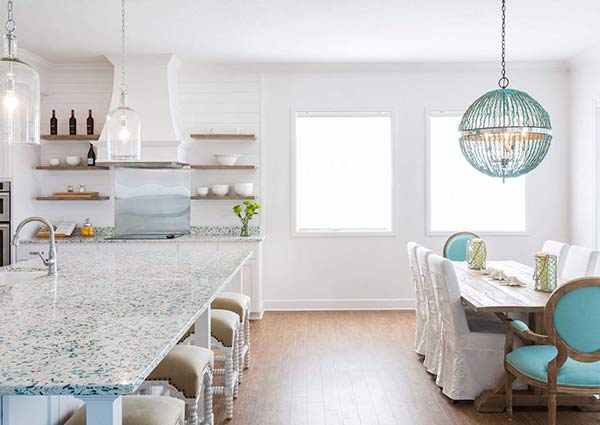 A lot of people like to change or instead update their homes after every few years. So, if you are not constructing your new house but only renovating your kitchen, you can also try one of the latest kitchen countertop designs made with recycled glass.
Recycled glass is a sustainable and eco-friendly material for your kitchen. They are made from crushed glass chips embedded in a binder, such as cement or resin. And this process turns out to be so beautiful that people like having at least a small space in their kitchen where they install recycled glass for a stunning look of the kitchen.
The qualities and drawbacks of recycled glass kitchen countertop designs are the same as terrazzo. Extremely good qualities with a high price and high maintenance requirements. If you can afford that, you must opt for recycled glass for your kitchen countertop, at least for the service shelf of your kitchen.
Travertine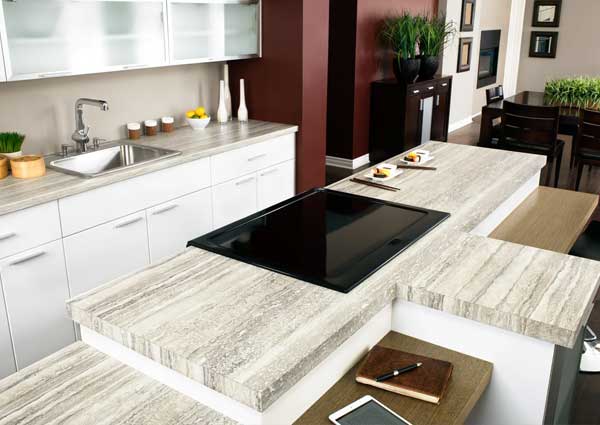 Travertine is a natural stone that belongs to the family of limestone. It is a beautiful and smooth stone naturally formed by mineral deposits. Its different colours and various patterns make it unique and a good choice for the kitchen.
This is another option of stone to have on the service counter of the kitchen, as installing a travertine under your cooktop is not suggested. The stone could better deal with extreme heat and moisture-filled conditions. It should only be installed where there is minimum to no heat.
Apart from the service shelf in the kitchen, the area where you wash utensils or the shelf where you keep all those fancy items in your kitchen are some of the best areas to have travertine stone. Doing so will reduce maintenance and installation costs because such areas are small and not too roughly used. So, try it!
Now that your kitchen is ready with some high-end kitchen countertop designs and great planning to execute everything in detail, you must check the Griha Pravesh Muhurat to perform a Puja in your home. And then, relocate to your home of dreams, great decor, and your personal touch in every construction.
Bottom line:
Whether you are building a new home and looking for some classic kitchen countertop ideas that are perfect to your taste and practical for whether you are just renovating it, picking up any idea from the above list will help you a lot.
The most famous kitchen stone granite is missing from the kitchen countertop ideas list because it is so famous and perfect for this purpose that we don't feel the need to educate people on its usage for kitchen countertop designs. But that doesn't mean it is a miss-fit as one of the best kitchen countertop designs. It is a huge thumbs up if you want to have granite-made kitchen shelf designs.
Just check all the pros and cons of the stone you choose as your kitchen countertop design. That research will be the best investment you can make for your kitchen in the long run.
Stay tuned for more details and a guide on how to pack your kitchen for the move. Also, if you are looking for home relocation services, feel free to contact us anytime.
Latest posts by Anishka Luthra
(see all)